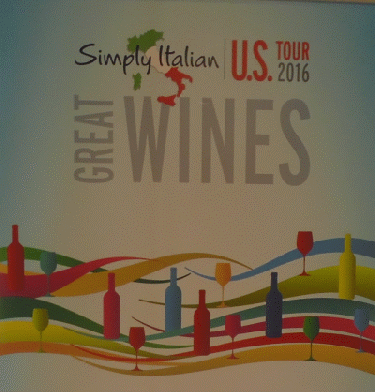 ---
"'Beverly Hills--The 'Simply Italian' wine tour included seminars as well as a tasting with 70 wineries " By The Editor
The "Simply Italian Great Wines" U.S. tour descended on Los Angeles with a large agenda which included seminars, business meetings and a walk around tasting that included some seventy wineries and vintner representatives. It all took place at the legendary Beverly Hills Hotel.
For this Writer the event allowed us to focus on our current special interests. Italian sparkling wines have become increasing important in the U.S. so we started with the Prosecco D.O.C. wines of Zago Agricola. These three wines included Extra Dry, Millesimato Brut and Re-Fermented, all 2015. They are all from the Friuli Venezia Giulia region which is located in the far northeastern part of Italy close to the Adriatic Sea. It is a region particularly excellent for local white varietals.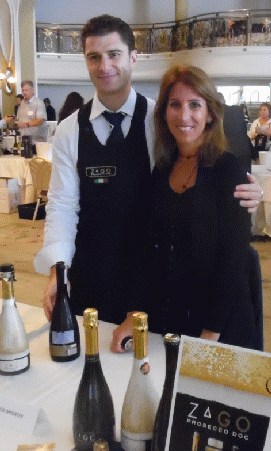 We were interested in the wines of Tuscany principally since we had been there in the past. Here we met Silvia Spineli of Tenuta Tondaia to taste once again Montecusso Rosso wines. Sani is located in Veneto and produce a large selection of vintages including local varietals like Nero di Troia and Negroamaro. And chatted with Chiara Bergamini of the export department.
We were not yet finished with tasting Prosecco so met with Luisa Bortolotto of Coste Petrai located in Veneto. Six prosecco wines were shown here including both Extra Dry and Brut as well as a sparkling Rose.
At the Cantina Del Castello booth we met Giulia Caravggi who showed us a Soave Classico and D.O.C. Valpolicella.
Besides individual wineries many consortiums were present as well including Consorzio Vino Chianti Classico and Consorzio Vini di Romagna.
Sangiovese has always been one of my favorite wines so I met with Paolo Orioli of Tenuta Amalia who showed four Romagna Sangiovese Superiore and Riserva D.O.C. wines.
The Simply Italian event, which was also held in New York, pointed to the fact that the U.S. is Italy's largest export market and that sales have continued to grow in recent years thanks to increased quality and value.
Last Update:10/30/16
&copy 2016 Joe Hilbers All Rights Reserved.
Graphic Design by Impact Graphics