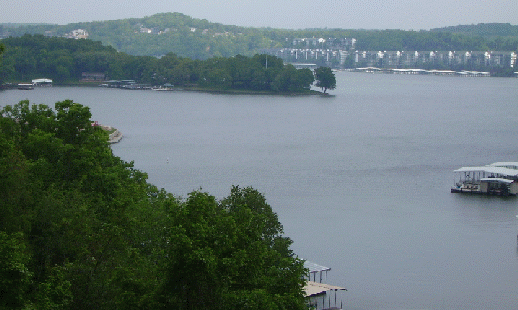 ---
"The Lake of the Ozarks is Missouri's Playground By Joe Hilbers
A still, motionless dawn at the Lake of the Ozarks is something to see and experience. The silence only broken occasionally by the lonely sound of a solitary duck. But soon as the sun rises it will become a very busy place indeed for this is the State of Missouri's playground.
This large body of water located in the State's heartland was created in 1931 by damming the Osage River. It was a major engineering project at the time with the express purpose of providing power generation for St. Louis. We doubt that many at the time envisioned the popular center for outdoor and water recreation that it has become today. The lake has three major bays, never very wide, but with seemingly innumerable coves and inlets. From our Lake Ozark Resort condo we could see seemingly countless resorts and marinas nestled along tree hugging shores.
That first day on arriving at St. Louis International Airport we were off on a comfortable bus, first through Jefferson City, Missouri's Capitol, and then on to the Lake of the Ozark to our grand condo accommodations.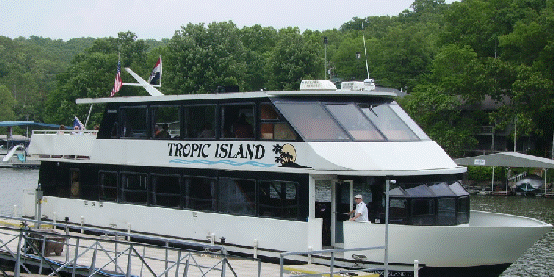 The next day we found the perfect way to see the Lake. It was aboard the Tropic Island yacht, all two deck, seventy five feet of it, captained by Omar Clark. This is one attraction of many at Tan-Tar-A Resort. It leaves daily through the summer for an hour and half cruise of the lake each afternoon. We lounged on the upped enclosed deck close to the full service bar admirably squired by Bartender Shane. The day offered partial sun, some cloud and the water sparkled.
From time to time Captain Clark would point out three or four million dollar homes which line the shores of the lake. The Lake of the Ozarks encompasses ninety four square miles of central Missouri. Its three bays are each from ten to fifteen miles and offers with its many coves and keys eighteen hundred and seventy five shoreline miles.
Much of this vast shoreline is lined with condos, hotels, marinas and many private homes. The lake this year is celebrating an 80th anniversary from the time the Bagnell Dam was completed in 1931 that formed it.
This was only one part of our exploration that day. We loitered at the Ozark Strip Mall, a vast number of shops and activity centers to serve Lake visitors. Such as Fiesta Fudge & Taffy, Two Bit Town, The Rebel Arcade, Amish County Center and Dog Patch.
We dropped in at Dog Patch, which sells just about everything for the tourist, and met with Owner Mike Page who is also President of the Bagnell Dam Strip Association. He told us how the Strip developed after World War ll and current plans of the Association for renovations and development of a new water park.
Also that day we visited the Osage National Golf Resort of Lake Ozark and chatted with Steve Belton, general manger and PGA Pro. The Lake Ozark area has 14 golf courses and a Golf Council that markets and promotes an extensive number of golf tours. Steve operates the 27 hole Osage Resort course that also includes hotel, condos and 350 private home sites. The Golf Council offers Ozark Golf Trail packages that includes play at several courses. This attracts golfers from all over the country and overseas as well. The Osage Golf Club, besides 27 holes, has a huge swimming pool, sports bar and restaurant. Address is 400 Osage Hills Road, Lake Ozark, Mo., web www.osagenational.com.
The Tan-Tar-A is a complete destination Resort, with golf club, marina, where the Tropic Island Yacht is docked, and indoor Waterpark called Timber Falls. With hotel, premier dining room named Wind Rose on the Water and scheduled activities for young and adults alike, it is a huge operation. We met with Fred Dehner, general manager, and were hosted to cocktails and appetizers at the elegant Wind Rose which offers a menu of steaks and seafood and extensive wine list as well as complete bar and lounge.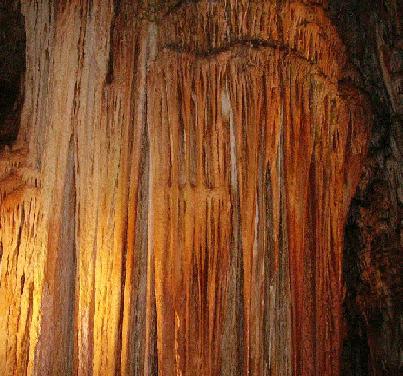 Bridal Cave proved to be a unique experience for us. The tour of this cave is an adventure which will long last in our memory. A quarter mile trail tour, accompanied by a guide, takes you deep into this cave formed eons earlier. Its Onyx formations are huge and impressive and the dramatic lighting makes it even more so. Legend has it that the Osage Indians, original residents of the region, used it for a wedding in the early 1800s. So the Bridal Cave name was created and it has been the site of weddings ever since. Over two thousand couples have been married there through the years.
But some fifty thousand visitors tour the Cave each year which extends deep into Thunder Mountain. We decided that Thunder Mountain was well named since we entered the cave just as a tremendous thunderstorm took place. The Cave maintains a 60 degree temperature year round. Bridal Cave is one part of Thunder Mountain Park which is open year round just north of Camdenton.
We were most fortunate to have Steve Thompson, one of the owners, as our guide, and he had much interesting information for us on rock formations and the cave's history. For more information call 573 346-=2676, on the web at www.bridalcave, com. The Park is open daily at 9 a.m.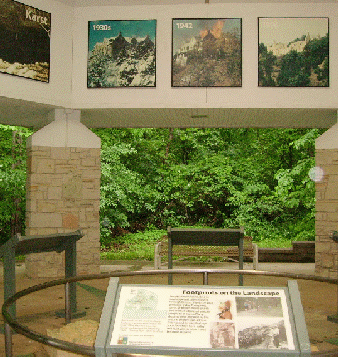 Another visit took us to Ha Ha Tonka State Park, one of Missouri's extensive list of such parks. It offers an extensive trail system with some trails with views of Ozark Lake. There are also picnic areas and remains of an European style 'castle' which was built by a wealthy Kansas City business man in the early 1900s. This later burned but its stone walls remains are still on view for visitors. The Park is also famed for its Karst geology and unique geological areas.
Ha Ha Tonka State Park is located at 1491 State Road D, Camdenton, Mo. phone 573 346-2989. Ranger Candy Loving was most helpful on our visit with suggestions for enjoying the Park's natural beauty.
For accommodations we moved some on our Ozark Lake visit. One night we spent in a three bedroom condo with living and dining room and master bedroom, all with views of the Lake at Regatta Bay. Also a complete kitchen and huge screened patio where we watched dawn come to the Lake. The condos are part of Lake Ozack Vacations at Lake Ozark and operated by P.M.G., telephone 573 365-6266.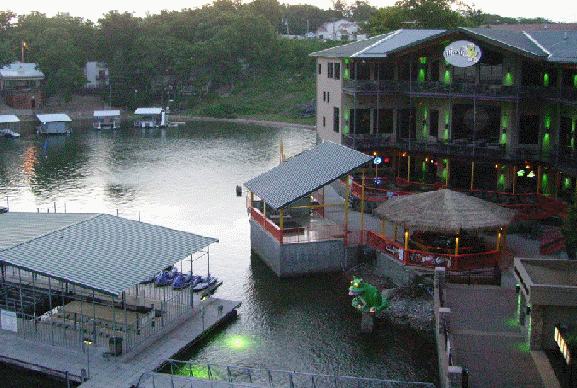 Then we moved on to Camden On the Lake. This Resort offers one hundred and seventeen deluxe rooms that are like mini condos. Located at Toad Cove there is also a deluxe Spa and Yacht Club as well as an entertainment complex which hosts live bands throughout the summer attracting audiences in the thousands. Week by week there is a full schedule of concerts and events. H. Toad's is the Bar and Grill. Our room offered a balcony with a sweeping view of the Lake as well as the unique clubs and marina located in Toad Cove. Camden on the Lake is located at 2359 Bittersweet Road at Lake Ozark, phone 573 365-5620, web toadcove.com.
One morning we had breakfast at The Inn at Harbour Ridge, one of the area's top Bed & Breakfast hostelries. It is located at Osage Beach with some stunning rooms including one we viewed which offers all the amenities of home. Innkeepers are Sue and Ron Westenhaven and their B & B is listed as one of Missouri's finest. Address is 6334 Red Barn Road, Osage Beach, telephone 573 302 0411, web www.harbourridgeinn.com.
To learn how the concept of Bagnell Dam and its construction took place we went to Willmore Lodge, now headquarters for the Visitors Center, Chamber of Commerce and a museum.
This is located in a massive Adirondack style log building which served as headquarters and housing for staff members during Dam construction in 1929 to 1931. The construction took 18 months and employed 20,000 workers. It was financed by an electric power firm and remains the last privately built Dam in the United States. After that all dams were constructed by the Federal government. The result is that Lake of the Ozarks waterfront property is privately owned, and this accounts for the extrodarany amount of development that has developed along its 1875 miles of shoreline. All this information was provided by Karin Kopis who also gave us a tour of the msueum which shows how the Osage River valley looked before the Dam was constructed and the over twenty small communities that were flooded on the rise of lake water.
Last Update:6/1/11
&copy 2011 Joe Hilbers All Rights Reserved.
Graphic Design by Impact Graphics