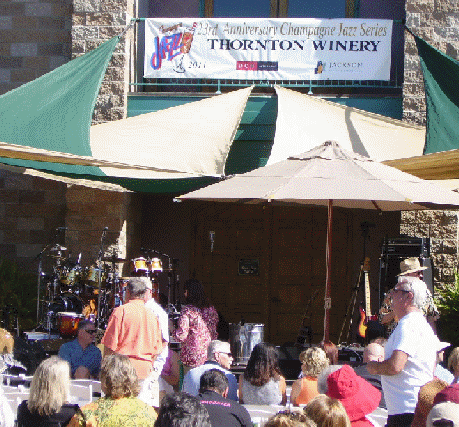 ---
"'Temecula--Once again it was 'on with the show' at Thornton Winery" By The Editor
It was showtime once again at Thornton Winery. Crowds gathered by early afternoon and a perfect Spring day offered further enticement. This concert was the first of Thornton's 23rd annual Champagne Jazz Series which take place in the picturesque Courtyard and patio of the winery. The artist featured was Jesse Cook and a most talented group of sidemen. We were at the event early enough to meet the neatly attired Jesse as well as chat with Hosts John and Sally Thornton as well as son, Steve. Also present to answer media questions were Award Winning Chef Steve Pickell and Winemaker David Vergari.
People attending these concerts, which take place each summer, have a choice of purchasing general admission tickets for non-reserved seating or the gourmet supper package which includes a reserved table and a three course dinner prepared in the Cafe Champagne kitchen by Chef Pickell. After talking to the Chef we looked forward to the supper which opened with asparagus, fava bean and rock shrimp salad in a delicate sweet bell pepper Citronette. Both general and supper guests are allowed to buy wine or other beverages. Our wine with the salad was Thornton 2009 Viognier. Earlier we enjoyed a glass of Thornton's classic Brut champagne.
Entree was oven roasted natural chicken breast with saffron Risotto cake, sauteed Broccolini in a roasted tomato herb sauce. Here our paired wine was Thornton 2007 Huis Vineyard Zinfandel. Dessert was a lemon rosemary tart with fresh strawberry compote and the wine a Thornton 2007 Rose. The wine list is most impressive not only with Thornton wines but with well chosen varietals from Napa as well. We were impressed with the professional skill of the staff which served 200 dinner guests in timely and prompt fashion
As for the music Jesse Cook shows the influence of southern France and Spain where he spent his early years. In this performance he moved on to Latin America influence and ended with a rumba medley that had the entire audience on their feet stomping and clapping. And not a few were in the aisles dancing. Jesse Cook played to a full house of 600 people and was greeted with great enthusiasm. It was a full house for the gourmet diners as well. We were also impressed with the adult behavior of the audience as well as the courtesy they showed the artists. These concerts will continue on a weekly basis right through to October offering some of the brightest names in contemporary jazz.
Thornton Winery is located at 32575 Rancho California Road in Temecula with ample off street free parking to accommodate all who attend. For the complete concert schedule call 951 699-3021 as well as information on ticket prices which can be purchased in advance of each event. On the web at www.thorntonwine.com.
Last Update:6/2/11
&copy 2011 Joe Hilbers All Rights Reserved.
Graphic Design by Impact Graphics