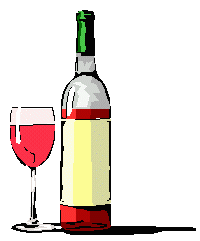 "New Zealand--Here a booming wine industry producing exciting premium wines"
.
The Editor's Vineyard

We journeyed to, for us old familiar ground, the Sunset Strip, to learn about New Zealand wines. What we found were most interesting wines, often of the same varietal, but displaying different styles. Twenty six wineries from both north and south islands were represented at the tasting. Like so many other wine producing countries growth has been explosive in New Zealand. The number of wineries has increased from 463 in 2004 to 672 in 2010 and the production of grapes has almost doubled in that time frame.
OuR tastings of the white wines, Riesling Pinot Gris, Gewurztraminer, Sauvignon Blanc and Chardonnay, showed outstanding quality. All fitting New Zealand's goal of producing and exporting only premium vintages. Like California New Zealand offers vineyard growers a wide choice of regions from seaside to mountain foothills. Most regions enjoy a long dry autumn that produces grapes of intensity and versatilely.
The country is famed for its Sauvignon Blanc and we must agree. It is our favorite white wine and in all we tasted that day we could not find one we did not like. Among the reds Pinot Noir is developing into an outstanding varietal and the ones we tasted showed quality and were priced most reasonably. We also liked the Cabernet Sauvignons we tasted. New Zealand growers compare their climate conditions as very similar to Bordeaux for Cabernet Sauvignon and Merlot.
We were taken with the names of the wineries as well. Pegasus Bay and Oyster Bay and Clifford Bay, also Kumeu River, Passage Rock and Hawke's Bay. We wondered if some of these names were first given by Captain Cook who was wonderfully adept in giving his geographic discoveries prosaic names. Besides premium wines and interesting names New Zealand wineries also have some of the most scenic locations in the world.
Last Update:6/2/11
&copy 2011 Joe Hilbers All Rights Reserved.
Graphic Design by Impact Graphics