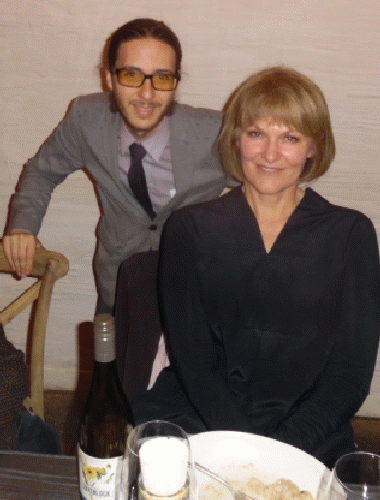 ""
Hollywood--Loveblock is a New Zealand wine to remember"

.
By The Editor

In the culinary arts selecting exactly the right wine with a particular food is still a developing dimension requiring the combined skills of both chef and sommelier. When these two skills do come together the perfect dining experience is achieved.
Recently we were fortunate to take part in such a marrying of food and wine when Erica Crawford, founder and CEO of Loveblock Vintners Ltd of New Zealand showed her vintages to representatives of the media at Wolf Restaurant in Los Angeles. Melrose Avenue in Hollywood has long enjoyed a reputation as the location for outstanding restaurants and now another, The Wolf, is among them.
Chef Owner Marcel Vigneron and Manager Sean Perman, who also acts as Sommelier, joined in producing the perfect matching of cuisine to the exciting wines Erica Crawford poured to a group of knowledgeable media.
Loveblock Vintners is a family operation with Erica's husband Kim a New Zealand winemaker with over thirty years in the industry. He has traveled widely in his craft working both in South Africa and in the Napa Valley at Stags Leap.
Erica and Kim sold a previous winery and started fresh as pioneers developing new hilltop lands as vineyards in 2004 and the making of Loveblock Vintners. These hillside vineyards overlook the Awatere Valley and with north exposure to capture more sunlight in a cool climate. (Note: in north hemisphere this would be south exposure). With an excellent terroir for vineyards the Crawfords have established a policy of low intervention both in growing grapes and the making of the wines, using organic means whenever possible.
For our luncheon the Wolf menu opened with Hamachi Crudo, with nuce cham, radish, herbs and puffed rice. The Loveblock wine was 2016 Sauvignon Blanc which offered soft freshness in both aroma and on the palate. The fruit flavors a perfect match to our first course.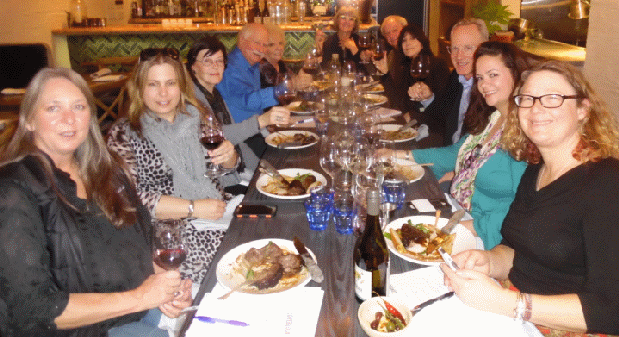 Next arrived Mushroom Risotto with pine nut, sorrel, peas and pancetta. Adding to the presentation it was served in a slightly slanted plate. The wine was Loveblock 2014 Pinot Gris which showed demanding flavors for a white wine with just a hint of sugar on the palate. The alcohol was held at 13 per cent and this vintage is a Gold Medal winner in its native New Zealand. Again the wine lifted and enhanced the flavors of the excellent Risotto.
Chef Marcel truly showed his talent with the Braised Beef Cheek with came with jerusalem artichoke, endive, and a wondrous peppercorn sauce. The perfect wine matching was the third vintage 2013 Pinot Noir from a new 20 acre hillside vineyard. French oak barrels of medium toast were used to produce a wine, deep in color and bold in both aroma and flavors. At 13.5 per cent alcohol it was perfect with the entree.
Loveblock wines are distributed in the U.S. by well known Terlato Wines. The Loveblock wines are also to be found in Canada, Japan and Australia besides its native New Zealand. More information on Erica, Kim and the winery can be found on their excellent website, www.loveblockwine.com.
Last Update:2/12/17
&copy 2017 Joe Hilbers All Rights Reserved.
Graphic Design by Impact Graphics