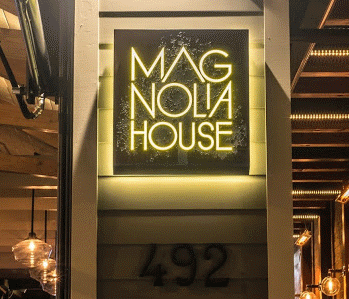 ---
"Pasadena--Magnolia House is a legend in the City" By Ronnie Greenberg
Swing through the gate and cozy up on one of the plush couches surrounding the crackling fireplace, or grab a table overlooking South Lake Boulevard at upscale Magnolia House. Tucked away in a corner of Pasadena, this craft cocktail bar and lounge is popular with locals and outsiders alike, so get ready to partake in a fun evening.
For over a century this original family craftsman house has become a post-Prohibition liquor store and a myriad of modern businesses. The timelessness and the stories it contains, has been reinvented once again into a neighborhood gathering place. A hideaway offering tasty and unique craft cocktails and a small plate menu from around the world
Indulge in a collection of shareable snacks from Executive Chef Evan Colter's eclectic menu that includes, Truffle Pistachio with black truffle infused sea salt; Wasabi Corn nuts, spicy wasabi dust; Jamaican Jerky with spicy Jerk seasoning; Thai Marinated Olives, Thai Chili, ginger garlic and lemongrass; Winter Squash humus made up of market veggies, and house hot sauce.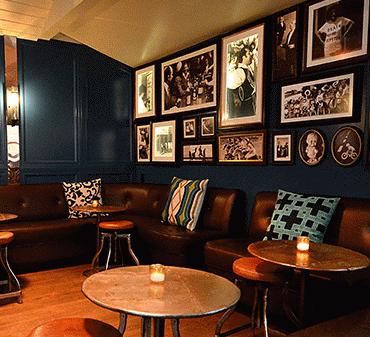 For One, Two or Three- there's Beer Queso and Chips, horseradish, roasted red pepper, cotija cheese, ancho tomato salsa; Belgian fries, smoked salt, pecorino cheese. Romesco aioli; Brussels Sprouts with cilantro pistachio pesto, smoked bacon, crispy egg and pecorino cheese; Frisee salad, blood orange vinaigrette, smoked bacon, pickled kumquats, poached egg, market citrus; Roasted Kabocha squash, Tahini yogurt sauce, poached cranberries, watercress, sumac, balsamic vinegar; Roasted Bone Marrow with pickled raisin gremolata and peanuts; Pastrami cured pork belly, Heritage Duroc pork, blood orange puree, pickled lady apple, frisee, French breakfast radish; Korean fried chicken wings sweet and spicy, chili sauce and kimchi cucumbers; Florida Gulf Shrimps Ceviche; Mushrooms & Roasted Garlic Flatbreak, Blackened Fish Tacos made from local rockfish snapper and Tasso Ham Mac & Cheese. Gus' Fried Chicken sandwich; Bucatini Bolognese with braised oxtail, Serrano ham, tomato ragout, and Pecoriono cheese; Prime Rib New York Strip Steak; and the House Burger with American cheese, dill pickle remoulade, thick cut smoked bacon and bourbon onions is another true house favorite that won't disappoint.
Mouthwatering desserts included: Loukoumades - Greek Donuts, honey, cinnamon, pistachios,vanilla bean semifreddo; Chocolate Bread Pudding, vanilla bean semifreddo, cocoa, nib brittle; From Panama with Chocolate, Selvarey Cacao Rum, Amaro Meletti, Concrete Espresso, cinnamon & mint, coffee & cream.
House Cocktails are definitely exotic! There's Marigolds at Magnolia, with vodka, lemon, marigold flowers, honey, rose water; Roger That, it's gin,lemon,honey,apple shrub, maple ginger syrup and carrot juice on the rocks; Nonino Worry About It, is a mix of cognac, Panamanian rum, Amaro Nonio, acid phosphate, apple & decanter bitters, and cinnamon; and the American Dream, house infused strawberry bourbon & lemon, sugar, and mint; Oaxacan Blood Winter, Mezcal, egg white, lemon,house mulled wine L'Authentique Genepi, Star Anise; Mendocino Sour with bourbon; Crown City with rye and Jamaican rum; and the Lumberjack's Breakfast, straight apple brandy, scotch, egg white, lemon maple and cardamon syrup.
Draft beers from light to stout feature Craftsman 1903, Pre-Prohibition lager; Heavenly Hefe, Craftsman brewing; Intermountain Wheat, epic brewing; Mother Earth Cali Creamin', vanilla cream ale; Lomaland Saison, modern times; Santa Barbara Common Ale, pure order brewing; Kook Double IPA, Pizza port brewing; and season beers.
Wine and Sparkling: Sparking Val De Mer, NV. France; Adami Prosecco Garbel 13, Brut,NV Italy; Mercat, Cava Brut, NV, Spain. White wines: Pinot Grigio, Maddalena Vineyards, Monterey, 2013;Chardonnay, Banshee, Sonoma Coast, 2014. Red wines: Pinot Noir,Peter Paul, Russian River Valley, 2011; Cabernet Sauvignon, Brea Wines, Paso Robles, 2012.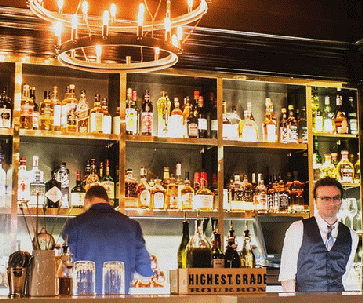 Hours of operation: Magnolia's is open daily. Monday to Wednesday from 4 p.m. to 12 a.m. Thursday and Friday, 4 p.m. to 2 a.m. Saturday, 10 a.m. to 2 a.m. Sunday, 10 a.m. to 10 p.m.
There's always something going on: Happy Hour is Monday to Friday from 4 p.m. to 6:30 p.m. with a select nosh menu along with red wine, white wine, the new sangria, cocktail of the moment, well drinks, and a variety of draft beers. Weekend Brunch is served Saturday and Sundays from 9 a.m. to 2p.m. Join in for Bloody Mary's, Mimosas and Specialty Brunch cocktails, along with delicious breakfast items. DJ's fill Magnolia's with great tunes every Friday and Saturday starting at 9:30 p.m.
Magnolia House does not accept table reservations, but you can reserve the lounge are for private events and groups of up to 20 people. For information contact www.events@themaghouse.com Magnolia House is located at 492 South Lake Avenue in Pasadena. Phone (626) 584-1126 or www.MagHouse.com
Last Update:1/10/17
&copy 20117Joe Hilbers All Rights Reserved.
Graphic Design by Impact Graphics