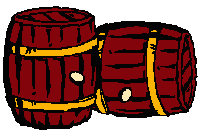 ---
"'San Miguel--Villa San-Juliete Winery follows fame of 'American Idol'Owners" By The Editor's Vineyard
What do you do to follow up the success of producing hit show American Idol. Well why not become vintners. Which is just what Partners and Producers Nigel Lythgoe and Ken Warwick have done. Villa San-Juliette Vineyard And Winery are located in San Miguel in the Paso Robles appellation and the Winemaker is Adam La Zarre.
Like the Show Villa San -Juliette wines have already collected some awards at wine competitions. We recently tasted two wines, the Villa San-Juliette 2009 Sauvignon Blanc and the 2009 Petite Sirah. Both these wines are from Paso Robles vineyards. We particularly liked the Sauvignon Blanc which has been one of our favorite varietals. Winemaker La Zarre used some neutral French oak in making this wine which offers lush aroma and flavors. The Petite Sirah comes across as a big wine and includes ten percent Cabernet Sauvignon, seven percent Syrah and three per cent Mourvedre. It has enjoyed sixteen months in new French oak. Both this wines offer value, priced under $20.
Winemaker Adam La Zarre is also produces wines from the Central Coast under the Fat Monk label. These are also produced at Voilla San-Juliette winery. We thought the Fat Monk 2009 Chardonnay was an exceptional vintage with fruit aroma and flavors that lasted on the palate. We also detected just a hint of oak from some time in French oak.
For us the Fat Monk 2009 Pinot Noir was a real winner. Adam has captured the true flavors of this Bugundian varietal in this vintage and when we finished the bottle we wanted more. Complex and with some of the earthiness of this varietal. And with a $15 price tag all we could say was wow. Both these brands are being marketed by Creative Wines International of Santa Rosa.
That happy combination of quality and value has been realized with the release of new wines from Carmenet Vineyards. Carmenet Vineyards, a brand with an excellent reputation was acquired by Bronco Wine Company two years ago. The wines we tasted show that this commitment to quality has remained. We particularly liked Carmenet Vintner's Collection Reserve 2009 Pinot Noir. This varietal shows its best qualities in this bottling with rich colors and a long finish. Pinot Grigio continues to make gains with California vintners and Carmenet Vintner's Collection Reserve 2009 Pinot Grigio is a release that is sure to please with delicate hints of fruit but nicely crisp on the palate. Two other Carmenet Vintner's Collection Reserve wines we thought superior were the 2009 Zinfandel and the 2009 Cabernet Sauvignon. Kept to a traditional 13.8 per cent alcohol the Zinfandel offers the full complex aromas and flavors of this temperamental varietal and a pleasing finish.
The Carmenet 2009 Cabernet Sauvignon offers mellow tannins with hearty flavors rich on the palate and a long finish. Remarkably all these new Carmenet Reserve wines including a Merlot and Chardonnay have a $12 price tag.
Last Update:9/15/11
&copy 2011 Joe Hilbers All Rights Reserved.
Graphic Design by Impact Graphics