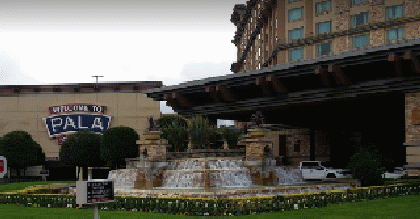 "Pala--There is fine dining to be had at Pala Casino Spa & Resort
By Ronnie Greenberg

Nestled against the backdrop of the serene Palomar Mountain range, and inspired by the natural beauty of its surroundings, Pala Casino Spa & Resort appears as a mirage in the distance. Approaching the resort the landscape blossoms into a verdant oasis sprinkled with lush farmlands amid fields of grazing cattle and horses. Rising from this juncture of pastoral bliss is Pala, designed to bring entertainment, leisure, dining and gaming together in one tranquil atmosphere.
For Dining whether you are in the mood for a fabulous candlelight dinner or a quick bite, you'll find it at Pala's delicious array of restaurants.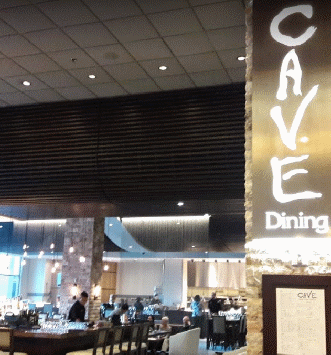 The newest addition to the culinary scene at Pala is CAVE Dining & Lounge. Wine Cave offering Mediterranean cuisine with an Italian flair. The underground cave offers 480 domestic and imported wine labels; the lounge features signature cocktails along with entertainment; and the restaurant highlights such specialties as mouthwatering shrimps, scallops, whole roasted snapper, a variety of steaks and lobster
The Oak Room, both seductive and sophisticated is a world-class evening dining experience offering the finest prime steak and chops, as well as fresh fish, lobster, veal and chicken entrees. In addition to the wide selection of appetizers, the Ocean Platter brimming with lobster medallions, cherry stone clams, oyster, crab claws and shrimp cocktail is divine. The signature Oak Room Surf and Turf (for two) consists of a sumptuous 2 pound Porterhouse steak and 2 pound Australian lobster tail. The extensive wine list is deep in full bodied vintage California and a strong lineup of imported wines. The wide selection of delectable desserts is the ideal complement to a perfect evening. Choices, The Buffet with a spectacular floor to ceiling view, offers a culinary around the world journey designed to make your dining experience an interactive one. Featured is a complete exhibition kitchen where you can watch the skilled chefs prepare a wide variety of foods at the themed food stations. There are over 200 different hot and cold food options including dishes from Asia, Italy , Mexico as well as traditional American favorites. Starting at 4 p.m. every Tuesday, the incredible lobster buffet, with all you can eat lobster and succulent lobster tails, are featured in addition to all the other themed dishes. Cakes and hand-mixed ice cream creations top off this incredible dining experience.
Pala Café showcases California cuisine in a casual bistro setting, including hearty breakfasts, fantastic soups, salads, and burgers made from fresh ground Black Angus beef. Have a seat indoor or outside on the Pala Terrace. Noodles is a full service Asian noodle bar offering specialties that will add spice to your life. Featured are traditional dishes from China , Vietnam , Thailand and Japan including soups, noodles, barbeque and rice dishes.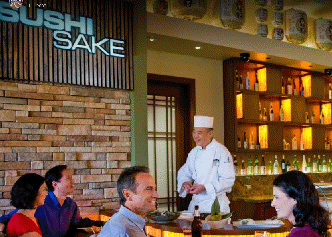 The Promenade Deli offers over-stuffed sandwiches loaded with lean, flavorful meats, including hot pastrami, turkey, roast beef and salami served with a New York flair. Enjoy a variety of premium cheeses, and your choice of fries or Pala's signature potato chips. Sushi Sake is where you can enjoy the honored Japanese traditions of sushi making with a Southern California flair. The sushi-bar style restaurant offers a wide variety of fresh and baked sushi selections as well as a collection of sake. Grab a seat at the bar and watch as these culinary delighted are prepared by skilled sushi chefs, or "grab and go" and enjoy your meal on the casino floor or outside on the Pala Terrace. Poolside Café & Bar overlooking the surrounding mountains, offers breakfast and lunch in a casual open-air setting.
For information and reservations Pala Casino Resort & Spa located at 11154 Highway 76, in Pala. For information and reservations phone (760) 510-5100 or www.palacasino.com
Back to Table of Contents..
Last Update:4/21/17
&copy 2017 Joe Hilbers All Rights Reserved.
Graphic Design by Impact Graphics