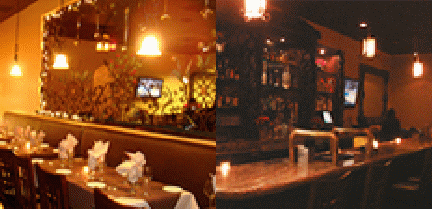 "Oxnard--Sugar Beets Restaurant shows exciting dining"
.
By Jeanne Bartlett

With a name like Sugar Beets it has to be good, and it is! Jason Steffenauer owner and general manager and co-owner Martin Ledesma, Executive Chef, selected that name as an homage to one of the founders of Oxnard, the town where the restaurant is located. Henry Oxnard built a factory in the heart of rich fields to process the beets that grew there into sugar. This business brought jobs and population to the area and in 1903 Oxnard incorporated into a city.
Oxnard has been undergoing a transformation in recent years, starting with the establishment of Heritage Square in 1991. Original Oxnard buildings from the Victorian age are nestled together housing over 25 businesses including a wine tasting room and a restaurant. Sugar Beets is located two short blocks away. Next to the restaurant is the revamped theater, making the eatery a date nite location.
Your first view of the exterior of the restaurant is an intricate ironwork fence surrounding an inviting collection of patio tables and luxurious wine-colored couches, providing a great place to enjoy your meal. As you enter the building the mood is transformed as you view the sophisticated colors of gold and brown in the walls, the leather booths, and table coverings. The ceilings seem to go on forever and mirrors enhance the feeling of spaciousness. Another surprise is the dance floor with a brick façade behind it. The bar can be viewed from the dining room but it is closed off enough to provide a feeling of coziness.
Sugar Beets wants you to know that they are a new downtown dining destination and they view their food style as California fusion cuisine. Whatever its label, it is as delicious as it is innovative. Noontime fare offers the traditional tortilla soup, salads, burgers, sandwiches, and pasta. There are seven wonderful salads to choose from but I had to pass up a great sounding an almond-crusted brie cheese salad with pears and dried cranberries for the Sugar Beets Cobb salad with baby mix greens, roasted red and golden beets, avocado, eggs, bacon, tomatoes, onions and blue cheese – and what a feast that was. My companion ordered the Sugar Beets burger with a ground chuck patty, cheese, onions rings, avocado, bacon and barbeque sauce on a house-made bun that and that selection came with a choice of fries, sweet potato fries or a garden salad. Sugar Beets is a great place for groups at lunch time. The day I was there I chose the oven-roasted chicken penne pasta with chicken, roasted peppers, onions, tomatoes, basil and roasted garlic cream sauce. It was special and very filling.
The dinner menu adds butternut squash soup to the choice of tortilla soup. The evening salad choices get really inventive listing beet and goat cheese Napoleon with red and gold beets, arugula and beet ginger vinaigrette. The innovation that tops them all is the grilled watermelon salad with barbeque shrimp, fried Navajo bread, baby greens and shallot vinaigrette. If yoou are not in the mood for a salad, there are crab and corn cakes with roasted red pepper aioli and corn relish that sound inviting. There are four fish choices, including a mozzarella-stuffed swordfish with tomato, caper, and bacon sauce with creamy polenta.
The next category on the menu is beef, poultry and etc. The beef is chili marinated flat iron steak with roasted garlic mashed potatoes and seasonal vegetables or a grilled N.Y. steak with roasted potatoes and seasonal vegetables. The "etc" is slow-braised lamb shank with fire-roasted peppers and onions and a grilled polenta cake, poultry is represented by the roasted half chicken with garlic mashed potatoes and seasonal vegetables. If you are looking for lamb they offer oven roasted rack of lamb with sweet potato fries and Ancho chili ketchup. The last items on the evening menu is labeled "garden". There is a whole stuffed artichoke with angel hair pasta or another surprise, a portabella mushroom Napoleon with grilled vegetables, mozzarella cheese, and Israeli Cous Cous.
If you enjoy a cocktail with or before your dinner there are eight house recipes to choose from. If you like Mojitos, you can choose raspberry or orange basil. Of course there is a Sugar Beet concoction with traditional Brazilian sugarbeet liquor with muddled oranges. The Old Fashion is updated with bulleit bourbon, and peach puree; the plain old margarita becomes Pomegranate Margarita by adding pama, cointreau, and orange juice. The Sugar Beets' Sangria consists of red wine, orange juice, and peach schnapps. The bloody Mary is listed as a healer of all ills, and the gimlet adds an herb and becomes a Basil Gimlet.
This establishment is noted for its service. There is someone to greet you at the door and seat you as soon as possible. When you order, the personnel are able to answer your questions. The waitstaff is particularly good about coming back to check on you and make sure you are satisfied with you meal.
Sugar Beets is located at 455 South A Street. They are open for lunch Monday through Saturday from 11 a.m. to 4 p.m, dinner hours are Monday through Saturday 4:00 p.m. to 9 p.m. If you would like to take advantage of the dance floor be there for salsa dancing on Friday night. There are Salsa lessons 8:00 p.m. to 1:30 a.m. for those 21years old with ID. Phone 805.240-7777. Reservations are highly recommended.
Last Update:11/21/11
&copy 2011 Joe Hilbers All Rights Reserved.
Graphic Design by Impact Graphics