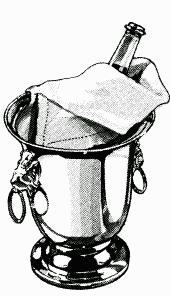 ---
"'Sparkling wines are a must for the festivities of the holiday season" By The Editor's Vineyard
The holiday season is upon us and nothing adds to the festivities like sparkling wines. Its the stuff that launches ships, splashes in the locker rooms of championship teams and toasts the coming of a new year.
French champagnes are expensive these days and unfortunately we are still in an economy that has had the ten count and still can't get off the canvas. This Writer always greets greenbacks into his wallet with joy but parts with them sorrowfully. However we were not prepared to do without the bubbly stuff at any of our festive dinners and holiday celebrations.
What we discovered is that many, many California winemakers know how to make a good sparkling wine and it need not have an expensive price tag to be of exceptional quality. In fact we found more than a few good sparkling wines in the same price range as everyday table wines. In October our family has a meaningful private occasion that calls for a special dinner. To go with this dinner we found a Hacienda Methode Champenoise Brut with a $13 price tag. This California sparkler was a perfect match with the prime rib and franconia potatoes which was the main course. The wine was fresh with fruit, crisp on the palate and went well with everything from the Belgium endive salad to the fresh strawberries and cream dessert.
For Thanksgiving our dinner is always traditional with turkey, dressing, yams and sweet potatoes and all the trimming. And accompanied this year with Domaine Laurier Brut Methode Champenoise. We were already familiar with this wine from previous occasions, knew its quality and were happy to discover that it still had a $13 price tag. Made from chardonnay grapes it maintains that varietal's classic flavors both in aroma and on the palate
French champagnes are expensive but there are a good many French sparkling wines made in other regions of that country. And these, since they cannot be called champagne, are more reasonably priced. For our Christmas dinner we found Pol Remy Brut Sparkling wine. We bought a few bottles of this wine at $11 and immediately opened one to make sure we had something we truly wanted to serve for Christmas. We liked the test bottle with its long lasting flavors and clean finish. It is a sparkler that serves equally well as an opening cocktail or with any course on the dinner table.
And then of course there is the New Year's celebration. Singing Auld Land Syne at the stroke of midnight is going to be off key if one is not holding a glass of champagne or sparkling wine. Again we did some advance shopping seeking a sparkler that would not start 2012 with a dent in the pocket book. What we found was Douglass Hill NV Brut with a $10 price tag. Brut is our favorite sparkling wine. Extra Dry is a little on the sweet side and Blanc de Blanc rather austere for our palate. Again we bought enough to try a bottle before the holidays and liked its fruity flavors, tiny bubbles and long finish.
And yes we opened one bottle to celebrate this Winter edition of Vittles which starts its 20th year.
Last Update:

&copy 2011 Joe Hilbers All Rights Reserved.
Graphic Design by Impact Graphics