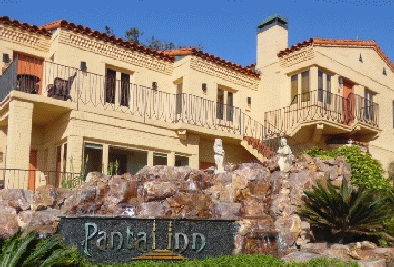 ---
"'La Jolla--This seaside jewel has much to please the visitor" By The Editor
Cities and communities that are adjacent to the ocean enjoy a special status. They are gateway to foreign places often mysterious, romantic or both. La Jolla has long enjoyed its location with both wide beaches, rocky cliffs and coves and hilly terrain that adds to its beauty. We first roamed its streets as a young soldier away from home and mother for the first time, was fascinated with it then and this has never left me.
So when we learned that Pantai Inn has become of the of most sought oceanside getaways in La Jolla it sounded just right for us. The concept of renovating a group of beachside cottages into a tropical south Pacific Balinese lnn proved perfect. With 30 rooms that offer a huge variety of accommodations from two and three bed room suites to cottages with complete kitchens it is a perfect fit for families with children as well as couples. Located on Coast Boulevard the rooms offer spectacular views of the ocean directly across the street.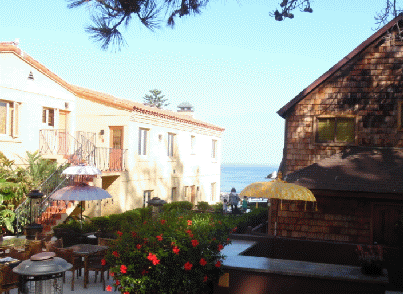 Coast Blvd. which follows the famed coves and cliffs of La Jolla shoreline is very busy sixteen hours each day with visitors and our suite had an outdoor patio with chairs and tables to enjoy this scene. Added was the fact that the Inn is only two short blocks from Prospect Street, one of the main thoroughfares of downtown La Jolla. This was a real plus for us since as usual we were on assignment to write about this part of the greater San Diego area.
One of the places that we were determined to visit on this trip was the Birch Aquarium at Scripps Institution of Oceanography.
Staying at Pantai Inn in La Jolla made this easy since it was only about a ten minute drive from the Hotel, pass the lovely campus of UC San Diego, to the Aquarium. It enjoys a scenic location situated on a bluff overlooking a huge sweep of the Pacific Ocean below.
The Tode Hall of Fishes gallery starts with the Pacific Northwest Coast showing octopus, giant sun stars and wolf eels. Then a look at below the waves of San Diego Bay. One exhibit shows a two story kelp forest and another some of the sea life in Mexican waters to the south. Children enjoy the tide pools where they can actually touch some of the creatures. This is located on the plaza that also offers the majestic view of the Scripps facilities and long views of the sweeping rugged coast line of the ocean.
The Aquarium offers a full calendar of special summer events with special whale and wildlife cruises as well as a concert series. We found the Birch Aquarium educational but also a wonderful place to idle away some time on the serene patio with its wonderful overlooks.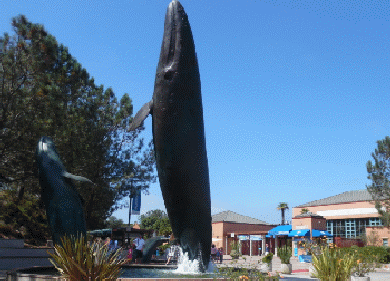 Birch Aquarium is located at 9500 Gilman drive, La Jolla and road signs make it easy to find. It is open daily from 9 a.m. to 5 p.m. and there is three hour complimentary parking. For more information call 858 534-fish, on the web at www.aquarium.ucsd.edu.
Also within walking distance of Pantai Inn was Legends Gallery which includes on exhibition of Dr. Seuss drawings and artwork.
Theodor Seuss Geisel was from the eastern part of the U.S. and was the most successful children book author, with over 60 children books published, making him the most successful children book author. During World War 2 he was a Captain in the U.S Army making instruction films. Most of his works are now in a number of museums and libraries but those at Legends do offer good examples of his drawings and art.
He moved to La Jolla after the war and lived there until his death in 1991 at age 87.
Our schedule called for a tour of La Jolla and Mission Beach by Old Town Trolley Tours. However there was a mix up in our schedule so this was scratched and replaced with the downtown San Diego tour. On such a pleasant summer day this change was o.k. with us. The tours all start on Twiggs street in Old Town. Ours was now Old Town, the Embarcadero, the Marinia, Gaslamp Quarter and Hotel Del Coronado to name some of the stops. For passengers this tour is a hop on-hop off so one can leave the bus, explore one of the locations and then catch a later bus to continue on.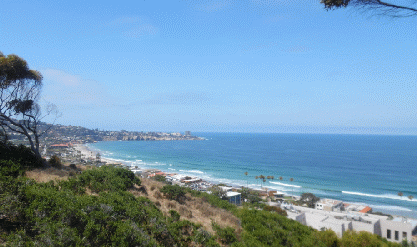 Our driver, Shelia, was most knowledgeable and provided much information on San Diego's early history and some of the prominent citizens of those earlier eras. For the Mission Beach tour advance reservations are required. It includes La Jolla's famed Cove, Mission Beach and Belmont Amusement Park as well as Mount Soledad and Old Town.
Our stay at Pantai Inn was a true delight. We thought the Staff incredible combining with their professional demeanor interest and care to every need of the guest. They were also most knowledgeable about the history of the Inn and the many fixtures and furnishings that grace the rooms imported from Bali.
Breakfast was served each morning in two dining rooms and on the spacious patio as well. Executive Chef Scott Ingenito has new different offerings each morning of our stay and was most attentive to guests with personal needs. One morning the menu included chicken vegetable sausage and Hawaiian Skillet with spicy chicken, kale and pineapple.
Just as spectacular as our lodging at Pantai Inn were our culinary experiences in La Jolla. One evening we were at the legendary Marine Room which has been entrancing diners since it first opened 75 years ago in 1941.
Literally at surfside the dining room offers wonderful views of the beach and surf on the other side of their window view.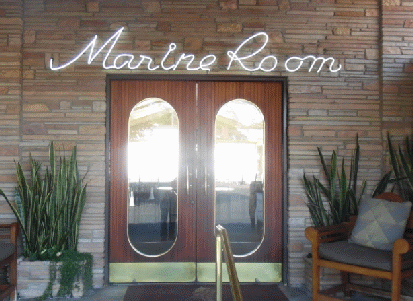 We met with Dexter Lacambacal, restaurant manager as well as Chef de Cuisine Ron Oliver. Ron and Executive Chef Bernard Guillas are coauthors of a best selling book entitled "Two Chefs, One World". Chef Specials on the menu include Maine Diver Scallops and Baja Prawn with mustard seed marigold emulsion as well as Red Walnut Crusted Alaskan Halibut with a blood orange infusion..
My dining partner opened with the fennel roasted scallop with foie while I selected the signature lobster bisque. Our entrees were the house specialty turf and surf filet and lobster. This restaurant has an award winning wine list and our selection was an Argentine Malbec.
The Marine Room is located at 2000 Spindrift Drive, La Jolla. Telephone 858 459-7222, web www.ubtc.com <>Just two blocks from Pantai Inn is the Nine-Ten Restaurant and Bar located in the Grande Colonial Hotel. Here we met Summer Haines, director of food and beverage, who introduced us to Chef Jason Knibb. Opening in 2001 Nine-Ten has enjoyed a long reign as one of the City's best restaurants featuring an acclaimed California cuisine. Chef Knibb as been with the restaurant almost from the day it opened and places emphasis on using fresh produce obtained from local farmers. He also offers a "Mercy of the Chef" each evening, a special prix fixe menu he designs with matching wines. Also in the kitchen is Sous Chef Rocio Gurriaran and Pastry Chef Jose Alonzo lll.
We found the service staff well trained and most friendly and helpful in describing some of the entrees.
I passed on what were a tempting list of appetizers saving my appetite for the sage crusted beef short ribs with arrived with artichoke and asparagus. The short ribs were the best we had tasted in a long time.
My dining partner opened with the Hudson Valley Foie Gras Terrine followed by the roasted Colorado Lamb Loin.
Nine-Ten has on display a huge floor to ceiling wine rack with wines from around the world and enjoys an Award of Excellence from Wine Spectator. The bar is a popular local 'watering hole' and offers a Happy Hour Monday thru Friday from 3:30 pm.to 6:30 p.m . with food and drink specials.
Besides the bar there is the main dining room sparkling with white linen tables as well as the village sidewalk patio and the outdoor terrace. There are also four rooms for private events.
As part of the Grande Colonial Hotel Nine-Ten is open for breakfast, lunch and dinner seven days a week with a Sunday Brunch.
Of some interest is that long before the restaurant the location was a Drug store and the owner, father of Gregory Peck who grew up in La Jolla and then became one of Hollywood's best known actors.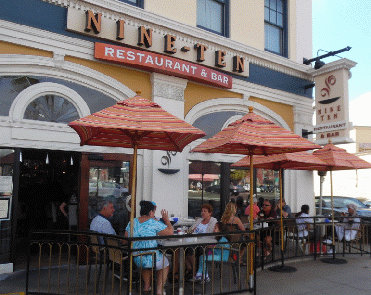 Nine-Ten Restaurant at 910 Prospect Street in La Jolla. Telephone 858 964-5400, web www.nine-ten.com.
Pantai Inn, 1003 Coast Blvd. La Jolla, telephone 1 855 636-6343, web www.pantai.com.
Last Update:8/29/17
&copy 2017 Joe Hilbers All Rights Reserved.
Graphic Design by Impact Graphics