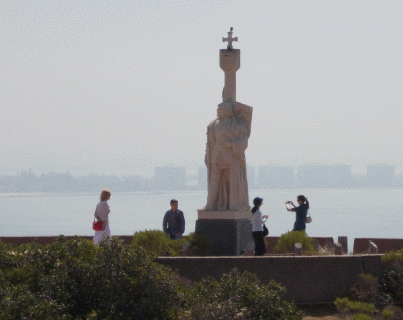 "San Diego--Bay and Ocean enjoy major roles in recreation"
.By The Editor

On our trip to La Jolla we decided to hug the ocean for our stories in and around San Diego.. And what better place to start than at the early beginning and this led us to Cabrillo National Monument.
For it was here on September 28, 1542 Juan Rodriguiez Cabrillo, aboard Spanish Galleon San Salvador, discovered the bay, and surroundings lands that is now San Diego. Just fifty years after Columbus discovered the New World Cabrillo became the first European to see the west coast of North America. And here, beside the protecting bay, is where the first Spanish settlement in California took place.
On this voyage of discovery, that started at Guatemala, Cabrillo was Captain and Commander of three ships, San Salvador, Victoria and San Miguel. He named his discovery after the ship San Miguel but the name was later changed to San Diego.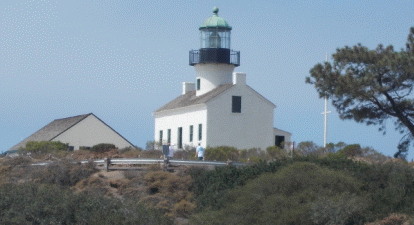 The Centennial year for Cabrillo National Monument was in 2013 for it was established 100 year earlier in 1913. In those one hundred years, while maintaining its natural flora and fauna, it has become the most visited national monument of the National Park Service. We started at the Visitor Center and first went to the auditorium to see a most interesting film on the life of Cabrillo. There is also an interesting collection of navigation instruments used by early European explorers like Cabrillo. These included the astrolabe to calculate the position of stars, a half hour glass, which was constantly tended by the man on watch, and the early guadrant to determine position of the ship. Now it was time for photo opts of the historic Point Loma Lighthouse and Statue of Juan Rodriguez Cabrillo. Here one sees the geography of the Bay spread out before you. Include a visit to the Lighthouse, first built in 1855. Getting to Cabrillo National Monument from downtown San Diego is easy and there are signs guiding all the way from Highway 8. En route you will pass US Navy Installations and the Fort Rosecrans National Cemetery. The Monument is open daily from 9 a.m. to 5 p.m. with a modest entrance fee. San Diego is all about a beach and it deserved further investigation. To this end we needed to select a location for our research. What better place than its Pacific Beach, miles long boardwalk and Mission Bay Park, all 4,600 acres of it. And then there is Belmont Park in Mission Beach with just what you expect to find in a beach community, an amusement park. There are the rides, historic Giant Dipper roller coaster currently celebrating its 90th year, the carousel and new attractions like the wave machine and climbing wall. There are also good things to eat like frozen bananas or cotton candy or hot dog on a stick. For children its all new and exciting, for older folk a look back to their own first amusement park experiences.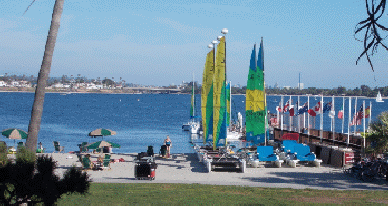 Only one block from the beach and Pacific Ocean Belmont offers a great place for a family outing. There are stores to buy beach attire and rentals of surf and body boards, bicycles and umbrellas. Admission and parking at Belmont Park is free, tickets are sold for the rides. Belmont Park is located at 3105 Mission Blvd. in San Diego 92109. Telephone 858 228-9283, web www.belmontpark.com.
Last Update:8/2/17
&copy 2017 Joe Hilbers All Rights Reserved.
Graphic Design by Impact Graphics