---
Los Angeles--Westwood's Emporium Thai earns top rating for its food and service By Joe Hilbers
Good restaurants are where you find them. This maxim was proven once again when we visited Emporium Thai in Westwood. We were in the restaurant only a short time when we asked how long has this been going on?
Here was a neat, artfully created dining room and bar where every patron was greeted on entry by smiling members of the wait staff. If they felt you were new to Thai cuisine they were there to provide help through the large menu and willing to make suggestions and always asking a most important question with Thai food, do you want it spicy or mild in flavors? At this restaurant spiciness is on a scale from one to ten with not spicy, level one and level ten labeled lava.
We met with John Sungkamee, the genial proprietor, who had a wonderful story to tell us about how his family came to America and how Emporium Thai will be celebrating its 18th anniversary next March. John gives all credit to his mother, who besides being mother to twelve children, thought that some of her family moving to the United States would open more opportunities. So she entered a lottery that was being conducted that offered members of a family opportunity to emigrate to the U.S. To her amazement she was one of the winners and John, the youngest of the twelve children, then 18 years old, came to the U.S.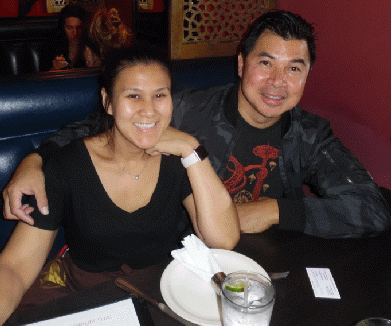 His is one more of the success stories that we all love to hear of an immigrant doing well in their new country. First he worked in restaurants carefully learning English as quickly as possible. Then college to learn the skills to become a software engineer.
But then the opportunity came to open a Thai restaurant on Westwood Blvd., in the heart of Westwood. So Emporium Thai came into being with more of the family arriving from Thailand including his mother. A photo of his mother can be seen in the restaurant still smiling a welcoming greeting to her many guests even after her passing two years ago at the age of eighty eight.
Taking over to aid us in our perusal of the Emporium extensive menu was family member, Honey Bee. With her gracious manner, smile and charm she had our complete attention. We opened with Thai dumplings, both steamed and crispy as one of the appetizers which also included veggie egg rolls, Thai buffalo wings and crying tiger beef. For our salad with Honey Bee's help we selected the Coco Mango Salad with Shrimp which included shredded raw mango mixed with dried coconut, fresh chili and lime juice. Also we had to try the Crying Tiger beef which was outstanding in flavors.
One of our group does enjoy spice so a currie, one of house specialties, a yellow currie with chicken arrived at our table. This was not for me in my no spice mode. Two more delightful and delicious dishes arrived, they were noodles called Pad See Ew Westwood with shrimp and an entree, Pad Kra Pow, Thai basil chicken that generally arrives with spice but for our table mild with spice absent. Of the three at our table one wanted spice and lots of it, the other two mild or no spice. Every dish arrived just as each of us requested.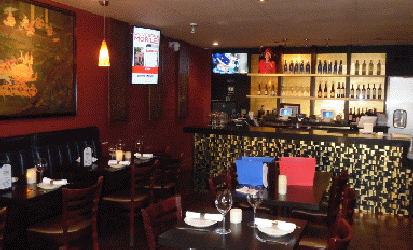 Emporium Thai was a very busy restaurant the week night we were there with full tables and always some people at the bar waiting for their take out order. Catering and Take Out are major parts of a menu that always considers each patron's personal tastes and desires. Everything can be requested to be gluten free. An Executive lunch combo express is featured on weekdays from 11 a.m. to 3 p.m. for busy people with add on as ordered, all for $11.95. Most of the exciting plates served to us were in the twelve dollar range offering fair, modest pricing making the superior quality of food and service a real value.
John Sungkamee has used his software engineering skills to good advantage in promoting Emporium Thai. The restaurant has its own App and continually gets raves from social media outlets. Full menus are available on websites including one for UCLA Catering as well special seafood selections. There are also Vegetarian and Healthy Choice items cooked with premium olive oil.
The bar offers Asian styled cocktails and some wines, and John told us one of his future additions will be a more complete wine list.
When we left Emporium Thai we were convinced we had experienced the best Thai cuisine available in west Los Angeles which explained it being chosen as one of the top one hundred Thai restaurants in the USA.
And that John Sungkamee is indeed an outstanding restaurateur.
Emporium Thai is located at 1275 Westwood Blvd., Los Angeles 90024, Telephone 310 478-2838, web www.ethaicuisine.com. Hours are Monday-Thursday 11 a.m. to 10:30 p.m.; Friday & Saturday 11 a.m. to 11 p.m. and Sunday 5 p.m. to 10:30 p.m.

Back to Table of Contents..
Last Update:9/19/17
&copy 2017 Joe Hilbers All Rights Reserved.
Graphic Design by Impact Graphics