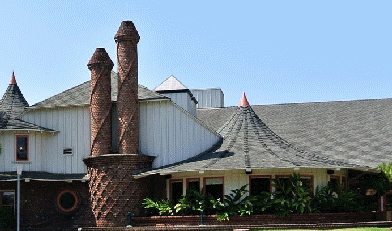 ---
"Torrance--King's Hawaiian Restaurant takes you to the Islands with its ambiance and cuisine" By The Editor
One day recently we were able to relive some of our Hawaiian culinary experiences by simply driving to Torrance and visiting King's Hawaiian Bakery and Restaurant.
For here one is back on the Islands with the staff in colorful Hawaiian shirts, the decor and ambiance of an Hawaiian dining experience and a menu confirms it all.
Thanks to its bread that is readily available in almost every Southern California supermarket King's Hawaiian is a well known brand name. But there is a story here that starts in Hilo, Hawaii and then moves to Southern California and especially the southwest districts. For here is King's Hawaiian Bakery and Restaurant.
It was in 1950 that Robert Taira established a bakery in Hilo, Hawaii offers a unique original recipe sweet bread. Its popularity was such that in 1977 King's Hawaiian moved to Torrance and established a bakery there which then grew to include an outstanding restaurant as well.
We must thank Bert Agor Jr., National l Corporate Executive Chef, for King's Hawaiian for introducing us to the Torrance Bakery and Restaurant. We first became acquainted with Bert when he was Executive Chef at the Tustin Ranch Golf Club where one year he was named Chef of the Year by the Southern California Restaurant Writers.
King's Hawaiian Bakery & Restaurant is large and accommodates a large number of diners from early morning breakfast to late evening snacks much of it with the flavors of Hawaiian foods and cuisine as well as hints of Asian dishes as well. On first entering the restaurant what one sees are long, long displays of bakery goods. A good many patrons never get past this exciting display of pastries, but make purchases and then leave. But for those that stay there is Hawaiian local food like Chicken Katsu, Teriyaki beef plate, Kalbi ribs Kalua Pork or Huli Huli chicken.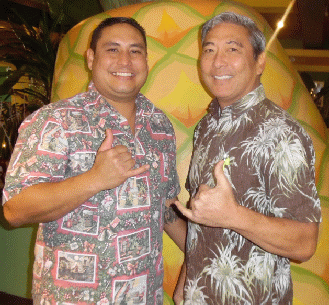 Then there are entrees from the 'new Hawaii' with entrees like Island Mahi Mahi, Misa Salmon, Spicy Tuna Poke or braised Paniola Beef Short Rib.
Joining us to provide more information about King's Hawaiian was Steve Kane, Manager of Retail Operations. He explained that the bakery operations are almost 24 hours a day and include a talented group of pastry chefs. We asked what percentage of people visit the Torrance location for take out bakery items and the number was almost 30 per cent.
Bert Agor now had us at table and this brought about much more study of the prolific menu items. There were King's Hawaiian Bows with Teriyaki chicken, Hawaiian Orange Chicken, Spicy Asian noodle Bowl with grilled Teriyaki steak and Miso Salmon.
Tempting us was some of the noodles and fried rice dishes like Saimin, Hawaiian style noodles with a seafood broth and kamaboko or Spam Musubi & Saimin, the most popular pupu. We would have liked to try the Wonton Min which was pork and shrimp wontons with char siu and Napa cabbage.
We started with some of King's Hawaiian original Hawaiian sweet rolls which were fresh from the oven and still warm. It became difficult to restrain from eating too many of them. For starters Bert ordered the King's Hawaiian Platter which included a sampling of all the listed Pupus Appetizers. These included Ahi Poke, Kalus nachos, Spam musubi, Portuguese sausange and macadamia nut onion rings.
After laying waste to all these goodies it was time to order our entree. I chose the Island Mahi recalling all the delicious dishes of this tasty fish I had enjoyed at Hilo. The broiled fish was served atop made to order Hawaiian mashed potatoes topped with cilantro-ginger chimichuffi sauce, shitake mushrooms and broccolini. Other ordered entrees included the Hawaiian orange Chicken and Teriyaki chicken bowls and the Kalbi Ribs which were Korean style beef ribs marinated in garlic and served with Kimchi.
Still to come was an assortment of desserts from the restaurant bakery. There was slices of chocolate cake, coconut cake and an Italian four layer holiday cake, each layer in a different color. We were told that this Italian cake is a best seller and with its presentation and flavors we could only agree.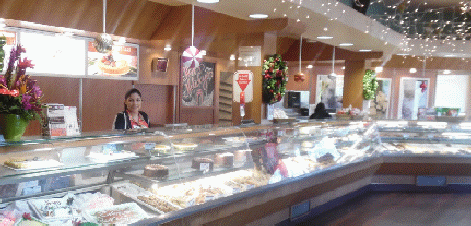 For beverages, well of course, the coffee is Hawaiian grown. A selection of beers and wines are also available.
King's Hawaiian Bakery and Restaurant is located at 2808 W. Sepulveda Blvd., Torrance, telephone 310 530-0050, web www.kingshawaiianrestaurants.com. The restaurant is open seven days a week from 7 a.m. to 10 p.m. while the Bakery opens at 6 a.m.
Last Update:12/27/17
&copy 2017 Joe Hilbers All Rights Reserved.
Graphic Design by Impact Graphics