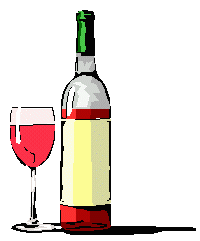 "Winnetka--Rodney's Rockaway proved to be the perfect Cab for Pappy's Father Day Bash"
.By The Editor's Vineyard

Some wines are created for special occasions. In this instance it accompanied the dinner served Pappy on Father's Day. The dinner, with son Brian as Chef, was true Santa Maria Barbecue with tri-tip steak, fresh tomato and onion salsa, piquito beans, and corn steamed in the husks. On a trip to Mexico Pappy learned how true salso is made with both the tomatoes and onions being grilled on an open barbecue fire and this has been passed on to Chef Brian as well. Son Jeffery acted as bartender and Pappy brought his appetite and a bottle of Rodney Strong Rockaway 2008 Single Vineyard Cabernet Sauvignon.
We already knew a little about this Rockaway vineyard. It was established in 1994 at an elevation that ranges from 225 to 750 feet. The vineyard is planted mostly in cabernet sauvignon and merlot but also other Bordeaux varietals. The soil tends to produce exceptional small berries producing a concentrated juice. Make no mistake about it this 2008 Rockaway is a bold, hearty wine
Winemaker is Rick Sayre who has been with Rodney Strong since 1979. When the winery was purchased by Tom Klein in 1989 he stayed on and has been making crafted wines ever since. He learned about winemaking originally from Napa legend Andre Tchelistcheff and has been one of the leaders in producing quality wines in American oak barrels.
Our bottle was the perfect accompaniment to the Santa Maria barbecue. Swirl this wine around in the glass and notice the viscosity and the spice in the aroma. At 15.5 per cent alcohol the viscosity was readily seen in our Riedel glass. There is no mistaking this as a superior classic California cabernet sauvignon, no wine truer to the varietal.
The best of the Russian River valley is present in this wine. Barrel aging has softened the tannins but they are there in complexity. The finish is long lasting and satisfying. The wine showed in the way that the tannins had softened that some aging in the bottle had indeed improved this vintage which was already superior. In a library of outstanding wines Rockawy enjoys top tier at Rodney Strong and deservingly so. To find out more check the web at www.rodneystrong.com.
Anyway it was a great day, a memorable dinner and a wine to match.
Last Update:6/18/12
&copy 2012 Joe Hilbers All Rights Reserved.
Graphic Design by Impact Graphics