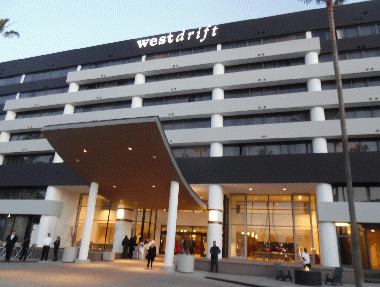 "Manhattan Beach--New Westdrift Hotel shouts out "Welcome to California'"
by The Editor
Our introduction to Westdrift Manhattan Beach Autograph Collection Hotel proved to be an exciting evening. It was its grand opening celebration with much of Southern California's Media in attendance.
The older hotel on the site has been completely transformed into a casual contemporary style of design apparent both indoors and the exterior which overlooks a golf course.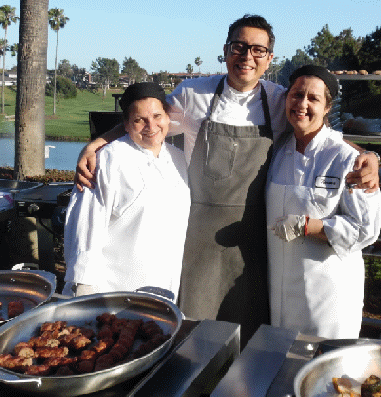 What we noticed first was the feeling of space, and much of it, in all the public rooms. Entry to the hotel is in a large courtyard with a sweeping circular driveway. Step inside and the lobby seems to extend in every direction with much comfortable furnishings. And this lobby is also home to the Jute Coastal Bar & Kitchen which offers refreshments all through the day.
On the floor below is a collection of rooms for private events, all of which include a sweeping outdoor patio perfect for barbecues and the service of culinary delights.
All of this was on display at the opening we attended and the emphasis was on the culinary specialties served that evening. These included a sushi bar, middle east skewer meats stand, a selection of oriental noodles and meats, salad bar , cold meat buffet and tasty collection of desserts. There were several open bars and separate ones for wine and champagnes.
The event was very well attended by a smartly dressed group of people yet the feeling of spaciousness was always present.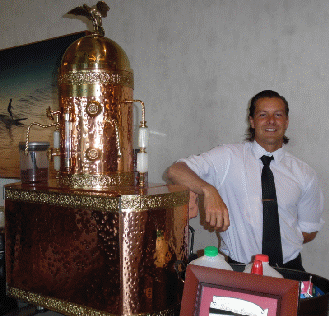 All through the evening a most courteous wait staff continued to circulate offering tempting appetizers.
The overall impression we had was that Westdrift is a most desirable place to spend some time
The Westdrift Autograph Collection Hotel is located at 1400 Parkview Drive in Manhattan Beach. Telephone 310 546-7511.on the web at www.westdrift.com.
Back to Table of Contents..
Last Update:5/3/18
&copy 2018 Joe Hilbers All Rights Reserved.
Graphic Design by Impact Graphics