"San Pedro--Norwegian Bliss's Inaugural cruise was most exciting"
.By The Editor

If you are planning a cruise to Alaska aboard the newly commissioned Norwegian Bliss think big for not only is this a massive ship but the concepts that passengers experience aboard her also move in new directions with more of everything.
We were aboard her on her Inaugural cruise from the Port of Los Angeles. En route to San Pedro she was the largest ship to transit the new locks of the Panama Canal and the largest to enter and moor at the Los Angeles Cruise facility.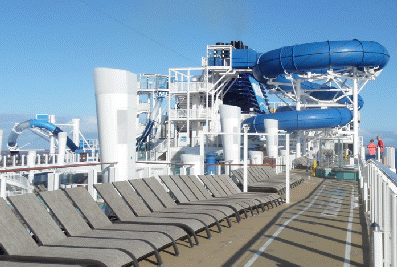 Ours was a short introductory cruise to alert media and affiliated organizations on just what this ship has to offer as it begins its first trip to Alaska, one of seven scheduled from Los Angeles Port this year. The Norwegian Bliss has a crew of 2100 and 4000 passengers. For the passengers there are many new innovations including a wide choice of bar lounges and restaurants with different styles, ambiance and cuisine.
For entertainment again the Bliss now offers shows that were once the offerings of Las Vegas. Once evening we viewed a stunning performance of the Jersey Boys which earlier has received so much acclaim on Broadway. Another evening a performance of a complete musical entitled Havana, produced especially for the Bliss with the theater designed to equip and stage such productions. Other entertainment includes everything from stand up comedy in a club style setting to imports like Britain's Finest.
One afternoon we took part in a Pub Crawl to visit some of the fifteen bars and lounges located on Bliss. We started at the A List Bar and Lounge located on the stern of the ship and adjacent to two themed restaurants, Cagney's Steakhouse and Los Lobos featuring a south of the Border cuisine.
Then we moved to The Cellars Wine Bar which has been set up as a classic tasting room with Spanish born Cellar Master Cecilie Gadea to describe the wines. The Cellar includes over one hundred labels representing many wine countries.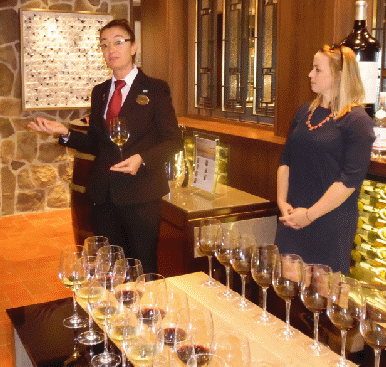 We made one more stop on this Crawl at the Maltings Whiskey Bar. We especially enjoyed the ambiance and jovial bar atmosphere that seemed to be present here and confess to making more than just that one visit. We tasted the featured scotch whisky cocktail , then our Pina Colada while reciting the Pena Colada Ritual which is a must on each and very one of our cruises. P>The choice of restaurants aboard Bliss is astonishing with Las Cucina for Italian, Le Bistro for French, Q Texas Steakhouse as well as the Mexican and Italian named above.
Main dining room is the Manhattan Room and here we were prompt each evening to pursue the exciting menu and enjoy the ambiance and decor which to us seemed a blend of contemporary with hints of earlier eras. Here, as with all our encounters with crew members and serving staff, we enjoyed talking with them and noting both their competence and friendliness. Also the wide mix of nationalities and cultures making for a truly Cosmopolitan team.
One evening we decided on seafood starting with some artfully done crab cakes and following with a full Maine lobster with fresh asparagus. Our dessert traditional apple pie with vanilla ice cream.
The next evening we moved to beef starting with a classic Italian styled Carpaccio, then the main course of prime rib served with a stuffed potato. The portion was huge and regretfully we could not leave an empty plate. However there always seems to be room for dessert and ours was strawberry short cake.
To add to the luxury of Manhattan Room was the background music which were standards from earlier eras and my dining partner and I amused ourselves between courses identifying the songs and perhaps the vocalist as well.
We had what was named a mini suite which came with private balcony, comfortable sofa and a bath with walk in shower, always much appreciated by us senior folk.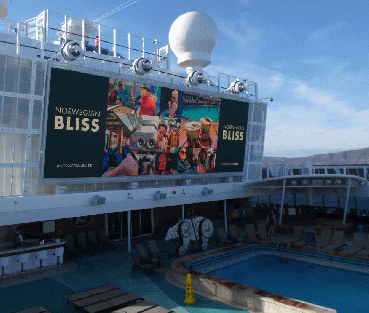 There was much to see that we did not have time to experience. Such was the racetrack with an exciting ride on electric go karts on a two level competitive racetrack. We noted that all the women looked longingly when passing the Mandara Spa and Beauty salon.
Our short cruise enjoyed excellent weather with sun broken occasionally with passing clouds that were lofty and harmless. Some afternoons we noted choppy seas but the mass of Bliss ensured a very smooth ride with motion completely unnoticed even when on the highest decks. One night an almost full moon showed the way across a glistening path of water for a most dramatic photo which I was too tired to capture.
On some cruises getting aboard can be a weary experience but all went remarkably smoothly as we made our way aboard Norwegian Bliss. We used our car and again there was no hassle, either in unloading passengers and luggage or parking, and our car was soon tucked in the very large parking area.
Those that did not leave the Bliss with us were on their way to first Seattle and then on to Alaska. The addition of Norwegian Bliss to cruising opportunities from the Port of Los Angeles will be a welcome addition with the seven Alaska cruises set for this year and eight for 2019.
Last Update:5/28/18
&copy 2018 Joe Hilbers All Rights Reserved.
Graphic Design by Impact Graphics