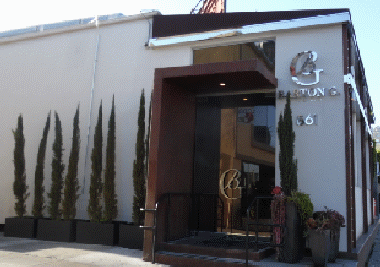 "West Hollywood--Fantastic presentation of fine cuisine is the hallmark of Barton G Restaurant"
.By The Editor

A mix of fine dining and entertainment is not new but Barton G. takes both to as new level. Here along with each dish of a full dinner there is also an imaginative presentation.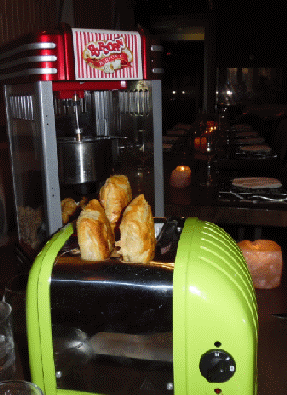 If you start with popcorn shrimp it will be presented to you in a popcorn maker with the every breaded shrimp resting on a bed of genuine popcorn with not one but four original sauces.
Our appetizer was Lobster Pop Tarts which arrived in a genuine real size toaster. As you took your Tart from the toaster you had Maine lobster, gruyere and Pernod mornay sauce baked in flakey Phyllo pastry with Tabasco hollandaise, tarragon aioli.
When our "Great American Steak" arrived at table a tall four foot fork proclaimed its presence. Looking past the fork was the filet mignon, char broiled with black pepper bordelaise and a real bone covered with the herbed butter.
Not to be outdone the Volcano Lamb Shank came with a cow shaped wooden sign proclaiming "Eat Lamb". The Shank was served vertical and was memorable in flavor. It had been prepared Moroccan braised with rutabago-brown butter puree, delicata squash and dukkah crumble surrounded with Vadouvan curry spice, roasted hazelnuts, sunflower & sesane seeds, A tasty side dish offered an oriental touch with a quail egg, sunny side up, atop noodles. Another was Lemon quinoa-raw market vegetables.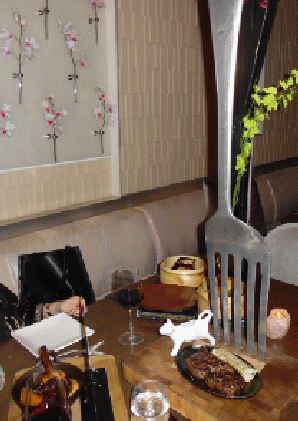 The fish course was lightly breaded fried snapper with zucchini sticks, always one of our favorites.
Our finale for this outrageous display, of pomp mixed with superb quality, was "Marie Antoinette's Head-Let Them Eat Cake". This arrived as a towering,( yes the right word, it was three feet high) cotton candy pompadour, yesteryear candies and a Bananas Foster 'shake' Vanilla panna cotta, gianduja brownie, caramelized banana cream & Chantilly.
All of this was accompanied by an excellent Argentina malbec which we chose from a very large selection of world class wines.
We had the opportunity to meet and chat with Horst Ringler, general manager, who told us the Barton G concept originated in Miami and then followed with a restaurant in New York, and four years ago opened the restaurant in West Hollywood.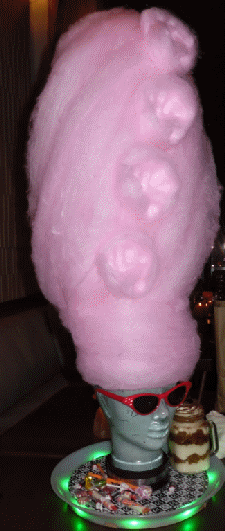 Spectacular presentation is not limited to just the food so be prepared when ordering the Smokey Weiss or Enter the Dragon cocktails.
We also watched with fascination what was taking place at nearby tables. In one a wire basket big enough to contain a large hen was in place for what we learned was "Don't Be a Jerk Chicken.." This was a whole organic jerk rubbed chicken, slow roasted and glazed with Caribbean rum, pickled peach chutney, crushed avocado and spinach fritters.
All of this activity truly was entertaining but did not deter from the excellence of the cuisine prepared by Executive Chef Attila. Barton G. is located at 861 N. La Cienga Blvd., in West Hollywood. Tele. 310 388-1888, web www.bartong.com/restaurant. It is open for dinner from 5 p.m. seven days a week.
Last Update:5/1/18
&copy 2018 Joe Hilbers All Rights Reserved.
Graphic Design by Impact Graphics