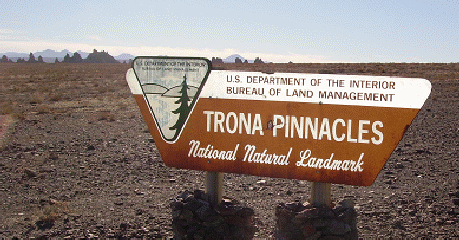 ---
"In Southern California winter is the time for desert activities" By The Editor
In California winter is the ideal time for many desert activities. Looking over our maps we were intrigued with two Bureau of Land Management areas with, what we thought, were unique names. Termed National Natural Landmarks they were Rainbow Basin and The Trona Pinnacles.
The Trona Pinnacles, in the western Mojave desert, were once part of a lake system during the Pleistocene era dating back almost 100,000 years. The pinnacles were actually formed under the waters of Searles Lake and grew into towers. Now time has shaped them in unusual shapes with the tallest at 140 feet. As we wandered through the Pinnacles it was hard to imagine that we were actually treading on the bottom of what was once a glacial lake that was 600 feet deep.
Searles Dry Lake basin holds many valuable minerals and has been mined for over 150 years. The pinnacles are made of calcium carbonate and have been worn to their present height over eons of time. When first formed they were much larger. These pinnacles should be visited in the late fall, winter and early spring. They are located only a mountain range away from Death Valley. In summer temperatures can reach 115 degrees.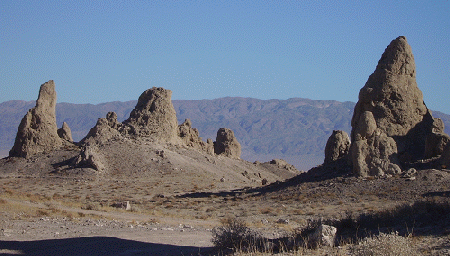 Our visit occurred on a perfect late Fall day, windless and cloudless, with the temperature about 60 degrees, just right for the walking tour we took to view the pinnacles close up. There is a marked half mile trail which allows this short hike and offers views of the surrounding desert and distant mountains as well. Camping is allowed but most primitive without tables or fire pits. There is a valult style restroom but no other development. Closest services are at Ridgecrest 20 miles distant.
The fact that the Naval Weapons Station is at China Lake and in close proximity can make for interesting experiences. For us was being right underneath a ground hugging fighter jet with accompanying sound.
Access to the Pinnacles is from State Highway 178, then a turnoff to a five mile dirt road which is well marked. The whole day was most pleasant for us although it meant an early start from the San Fernando Valley. Actually it was three hour drive each way for us. But the views and some side exploring made for an exciting experience. We stopped to learn about the El Paso Mountains recreation area which includes an El Paso Wilderness but also access for off road vehicles in designated regions.
We also drove through Ridgecrest which offers all services including a WalMart.
Rainbow Basin
Our visit to Rainbow Basin was on a cloudless winter day, warm in the sun, cool in the shade and about a two and one-half hour drive from Los Angeles. The Basin is a completely uninhabited area of canyons, ravines, mud hills and rocks in all shapes, sizes and colors. For people interested in geology or anthropology it is a dream area for it includes mudstone formations that have yielded fossil bones from mammals of a much earlier eon.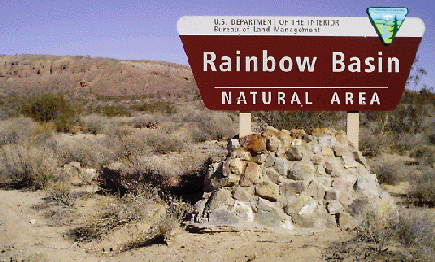 Winding through these interesting formations is a narrow, well graveled road. One way traffic only it follows a dry wash then climbs over a ridge and then back to your starting place. Take all the time you want on this drive since some of the rock and mud formations are in fantastic shapes and it is fun to let your imagination loose to give identity to some of them, your boss or mother-in-law or that monster that lived under your bed as a child. On our weekday drive we did not see a single other vehicle. Cameras are a must.
We checked out the Owl Canyon campground which offers both camping and picnicking. It is well maintained surrounded by interesting desert scenery and giving one the feeling of being thousands of miles from anywhere. We enjoyed our picnic lunch there with views that extended all the way to snow capped Bear Mountain in the San Bernardino Range far to the west.
While the feeling is of being far from civilization this is not so. Actually the Basin is reached from Barstow on the Irwin Road which leads to the Ft. Irwin Military Reservation. After six miles there is a turnoff with sign named "Fossil Bed Road". Another three miles on this well maintained gravel road and you are there. For more information check the web at www.americansouthwest.net.
Mojave National Preserve
For more winter desert adventures we suggest the Mojave National Preserve. Administrated by the National Park Service the Preserve was established in 1994 and encompasses some one and one-half million acres. In this vast area one finds dry lakes, salt beds, sand dunes, mountain ranges and a surprising amount of wildlife.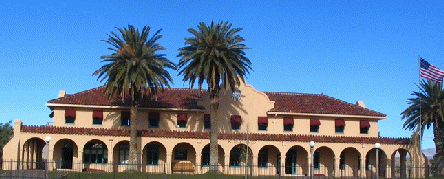 The Preserve received a big boost and new opportunities for visitors when the Kelso Depot opened as the Visitors Center. Except for the Kelso Train Depot, now remodeled and renovated by the Park Service, little is left of Kelso which in an earlier era had some 2000 people. It lies as a station on the Union Pacific railroad which built the Depot, in the Spanish style, in 1924 as a waystation on the rail line which goes from Los Angeles through Las Vegas, Salt Lake City and then East.
We spent an exciting day exploring some of this unique expanse of desert and mountain. We advise that if you wish to explore this unique Preserve, which includes parts of the Mojave, Great Basin and Sonoran deserts, the Kelso Visitor Center is the place to start. Here there is a helpful Ranger, maps and brochures which will make your visit both informative and pleasurable. Kelso is reached by paved roads either from Interstate 15 or Interstate 40. We used Highway 40 for our day long tour of the region, stopped at Kelso for a briefing at the Visitor Center and then followed a short section of the original Mojave Road. This trail dates back ages to when various Indian tribes used it for travel or trade. Indians then guided the Spanish explorers on it and still later settlers, miners, ranchers and the U. S. Army all used the Mojave Road. Today it can still be explored its entire length in four wheel drive vehicles.
We departed from the trail to check out Round Valley which has two campgrounds, Mid Hills and Hole-in-the-Wall . These campgrounds are at an higher elevation so can be used throughout the year. At Mid Hills campground we enjoyed our take along lunch and stretched our legs while looking at the Jack Rabbits which also studied us. Mid Hills camp is situated at an elevation that offers stands of cedar, juniper and pinon trees.
On what is called Black Canyon Road we proceeded to the second campground, Hole-in-the-Wall. Here there is also a Visitor Center. During the summer it is open only Friday through Sunday. The Campground is open year round and offers interesting trails through most unusual rock formations. From Black Canyon it was only a short drive on Essex Road back to Interstate 40. So we completed a large loop which showed us much of the country. Besides the route we took there are others to the Preserve. A road at Baker, called Kelbaker Road, leaves Interstate 15 and travels south to reach the Kelso Depot Information and Visitor Center. It offers its own scenic wonders including the Cinder Cone Lava Beds and for a short stretch parallels the original Mojave Road. Still further east on Interstate 15 another route, called the Cima road, also winds south to Kelso Depot.
Last Update:1/1/13
&copy 2013 Joe Hilbers All Rights Reserved.
Graphic Design by Impact Graphics