---
"With summer Oxnard and Ventura County beaches offer relief from heat and much more" By The Editor
Inland regions of Southern California can see triple digit temperatures during the summer while that long shoreline with the Pacific Ocean offers mild, sun drenched days with refreshing breezes. Thanks to an ocean phenomenon called upwelling which occurs as cold deep water rises as it meets the Continental shelf, both air and water temperatures remain cool despite the summer sun.
This is especially true in Oxnard and Ventura which consistently offer some of the lowest summer temperatures in Southern California making it a choice destination for hot inland refugees. This Writer has been one of these refugees for many years since as a resident of the west San Fernando Valley he knows all about Valley hot days and nights.
So once again we were in Oxnard to explore its many opportunities for the pleasure and comfort of visitors. These range from outstanding restaurants and hotels to the Ventura Wine Trail and many seashore activities. Exploration includes a port for trips to the Channel Islands National Monument.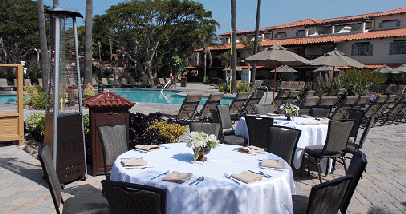 This time our base was the luxurious Mandalay Beach Hotel and Resort and once again we wondered why it took us so long to discover it. A true jewel it is located on eight acres of property fronting most tempting sandy beaches. It stands alone as the only all-suite beachside resort in Southern California. The ambiance and architecture are true Mediterranean with lagoons waterfalls, bathing pools and lush gardens, all just a few steps from the beach.
As for our suite, I can not remember ever having a hotel suite with two bathrooms. There was our spacious living room, sliding glass door leading to a private patio overlooking, grassy dunes and palm trees swaying in a gentle ocean inspired breeze. Our thought was what a great place for a summer retreat and mini vacation for Valley residents like us.
This Embassy Suites resort has just completed a $17 million renovation of its Coastal Grill and poolside facilities. Our introduction to the contemporary cuisine of Executive Chef Tim Hulbert was a two hour luncheon where we had small serving of many of the featured appetizers and entrees.
We opened with the lobster Bisque, then fried calamari, Baja Spring rolls and chicken Quesadilla. Our entree plate included an Asian chicken salad, baked chicken breast and grilled halibut. Our wines were Votre Santi California chardonnay and 14 Hands Washington Cabernet Sauvignon and Lost Angel California Pinot Noir. We were much impressed with the Chef's Talents who recently joined the hotel after stints with two of Las Vegas best hotels.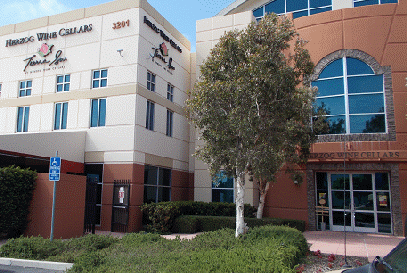 After such a lunch our luxurious bed beckoned but no rather we were off to visit Herzog Wine Cellars once again. This winery it part of an epic family history that has extended for eight generations in Europe and America. It is one stop on the Ventura Wine Trail with fourteen wineries that extends from Oxnard, Ventura and the Ojai Valley.
We met with Joe Herzog and followed Winemaker and General Manager Joe Hurliman through an extended tasting of wines Herzog makes under several different labels. Besides their flagship Herzog label they have full lines of wines under the Weinstock label and limited vintages under the Eagles Landing label.
Herzog Wine Cellars is located at 3201 Camino Del Sol in Oxnard with tasting room and self guided tours from 11 a.m. to 9 p.m., closed Saturdays. Adjacent to the tasting room is the acclaimed Tierra Sur Dining Room. Telephone 805 983-1560.
Perhaps the fact that this Writer has spent almost his entire life living within twenty miles of the Pacific Ocean accounts for his fascination with Maritime Museums. So once I learned that the Channel Islands Maritime Museum had opened at Channel Islands Harbor in Oxnard a visit had to be made.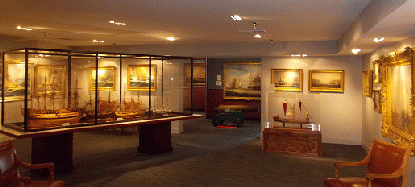 The move of the Maritime Museum, formerly called the Ventura County Maritime Museum, involved a name change and new location on the other side of the Harbor. A visit to the original museum was written about in Vittles several years ago.
Now all is new both with name and location at a handsome building adjacent to harbor craft at 3900 Blue Fin Circle in Oxnard. Bill Conroy, a long time volunteer at the Museum acted as our guide and host. He told us he is one of some one hundred volunteers at the museum. We also had the opportunity to meet Robert Little who demonstrates the art of placing ships and other objects in glass bottles. For Mr. Little this art and wood carving have been a lifetime pursuit.
The Museum exhibits a wonderful collection of art by marine painters spanning several centuries. Also models of ships dating back to 4000 B.C. that traces the evolution from oars to sail. We particularly enjoyed a corner devoted to England's naval hero Lord Nelson with portraits of the Admiral as well as paintings depicting the Battle at Trafalgar in 1805. There is also a most interesting collection of ship models made completely from animal bones. These were made by French prisoners of war during the Napoleon wars.
The second floor of the museum includes a Scrimshaw collection of seaman carvings on walrus and shark teeth. New exhibits are planned depicting the life of sailors of the past and explorers. There is also a library with some 2200 hundred volumes of books about the sea which is available for those doing research. Bill Conroy told us that thanks to private donations the library is expanding rapidly.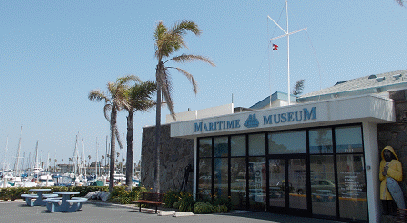 The Museum is open daily from 11 a.m. to 5 p.m. Admission is Adults $5, Seniors $4 and Children $2. There is plenty of free parking and opportunities to stroll along the marina as well.
More information about Oxnard and Ventura County can be found at the California Welcome Center, 1000 Town Center Drive in Oxnard. Telephone 805 988-0717. Web www.visit oxnard.com.
Sea Fresh has been a fixture in Ventura County since 1985. On our recent trip Sea Fresh at the Channel Islands Harbor was a must since we remembered it from past visits and its reputation for seafood is legendary.
Four years ago brother and sister Chris and Tamara Sutton took over management of the Oxnard restaurant for the family. And it has become almost a club for both locals and visitors with a pub like bar and both inside and patio seating all with a great view of the small craft that crowd the Channel Islands Marina. Here you place your order at the counter and then find your seats and the food will soon arrive. But ordering may not be that easy. At least it was not for this Writer. We love seafood and a look at the menu here includes just about everything that lives in water. Looking over items like fresh oysters on the half shell, calamari prepared several ways, lobster, crab, and clam chowder took some decision making.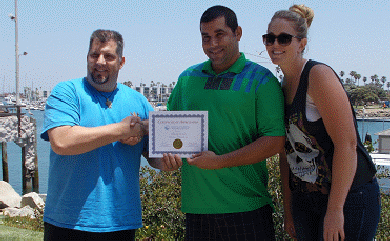 The chowder here is memorable. Finally I ordered one of my personal favorites, fish and chips. So we lounged on the patio while in conversation with a local celebrity, many time surfing champion Mike Lamm. It developed that Mike was well acquainted with my son, Brian who makes surfboards with the Fineline name. Mike said that he had used Brian's boards many times and so we were soon had much to talk about. This does not mean that we did not spend time with our tasty food and drink.
For more information on Sea Fresh in Oxnard call 805 204-0974.
Last Update:5/26/13
&copy 2013 Joe Hilbers All Rights Reserved.
Graphic Design by Impact Graphics