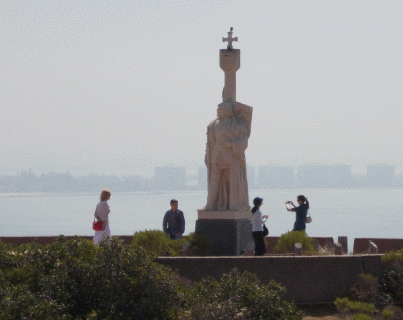 ---
"San Diego--The Bay and Harbor have played major roles in its history" By The Editor
On this trip to San Diego we decided to approach it as if we were a first time visitor and it proved a great way to get a fresh prospective on this City and County of three and one half million people, now the second largest in the State. Certainly the changes are vast since we first visited the City as an Army recruit from nearby Camp Callen almost a lifetime ago. Then we wandered the streets with thousands of other teenage marines, sailors and soldiers, all freshly removed from the arms of loving mothers to the watchful demanding eyes of Sergeants and Chiefs.
This time we started at Cabrillo National Monument for it was here on September 28, 1542 Juan Rodriguiez Cabrillo, aboard Spanish Galleon San Salvador, discovered the bay and surroundings lands, that is now San Diego, for the European world. Just fifty years after Columbus discovered the New World Cabrillo became the first European to see the west coast of North America. And here, beside the protecting bay, where the first Spanish settlement in California took place.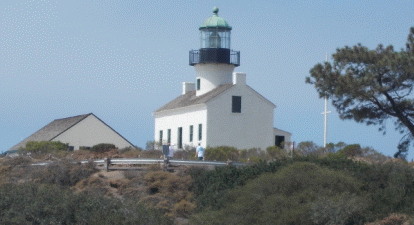 On this voyage of discovery that started at Guatemala Cabrillo was Captain and Commander of three ships, San Salvador, Victoria and San Miguel. He named his discovery after the ship San Miguel but the name was later changed to San Diego.
This is the Centennial year for Cabrillo National Monument for it was established in 1913. In those one hundred years, while maintaining its natural flora and fauna, it has become the most visited national monument of the National Park Service.
We started at the Visitor Center and since low coastal clouds were present, first went to the auditorium to see a most interesting film on the life of Cabrillo. There is also an interesting collection of early navigation instruments used by early European explorers like Cabrillo. These included the astrolabe to calculate the position of stars, a half hour glass, which was constantly tended by the man on watch, and the early guadrant to determine position of the ship.
Now the sun was out and time for photo opts of the historic Point Loma Lighthouse and Statue of Juan Rodriguez Cabrillo. Here one sees the geography of the Bay spread out before you. Include a visit to the Lighthouse, first built in 1855.
Since this is the Centennial year many extra events and activities have been scheduled. For more information on these events go to www.cabrillocentennial.org.
Getting to Cabrillo National Monument from downtown San Diego is easy and there are signs guiding all the way from Highway 8. En route you will pass US Navy Installations and the Fort Rosecrans National Cemetery. The Monument is open daily from 9 a.m. to 5 p.m. with a modest entrance fee.
A Harbor Cruise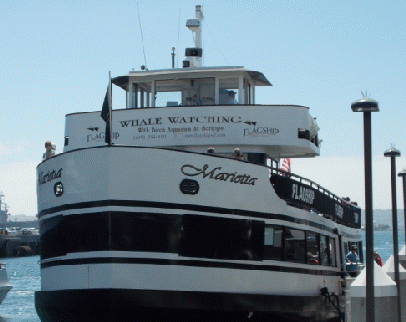 To continue our explorations of San Diego Bay we boarded Flagstaff Cruises' Marietta for as two hour harbor cruise. This is an ideal way to become acquainted with places like Shelter, Harbor and Coronado Islands. There are one hour tours to either the North or South bay but the two hour tour covers both. We started north to view the US Navy North Island Air Station which dates back to the earliest days of Naval aviation. Then the Submarine Base that occupies the spit of land where Cabrillo was believed to first landed.
On the South bay, with the shoreline of Coronado Island on one side and Navy ships and facilities on the land side, we passed under the Coronado Bridge. Here there were Destroyers, Frigates and Cruisers to be seen as well as famed Hotel Del Coronado. Also the Navy Amphibious base, home of Seal Commando training.
The Marietta offers an open view upper deck and enclosed lower deck with refreshments available. A very knowledgeable guide kept us informed on what we were viewing and was most helpful in naming the type of Naval craft we were seeing.
The ticket office and dock for Marietta and Flagstaff Cruises is located on Harbor Blvd. adjacent to the USS Midway.
Touring the USS Midway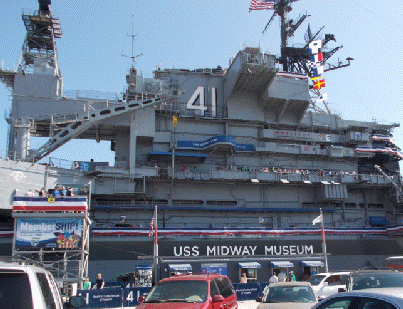 Like a million other people in the past year we placed a priority on touring the aircraft carrier USS Midway. This ship carries a proud name, that of the Battle of Midway where the decisive Carrier to Carrier sea battle was fought and won by the U.S. Navy in World War 2.
Our visit started casually enough as we wandered with camera in hand, first to the Hanger Deck, then to the Flight Deck which appears to extend forever but is actually four acres in size. Here we chatted with Docent Paul Smith who was a pilot on the Midway. It turned out that he grew up in Canoga Park, where we live, and attended Canoga Park High School as did my two sons.
He pointed out to us two nuclear carriers docked across the bay, the Carl Vinson and Ronald Reagan.
On the Hanger Deck we met Docent Ed Reiger who graciously conducted us on a personal tour of the junior officer quarters, and both enlisted and officer mess facilities. Also a host of other facilities that create a city at sea for the crew of 4,500 men and women. These included chapel, wardroom, laundry, sick bay and CPO mess.
Allow plenty of time for your tour. There is simply so much to see, for children a most exciting experience. We spent two hours aboard and left with much still to see including the engine room and Captain and Admiral's quarters.
Visiting hours for the USS Midway Museum are from 10 a.m. to 5 p.m. daily. Parking is available just steps away from the ticket booth and entrance. For more information call 619 544-9600, web www.midway.org.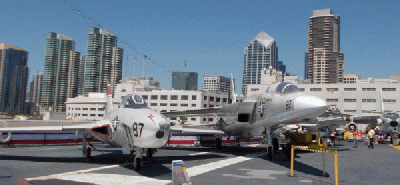 Last Update:7/5/13
&copy 2013 Joe Hilbers All Rights Reserved.
Graphic Design by Impact Graphics