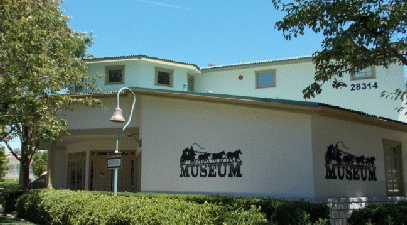 ---
"Temecula Valley Museum captures colorful past of town and region" By The Editor
Temecula Valley and city have a rich history that often symbolizes the old west. In the Spanish era of California it was on the trail to California blazed by Juan Bautiste de Anza. In the late 1800s it was cattle country and the era of the cowboy. The Vail Ranch alone had 83,000 acres of Valley land for its cattle range.
Then there was agriculture with large groves of orange, lemon and avocado trees. The Valley early on offered a relatively easy route inland from the coast and played a major role in transportation, first with the Butterfield Stage and later the railroad. The last train left Temecula in 1935, after that the track was washed out in a flood and never replaced.
This story is well told at the Temecula Valley Museum located in Old Town Temecula. The present Museum was completed by the city in 1999 and offers many exhibits depicting its own history as well as national events like the exhibit ,when we visited, that marked the 50th anniversary of the Civil Rights March on Washington.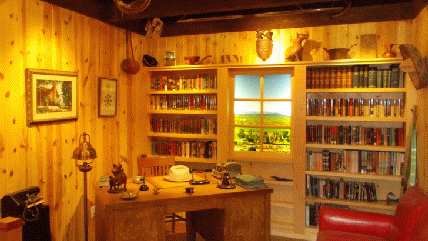 We were much interested in a permanent exhibit of one of the city's most famous citizens of the late 20th century, Author Erle Stanley Gardner. The writer for some twenty years was the City's most famous resident. He created the private detective Perry Mason, first in print and later a television series. He was also an ardent outdoorsman and wrote about his adventures as well.
This Writer remembers him best for his books on exploration in Baja California which were of great interest to us. These travel books included "Hunting the Desert Whale". '"The Desert is Yours", and "Hidden Heart of Baja" and we read them all. The museum exhibit includes his office where he did his writing as well as an extensive photo collection of his travels and social life.
There are exhibits showing the life of native Luiseno Indians before the arrival of the Spanish as well as the historic cattle ranching era. There is a blacksmith shop, another with the accouterments of ranch life, branding irons and tack of the horseman. Another depicts a Temecula general store in an earlier era.
The museum includes much material that was originally collected by long time residents Tony and Mildred Tobin. In fact their collection was the first such in the Valley and the lobby of the present museum is named in their honor and memory. And here too an exhibit with items of their collection. Adjacent to the lobby is a Gift Shop. Almost all those staffing the museum and acting as tour guides are volunteers.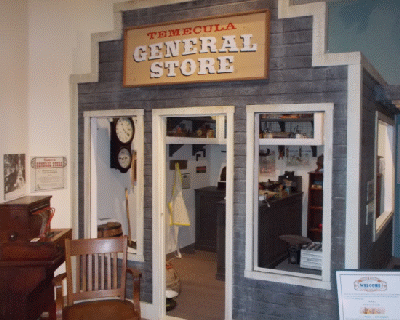 Temecula Valley Museum is at the center of Old Town in a small park with free parking and, surrounding the building, picnic tables and benches. It is located at 28314 Mercedes Street just one block off Main Street. For hours and days of operation call 951 694-6450
Last Update:9/30/13
&copy 2013 Joe Hilbers All Rights Reserved.
Graphic Design by Impact Graphics