---
"Port of Los Angeles--Costa Deliziosa visit displayed its international cruise style" By The Editor
There is both good and bad in visiting a cruise ship in port. The good is having the opportunity to tour an exciting ship, meet some of the crew and enjoy a splendid luncheon aboard.
The bad is leaving the ship to face the 405 freeway and drive home. Especially since you have learned that ship has completed half its round the world cruise and will leave tomorrow for places like Honolulu, Pago Pago in Tahiti, Suva in Fiji, then Auckland and Wellington in New Zealand and on to, first, Sidney then Perth in Australia.
The ship was Costa Deliziosa and it was at the Port of Los Angeles briefly on its 101 day global circling cruise. Costa ships are not often seen in California waters. Costa Cruise line was established in 1948 in Europe, is celebrating its 65th year. The Costa fleet usually cruise the Mediterranean with a very international guest list. Generally a Costa cruise guest list is made up of thirty per cent Italian, 30 per cent German, 30 per cent French and the remainder from many countries. Currently it has fourteen ships in its fleet.
We were one of a group of travel writers invited to see and tour Costa Deliziosa while it was in Los Angeles. The Costa Deliziosa presents an artistic ambiance that is all its own with unusually large lounge and entertainment rooms. There are two pools, extensive spa facilities and a fitness room as well as special programs for children.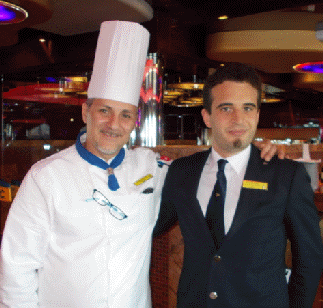 Our luncheon was in the Restorante Abatros dining room. The menu included Shrimps sauteed with mint, tomato and battered zucchini as the appetizer, our Pasta, Risotto with artichokes and parsley. The entree was a choice of either grilled sea bass fillet dressed with oil and lemon and served with chateau potatoes or oven cooked Guinea fowl served with mashed potatoes, onions and sauteed bell peppers.
We selected the sea bass and were not disappointed. Dessert was warm chocolate cake with vanilla ice cream. After lunch we chatted with Chef Pasquale Ciarmiello and Massimo Massa, Guest Relations Manager. We also looked over the dinner menu which is printed in both Italian and English and most items appeared to be in an Italian style. Some exciting like the Braised lamb shank in Chianti wine served with creamy polenta or sliced pork loin on Belgian endive with olive oil and balsamic vinegar
Summing up we liked what we saw aboard Costa Deliziosa..
Last Update:2/4/14
&copy 2014 Joe Hilbers All Rights Reserved.
Graphic Design by Impact Graphics