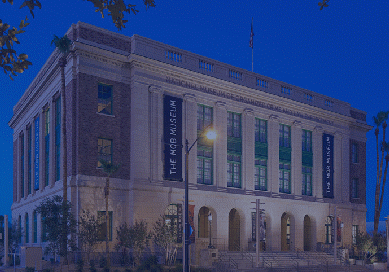 Las Vegas--The Mob Museum delivers on its promise"
..
By Jeanne Bartlett

.
The promise of the Mob Museum is visitors will discover the whole truth and nothing but the truth of organized crime and law enforcement in Las Vegas – and that goal certainly is fulfilled. Its official name is The National Museum of Organized Crime and Law Enforcement, and it is a nonprofit devoted to preserving and presenting both sides of the conflict between the two factions. The 41,000-square-foot museum was designed by a world renowned team. It is situated in a Downtown Las Vegas building that formerly was an historic federal courthouse and U.S. Post Office.
The original building was completed in 1933 and appears in both Nevada and National Registers of Historic Places. In preparation for its new life as the Mob Museum, the neo-classical architecture was meticulously rehabilitated. The exhibitions occupy 17,000 square feet so you need to plan your time carefully (in our first visit there was more than we could take in during a single afternoon).
You are directed to the third floor to begin your visit. This area is dedicated to the "rise of the mob." You will find interactive exhibits giving you a glimpse of the lives of the biggest names in organized crime, including Al Capone, "Lucky" Luciano, "Bugsy" Siegel, Joe Bonano and John Gotti. On this floor and the others there are self-guided exhibits, many photos and movies.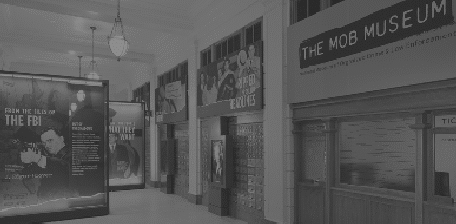 The second floor is where you will find "law enforcement" featured. The crowning item on this floor is the courtroom. The restoration of the former federal courthouse preserves this cultural item for the ages. In 1950 and 1951 the Kefauver Committee on organized crime (named for U.S. Senator Carey Estes Kefauver) held hearings in 14 cities. The seventh hearing took place in Las Vegas in this very courtroom, November 15, 1950. This is considered a time in Las Vegas history when the Mob "ran the town." It is believed that the Kefauver Committee had a bigger impact on Las Vegas than any other city because of the subsequent crackdown on illegal gambling. A newsreel-style movie that runs every few minutes takes visitors back to the hearing.
Beside the courtroom there are many other exhibits and artifacts on the second floor. There are weapons, wiretapping tools and other crime fighting tactics, as well as crime scene photos. One of the participatory activities allows visitors to "shoot" a simulated Tommy gun. You see a movie with someone coming toward you and you focus and shoot. Nearby you will find the real wall from the St. Valentine's Day Massacre.
There is a place where you can listen to how wiretapping equipment works. Another station illustrates how the FBI trains its members in firearms. There was a bright-red replica electric chair but I noticed only the youngest chose to try it out. After two floors crammed with exhibits your time and energy probably are waning – but it is time to push on to the first floor.
On the first floor the information is directed toward modern day, including a room devoted to how mobsters have been portrayed in movies and television. There are even clothes from a number of big and small screen characters, such as a suit worn by James Gandolfini in his role as Tony Soprano, the famed boss of TV's "The Sopranos."
Easily missed is the exhibition of women connected to the mob. Look for this near photos of the many mobsters lining the walls. This room is set up like a 50's night club where you can enjoy the exhibit in booth seating. New exhibits tell the story of the capture of Whitey Bulger in Santa Monica, California. Bulger is a convicted murderer, soon to be played in film by Johnny Depp.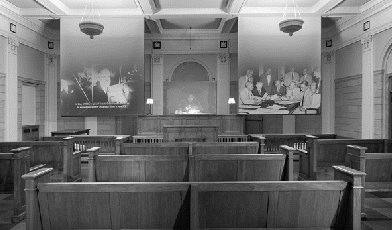 Mob Museum, 300 E Stewart Ave, Las Vegas, NV 89101, (702) 229-2734 As of January 1, 2014, prices at the Mob Museum are as follows: Adult (18 +) $19.95, seniors (65+) Military, Law Enforcement, Teachers (w/ID) $15.95 Children 11-17 & Students (18-23) $11.95, children 10 and under free.
Hours of Operation: Sundays – Thursdays: 10 a.m. – 7 p.m, Fridays & Saturdays: 10 a.m. – 8 p.m. Please note times are subject to change due to private event bookings. It is suggested that you contact the box office at 702-29-2734 before you visit to verify hours.
Limited parking is available in lot next to The Mob Museum for what is described as a "nominal fee." If the lot is full, there is public parking nearby for the Fremont Street Experience, plus parking lots for various casinos. The latter offer low prices if tickets are validated.
Back to Table of Contents..

Last Update:2/18/14
&copy 2014 Joe Hilbers All Rights Reserved.
Graphic Design by Impact Graphics