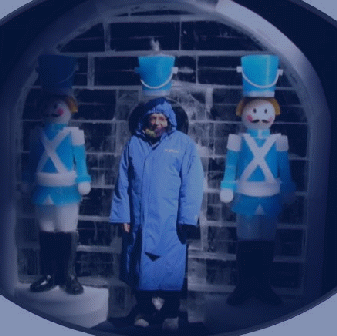 "Long Beach--Chill at the Queen Mary is a Christmas Extravaganza"

By Jim Woodin
.
I stepped on the land known as Mainland China years ago and have expressed my desire to return on many occasions. First, to walk among the people, learning about the culture, the structures and the wall everyone says you can observe from the moon. The second reason is because of television. Every year I am teased by the Ice Show presented annually in Northern China. Television doesn't show enough in the thirty seconds they feature this story often preceded then followed by four minutes of commercials
That ended a couple of days ago. Here you see me between two soldiers from the Nutcracker. If I appear a bit wrapped up for the occasions it's because the room is very close to zero degrees. Thirty artisans from Northern China arrived in California nearly two months ago to execute one of the most amazing Christmas attractions. They have taken, by weight, over two thousand million, you read that correctly, blocks of ice and created the world of the Nutcracker.
You're able to walk thru it, around it and under it at your own pace. I spent about thirty minutes in awe….then stepped outside. It seemed like I had stepped into an oven, but the temperature was actually in the low seventies. Outside I encountered live characters from the ballet, the world's largest bounce house, a twenty-foot plus rocking horse that the entire family can ride at the same time, an ice sloop to tube down, a magician here and carolers there.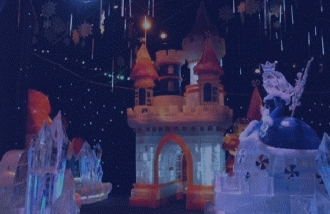 You walk into all this around a walk-way that is filled with giant lollypops and foot high gumdrops. It's a village from another era. There are shops filled with themed merchandise and then there is food, funnel cakes and beverages. These you'll find everywhere. But, walk thru and around the many choices for refreshments and you'll find sausage sandwiches. At first look at the menu board you might be surprised at the price….then look at the product. With a radius over an inch and a length of about twelve inches this is the treat that will easily fill three guests. The flavor is superb and you can garnish it yourself….Yum. The French Fries were also excellent but they give you so much they chill quickly in the evening's cool air.
They have an ice skating rink and you can try-out your skills or just check-out the show presented by International Skating Champions. For me, it's time to return to the Ice Kingdom. At the entrance they check your size and almost gift wrap you in a head to toe coat. It includes a hood. It takes seconds for your system to adjust. Then as you leisurely stroll the path you don't believe your eyes. You're about to encounter soldiers, houses, animals and a replica of the Queen Mary…dramatic, colorful, a display found only one other place in the world….Northern China.
It's a great day trip for you personally or to take those visitors here for the holidays. It's called 'CHILL' . You'll find it is part of The Queen Mary's, in Long Beach, Christmas Extravaganza. Admission is under fifteen dollars per person. Both Valet and self-parking are available. A scarf might put you more into the season and the exterior area can be cool. Don't forget a camera…these are memories that will last forever.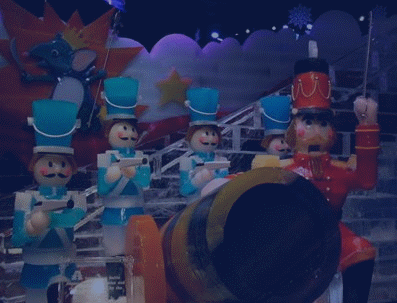 There's one other thing…don't look for Santa Claus, you're not going to find him. Somewhere in this story I told you about stepping back to another era. At 'CHILL' you'll run into Saint Nick, the real beard's slightly grey, glowing eyes thru his glasses, a warm gentle person, shaking hands, posing for pictures and a Ho-Ho-Ho as strong as any. His jacket is a colorful full length coat and you instantly recall Norman Rockwell's Paintings from a time long ago.
It's offered to all, now thru January 5, from the staff of the Queen Mary as a Christmas Gift---at least from where I sit.
Back to Table of Contents

Last Update:12/17/13
&copy 2013 Joe Hilbers All Rights Reserved.
Graphic Design by Impact Graphics