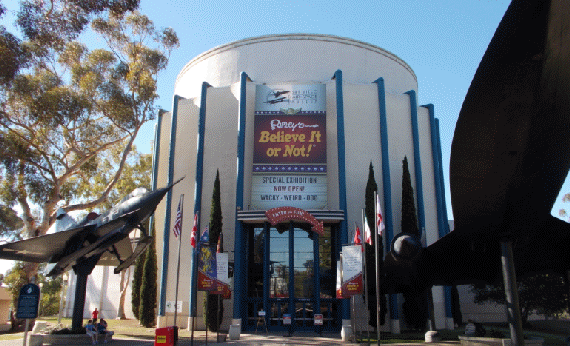 ""
San Diego--The Air & Space Museum chronicles the history of flight"

.
By The Editor

Our visit to the San Diego Air & Space Museum located in Balboa Park was of much interest and we spent almost an entire afternoon carefully examining the many exhibits that covered the earliest flights to space capsules.
This Writer grew up in the years after World War 1 and as a teenager was fascinated with the air battles of that war. There were pulp magazines completely devoted to fictionalized accounts of air battles between the Red Baron and those fearless airmen of France, Britain and the U.S., and we read them with great enthusiasm. Before World War 2 was over we were a soldier in the U.S. Army ourselves.
The World War 1 Gallery was a special interest to us since we had just read Jeff Sharra's book, 'To the Last Man' on the Layfayette Escadrille. Full size reproductions of the Red Baron's Fokker M 1 as well as the Albatros and French fighters include the Spad and Nieuport 28 flown during that four year struggle. As you can imagine we spent much time here examining every exhibit and scrutinizing every photo.
This was an adventure back to our own youth. I recall that I actually tried to write a few sagas of those World War 1 air battles myself. I still recall I started one of these sagas with "As dawn was finally starting to reveal the scarred features of the tortured trenches below three Spads in V formation were on their way to a special mission."
Still having these encounters with the Red Baron is Peanut's Snoopy as he brings his bullet holed Sopwith Camel back to the tarmac. Then on to a French Bistro to quaff a root beer and tell his troubles to a pretty mademoiselle. We think he deserves some space in this museum for carrying on the tradition of that earlier time.
There is a lot to see at this museum. Like the Apollo 9 Command Module "Gumdrop" and a life-size, replica of the 'Spirit of St. Louis'. For Kids there is an Aviation Action Hanger.
During our visit there was a special exhibition entitled "Ripley's Believe it or Not" that displayed a series of early flying machines hanging from the ceiling. These included a 1901 and 1902 Wright Gliders, mock up of Leonardo Da Vinci Orithopter, and reproduction of a Beachey 'Little Looper' Glider and several others.
We spent some time at the Pacific Southwest Airline gallery. This San Diego based airline was an old friend to us since we used it countless times between Los Angeles and our publications home office in San Francisco. Photos of the stewardesses reminded us what a pretty group of women they really were. Another reminder to when flying was once fun and the question these days is, 'what's happened to airline travel since then?'
This museum covers the whole period of flight and it is remarkable that much of that history spans one person's life span. The San Diego Air & Space Museum is easy to find in Balboa Park at 2001 Pan American Plaza. There is plenty of free parking. For more information call 619 234-8291 on the web at wwwsandiegoairandspace.org.
Last Update:12/18/13
&copy 2013 Joe Hilbers All Rights Reserved.
Graphic Design by Impact Graphics