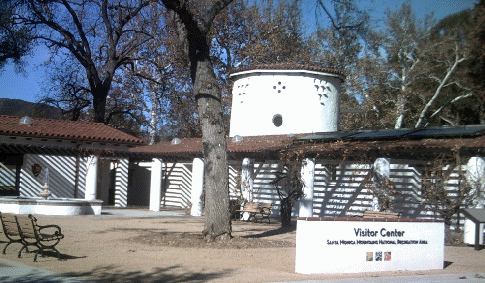 ---
"Santa Monica Mountains--Mild winter weather beckoned toward outdoor acivities . ByJoe Hilb ers
With the temperature hovering around 78 degrees daily it was hard not to think about spending a day outdoors. To this end we decided to look in at the Anthony C.Beilenson Interagency Visitor Center located at the King Gillette Ranch. This new Center was opened in July 2012 and is a partnership of the National Park Service, Mountains Recreation & Conservation Authority, Santa Monica Mountains Conservancy and California State Parks.
The Visitor Center was formerly the horse stable for the Gillette Mansion and while retaining its original design has been completely renovated. All this renovation was done with the latest technology to make the building as environmentally friendly as possible.
We thought the exhibits outstanding in the way information about the Santa Monica Mountains, its flora and wildlife as well as its wealth of outdoor recreation opportunities was presented.
The Santa Monica Mountains extend some 40 miles and unlike almost all mountain ranges in the U.S. are on a east-west line. In the range there are 150.000 acres of land preserved for its natural resources as well as recreation. We met with John Millrany, who as been a volunteer for ten years, as well as Park Ranger Sheila Braden.
We had brought a rather spartan lunch with us and ate it sitting on one of the picnic benches under some beautiful California oak trees that were even older than us.
The Visitor Center is located at King Gillette Ranch, 26800 Mulholland Highway just off Las Virgenes Road. For more information call 805 370-2301, on the web at www.LAMountains.com.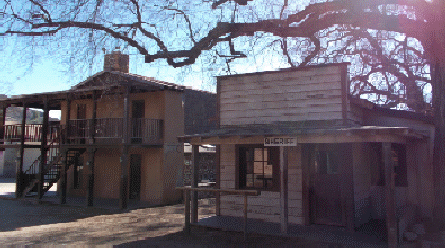 Winter was still AWOL in Southern California. We were greeted with another cloudless morning and the promise of seventy degree temperatures so it was back to the Santa Monica Mountains National Recreation Area, this time to the Paramount Ranch. For three quarters of a century this has been the site for the creation of countless movies and TV shows starting in 1927.
Through the years the ranch changed ownership several times but in 1980 the National Park Service acquired the property. On the property is a western town complete with Saloon, Barber Ship, Sheriff's office, Hotel, Bank, Railroad Station and much more. We took countless photos and regretted that we had not worn our cowboy hat.
The landscape of the Ranch is so varied that it was used in the making of many films that had nothing to do with a western theme. Now there are trails for short hikes and picnic tables.
My son, Jeff, joined me this day and we had our ice chest, filled with goodies, so could enjoy all of the above.
Last Update:2/10/14
&copy 2014 Joe Hilbers All Rights Reserved.
Graphic Design by Impact Graphics