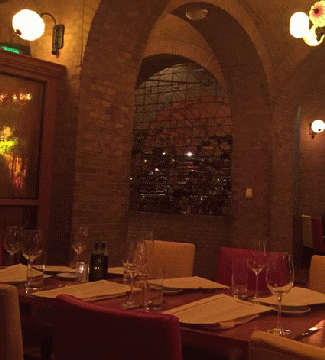 ---
"Temecula--Paisano's Restaurant at Pechanga Casino moved us back to Italy " By The Editor
When it comes to food, for us the Italians have it all. But then we might be slightly prejudiced since my Mother was born in Italy.
Which brings us to our recent dining experience at Pechanga Resort's Paisano's Restaurant. Located in the Casino Paisano's opens each evening a 5 p.m.
Once you step into the entrance design, decor and ambiance show that you are in Italy, and one look at the menu told us we were going to have a special dining experience. While admiring all of this we ordered and sipped a cocktail and studied the extensive wine list.
One thing we instantly noted that some local Temecula wines were included and that the list was predominately California with only a small number from Europe.
Veal has always been one of the mainstays of classic Northern Italian cuisine and this menu showed all the traditional favorites, Parmigiana, Marsala, Milanese and to our delight, Osso Buco. When the waiter arrived he, all too soon, had my order for this dish which is braised veal shank, mushroom herb risotto and sun dried tomato pesto. Traditionally it is served with the bone upright on the plate and that is the way ours arrived. Adding to the flavor of the meat was the porto bella mushrooms surrounding the bone.
Another favorite, Calamari Frtto was listed with the Antipasti, and we soon had this in front of us, shared with my dining partner. Other Zuppee Insalate included Caprese and Caesar salad. There are many choices on this menu. Signature dishes included prime filet, braised beef short ribs or pappardelle pasta. My dining partner chose one of Chef Bruno's daily specials, which was large shrimp and scallops over a pappandelle pasta.
Our wine was Beringer Knight's Valley 2014 Cabernet Sauvignon. And a noble vintage that we thoroughly enjoyed.
The list of Pastee Risotti showed a Rigatoni with vodka sauce, linguine & clams and a Frutti de mare pasta with a whole variety of seafood while Secondi di Carne has three chicken entrees, the veal dishes and a ribeye steak. Secondi di Pesce offered Cioppino or Branzino, grilled Mediterranean sea bass.
From the dessert menu that offered Tiramisu and Galati Misti we chose the Vanilla Cheesecake with Panacotta and Hazelnut ice cream.
Service matched the surroundings and cuisine with knowledgable waiters. .
Paisasno's is open Sunday - Thursday from 5 p.m. to 10 p.m.; Friday and Saturday from 5 p.m. to 11 p.m. Telephone 951 770-8066.
Last Update:7/30/19
&copy 2019 Joe Hilbers All Rights Reserved.
Graphic Design by Impact Graphics