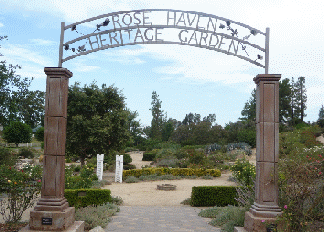 ""
"The visitor to Temecula is offered much diversity in what to see and do"

.
By The Editor

At Rose Haven Heritage Garden Temecula offers the perfect retreat from the busy life-style most people have today. With its thousands of roses of many varieties, a reflection pool, gazebo and Children's Garden it is a wonderful place to relax and retreat from today's busy world. This Garden has an interesting history since its founding in 1991. On three and one half acres it was started as a meeting place for Rose growers to exchange concepts and cuttings.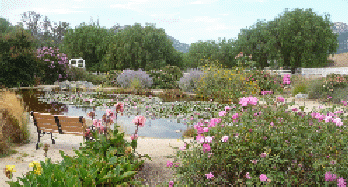 It is not city owned but operates with many volunteers and maintained with donations. It is open every day of the year, from sunrise to sunset, and visitors are always welcome. There is ample off street parking and no admission charge. It was named a certified wildlife sanctuary in 2011 by the National Wildlife Federation and is a member of the American Public Gardens organization. Rose Haven Heritage Garden can be found at 30592 Jedediah Smith Road and Cabrillo Avenue in Temecula.
While wine is so much a part of the Temecula scene Craft Beers have also achieved a significant presence not only in the city but in places like Murreitti.
Seldom do we ever visit the area without duly visited one of these Craft Breweries. This time it was Refuge Brewery which first opened its doors in 2012 with the idea of bringing the "ideas and concepts of Old World Belgian breweries" to Temecula. The name Refuge came about from the history of how beer brewing monks had to flee France during that country's religious revolution and begin anew in Belgian.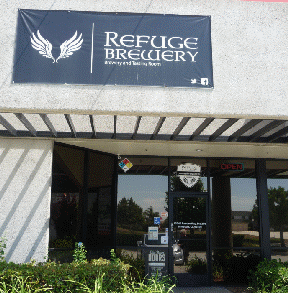 This is a family business with Curt Kucera first starting some home brewing in his garage. Both his sons, Jake and Chad, also became interested and shaped their education to brewing, Jake responsible for brands, logos and such and Chad who completed a Master Brewer program at Doemens Academy in Munich, Germany.
Acting as our Hostess and Guide was Diane Kucera who is Events Director. The Tasting Room which is adjacent to the actual brewery offers the decor and atmosphere of a neighborhood bar and lounge. Being in charge of events gives Diane opportunities to stage both ticketed and non-tickets programs offering live music and food trucks. One feature is live glass blowing and there is also a Brewer's Club.
As for the brews they still maintain the Belgian method of brewing and the result is unique beers that often earn awards. Refuge is a true success story with it now earning the title as the largest brewery in Temecula and all of Riverside County. In addition a major expansion was completed in 2018 at the brewery.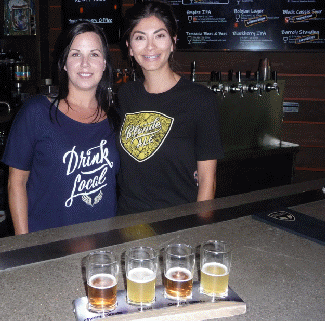 Refuge Brewery is located at 43040 Rancho Way in Temecula, Ca. 92590. Telephone 951551-6659. Tasting Room hours are Monday-Thursday 3 to 9 p.m.; Friday 12 to 9 with a Happy Hour 3 to 5:30 p.m.; Saturday 12 to 9 p..m. and Sunday 12 to 7 p.m.
Our visit to the SugerPlum Zoo and Chocolates proved that there was more to see in the Temecula back country than vineyards and wineries. This is a petting zoo perfect for children and adult photographers. Once we had met Lori Rager, one of the owners, we were soon making acquaintance with Zeus, a Camel that showed less interest in me than me in him. In my dream world I am always riding a camel through the Arabian desert. We were also much taken with Aurora, a Zebra that looked like he had done much sleeping behind open shutters.
It was a very warm day and we could sympathize with Daisy, a Juliana Pig that just wanted to sleep and more of the same.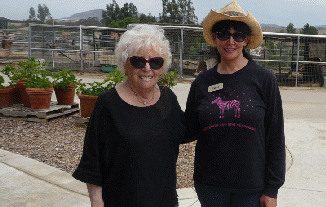 Of course before we left we had to try some of the chocolates too.
Sugarplum Zoo & Chocolates is located at 39695 Berenda Road in Temecula. There is a fee for both adults and children. Telephone 951 239-8694, web www.sugerplumfarmoftemecula.com.
Last Update:08/3/19
&copy 2019 Joe Hilbers All Rights Reserved.
Graphic Design by Impact Graphics