""
"Toast Restaurant's style and menu create new excitement for breakfast and lunch"

.
By The Editor

Not being local to Temecula we had to do some searching but when we did find Toast Restaurant it proved well worth it.
For here was a restaurant that has brought originality and excitement to breakfast and lunch. This shows in design as well as with the menu. Booths are elevated slightly above dining room floor level creating unusual decor.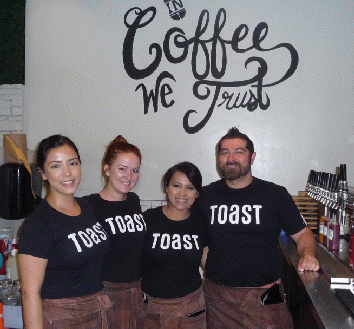 The menu takes ordinary breakfast items to a new creative level with Benedicts listed as Reuben, Smoked Veggie or Crab Cake. French Toast is offered as Tiramisu, Apple Pie or Creme Brulee. I chose the Tiramisu which arrived with a unique presentation as addition to its flavors. My dining partner chose the Lox & Loaded which was well named since it was presented on a large board heaped with cured fresh salmon, bagel, dill spread, capers, red onion, spinach & tomato. I dipped in to help her finish it.
There is an "Other Stuff" menu with items like beer and bacon flight, or radical stack with pork belly, ham, burger patty and assorted add ones. B.Y.O.. omelettes or burritos are offered a with choice of six cheeses or seven meats and shrimp.
For later in the day there is a large list of sandwiches as well as a Ahi Poke Bowl, Korean short rib or shrimp ceviche.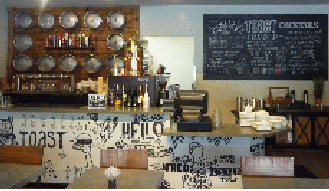 Toast is located at 31093 Temecula Parkway in Temecula for breakfast and lunch daily and closes at 3 p.m. Telephone 951 252-2500.
Last Update:8/3/19
&copy 2019 Joe Hilbers All Rights Reserved.
Graphic Design by Impact Graphics