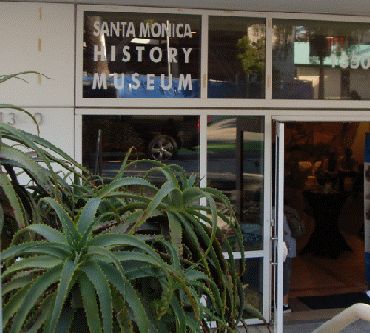 ---
"Santa Monica--New Exhibition shows importance and glamour of Route 66" By The Editor
The number of Americans who actually reached California on Route 66 is diminishing rapidly but thanks to a new exhibition at Santa Monica History Museum the memories of this famous road are well preserved.
Entitled "California's Route 66: Hiding in Plain Sight" the exhibition was presented for the first time at an inaugural opening which we were fortunate to attend. Route 66 has enjoyed a romantic history from the time it opened in 1926 connecting Chicago with Los Angeles. Through the decades it has been the subject for movies, radio and TV series and song. It also played a major role as many people moved west especially during the time of the Great Depression.
Route 66 included 315 miles in California as it followed the Old Mojave Trail before ending at the corner of Lincoln and Olympic Boulevards in Santa Monica just blocks from where the Santa Monica History Museum exhibition is being shown.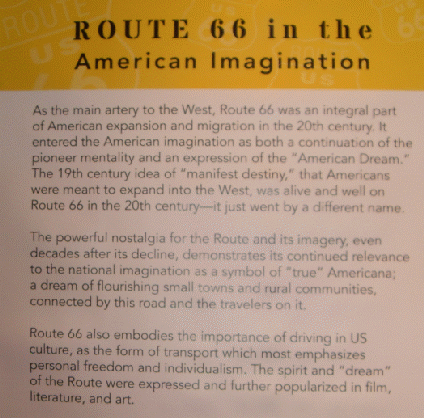 The highway actually followed what before was an old trails track first used by Native Americans and Early Settlers. What it developed into was a destination itself with a host of roadside attractions which lured visitors to stop and experience.
All of this changed in 1985 when it was decommissioned as a federal highway with the creation of the Interstate Highway system. It is still possible to drive much of Route 66 but it is a byway now and what were once busy towns are now all but deserted.
To preserve what Route 66 meant for much of the 20th century the California Route 66 Historic Route Association exists to maintain its history and traditions
One exhibit brought back memories of the Burma Shave signs that at one time could be found on Route 66 and almost every other highway. Another of interest was the fact that Will Rogers was one of Route 66 most prominent supporters. In parts of Los Angeles the Route 66 route is used daily and without most commuters being aware of it.
The Santa Monica History Museum is located at 1350 7th Street, Santa Monica, Ca 90401, web www.santamonicahistory.org.
Last Update:7/1/19
&copy 2019 Joe Hilbers All Rights Reserved.
Graphic Design by Impact Graphics