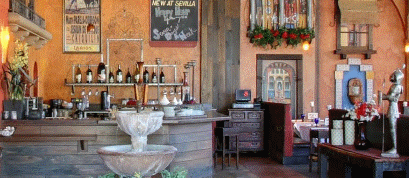 ---
"'Riverside--Cafe Sevilla offers authenic Spanish cuisine " By Jeri Wilson
My oldest grandaughter lived in Madrid with a Spanish family while attending colllge. Now home I took her to Sunday Brunch at Cafe Sevilla so that she could help me evaluate it and tell me how authentic it was. She gives it high points ! So do I!
The restaurant is in an old, restored building, just down the street from the Mission Inn. It is lovely with old fashioned decor...warmth...a personality! How and why did restaurants get away from that? Methinks it is because we have so few individually owned restaurants. Most are chains and must follow decorating guidelines, utilize the same dishes...simply clones of the first one. It's a shame.....
Brunch at the Cafe is a bargain....all you can put away for $25 which includes a glass of Sangria, Champagne or a soft drink. The buffet offers a taste of just about everything, tapas galore, the popular potato tart, Spanish ham ( very similar to Prosciutto), mussels ( the ones with a lobster cream sauce are to die for!), rabbit, several kinds of paella ( did you know there were different kinds?).....I could go on and on.
Sevilla is open only for dinner 4:30 p.m. to 10 p.m., Monday thru Thursday, then 4:30 p.m. to 12 p.m. on Friday and Saturday and Sunday brunch from 10 a.m. to 2 p.m. and then serves dinner until 11 p.m. These are the hours of operation you find in restaurants all over Spain.
Tapas start at $5, Platters to serve 6 are $20,. Entrees are all over the place some seem very reasonable like lamb chops for $14 and rabbit for $17. The Iberico ham is in a range all by itself.
Cafe Sevilla is located at 3252 Mission Inn Ave., Riverside, Telephone (951) 778-0611.
Last Update:

&copy 2014 Joe Hilbers All Rights Reserved.
Graphic Design by Impact Graphics