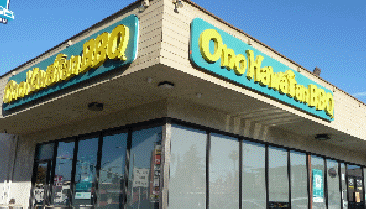 ---
"Los Angeles--Ono Hawaiian BBQ has taken the Isand cuisine to new levels' " By The Editor
The question is with 85 locations in California and Arizona, and at least two in the San Fernando Valley where we reside, why did it take us so long to discover One Hawaiian BBQ? However the old saying "Better late than never" still applies so our discovery of Ono Hawaiian proved to be a happy event.
Our discovery took place not at one of San Fernando Valley locations but in downtown Los Angeles at 3010 Figueroa Street. Here, at a media event, we were offered a most appetizing buffet that included plate lunches and a large variety of Island favorites. With the plate lunches there is Hawaiian BBQ chicken or Chicken Katsu, then Kalbi Short Ribs, the BBQ Beef and Kalua Pork. For seafood try the Crispy Shrimp, Island White Fish or the Grilled Mahi Mahi which we thought truly outstanding. Island favorites offer chicken and beef combo, a Hawaiian BBQ mix and Kalua combo.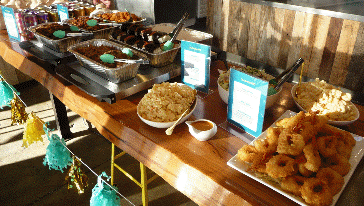 P>No one leaves hungry at these restaurants. Plate lunches include two scoops of rice and one scoop of Ono's famed macaroni salad and veggies. Another attraction we immediately noted was the modest prices, everything on the menu in the $10 range. This pricing includes the Aloha Plate which allow one to sample two of the menu entrees, still for under $10.
All of the above was available at the special buffet that had been arranged for our media group. We were also impressed with the presentation of most of these entrees, many with color photos on the menu.
In a discussion with Restaurant Writer Ronnie Greenberg, Christine Jan, Director of Marketing for Ono Hawaiian, told how new entrees and combos of existing plates are a continuing process. She used the new Grilled Mahi Mahi as an example and how it has become, in a very short time, one of the most popular entrees on the menu.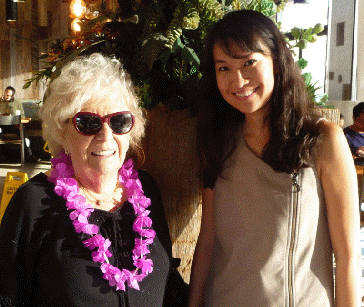 Unusual among the beverages is fresh young coconut as well as fountain and bottled drinks.
To find the nearest location visit www.onobbq.com, there is also catering available on e mail at catering@onobbq.com. Most locations open at 11 a.m.
Last Update:<12/15/19
&copy 2019 Joe Hilbers All Rights Reserved.
Graphic Design by Impact Graphics