3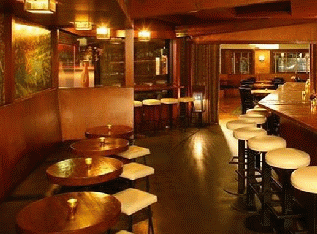 "Toluca Lake--"Continental" is well named with its global cuisine""--"
.By Ronnie Greenberg
The Continental, Toluca Lake's best new dining and drinking destination, presents contemporary global cuisine and time-honored cocktails with a twist.
If these walls could talk, they would certainly have a lot to tell. The building constructed in 1958 as the original home of the International House of Pancakes (IHOP) chain, has been home to iconic restaurants frequented by Hollywood's finest and local for over 60 year. After IHOP closed it made way for Hampton's, as legendary movie-business hangout that boasted Paul Newman and other stars as regulars. In 1996 Jay Sadofsky bought the establishment and created Mo's a favorite neighborhood joint that served as the unofficial commissary for Warner Bros. Studios, located just a few blocks away, for over 20 years.
Now, Founding Partner Jay Sadofsky and new Partner and Executive Chef Jesse Genovese have introduced Toluca Lake's newest destination. The completely new concept of the Continental is that of an upscale casual eatery that combines that classic elegance with delicious contemporary cuisine.
The man responsible for the new dining menu is Partner and Executive Chef, Jesse Genovese. Perhaps there is no dish on the Continental's menu that represents Genovese's philosophy better than his Thai Seafood Bouillabaisse, a stew of fresh shrimp, scallops, calamari and vegetables, cooked in a creamy coconut, lemongrass and kaffir lime broth. "Bouillabaisse is a classic French recipe that every chef learns to make in culinary school, and Thai tam kha soup is one of my favorite things on earth to eat," he says. This dish is my take on both dishes at the same time."
The rest of Continental's menu incorporates flavors from all over the world. There is a Baked Turkey Bolognese with fresh tomato sauce and orecchiette pasta; Salmon served on a cauliflower-apple puree with fennel, brussels sprouts, mustard greens and a mustard-caper-balsamic sauce; and Moroccan Chicken with lentils, sweet potatoes, carrots and mustard green with a saffron curry sauce that is irresistible. A surprising item on the menu is the homemade Matzo Ball soup, simply delicious! "Jesse's entrees are composed dishes that are wonderfully complex, but very accessible," says Sadufsky.
Non-meat eaters have plenty of options as well. Sadofsky, a pescatarian himself, and Genovese, who grew up in a vegetarian home, are both well versed in meatless cuisine. The Jay Bird is a house-made vegan patty served with dairy-free cheddar, vegan bacon, and a sriracha thousand island dressing. But don't worry, there is also the indulgent Continental Burger, served with prime Angus beef, crispy pancetta, tempura-fried dill pickles, and white cheddar cheese. Meat lovers rejoice
Genovese's slow roasted brisket is the highlight of the lunch menu's sandwich section, making a destination in both Vietnamese style Ban Mi and a Brisket Rueben. There is also the Bada Bing, a turkey meatball sandwich with pomodoro sauce, roasted peppers and lots of mozarella. All told, there are eight entree salad options and an even dozen sandwiches including seven burger options ranging from beef to turkey to vegan.
Cocktail drinkers will find a lot to love at Continental with Bar Manager Chet Abbott at the helm. Continental takes a throwback approach, by featuring classic cocktails with a twist, using top quality ingredients that shine through." Kicking of the cocktail list is the Tattletale which Abbott considers a delightful sipping sensation. Then there's La Dominicana, and the Christopher Oaxacan.
There's something for everyone on the craft beer list, with fourteen on tap choices and nine bottles to choose from mostly from California. Can't decide which brew to order, try the tasting flights.
To offer a list of interesting vinos from around the world, Continental partnered with Doug La Gambina, owner of Spin the Bottle Wine Studio to curate Continental's new list. The initial wine list offers seven reds, six whites and two bubbles.
"Continental, " says Sadorsky ,"embraces the enduring sophistication of the beloved Lincoln Continental, and the often covered song that was a hit for both Nat King Cole and Frank Sinatra"
Hours: Open from 11 a.m. to 10 p.m. Monday through Thursday, 11 a.m. to 11 p.m. on Friday, 9 a.m. to 11 p.m. on Saturday, and 9 a.m. to 10 p.m. on Sunday Continental is located at 4301 W. Riverside Drive, North Hollywood, phone (818) 845-3009 or www.ContinentalLA.com
Last Update:4/10/15
&copy 2015 Joe Hilbers All Rights Reserved.
Graphic Design by Impact Graphics