---
"'Los Angeles--Pacific Dining Car has shared its history for ten decades" By The Editor
What is there to say about a restaurant in business for ninety three years that has not been said before? That it is a legend in its own time, not just a restaurant but an institution in the City of Los Angeles, that it is has been the meeting place for the power brokers of the City for decades?
All these things and more can be said about the Pacific Dining Car, founded in 1921 and still attracting a faithful local clientele as well as tourists from around the world.
The list of things that make Pacific Dining Car stand out is very long indeed. It, and the Santa Monica location, are the only fine dining establishments that we know of in Southern California that are open 24 hours a day, seven days a week. Founded in 1921, the restaurant moved to its present location at West Sixth and Witmer Streets in 1923.
It got its name when owners Fred and Grace Cook decided to have a restaurant that looked like a railroad dining car. So they had one built, slightly larger than a regular dining car but wisely put wheels on it. It moved just once to its present location in 1923 and it is still there, much larger as several more dining rooms have been added through the years as its reputation for quality and prestige grew.
In its long history it has hosted the rich and famous of four generations as well as thousands of people who just wanted the best steak or continental entree presented in an elegant decor and ambiance by a dedicated efficient service staff.
We were assured, that all the things that have made Pacific Dining Car what it is are still in place, when we dined there recently. Whether you are at the Pacific Dining Car for breakfast, luncheon or dinner you are handed a menu that takes a good deal of studying since it is so large and offers so many choices.
We opened with an evening special, a lobster and sliced apple cocktail served elegantly with a slice of apple on its rim. Other appetizers also appeared included a shrimp cocktail with large prawns and fried artichokes with a mustard sherry dipping sauce. Besides a whole listing of the prime beef that the restaurant is famous for there were enticing chicken and seafood entrees. We looked longingly at the sand dabs on the seafood list which also included Chilean seabass, wild king salmon, sauteed ahi tuna and Maine lobster tails. But then we noticed the veal chop and that was what we chose since it is one of our favorites and not readily shown on menus.
It arrived sauteed with potato gnochi and sliced mushrooms in a garlic, parsley wine reduction sauce that was superb. Others at our table ordered the prime rib which was so big it covered the plate. The menu also features some unique steak dishes that the restaurant has made famous through the years including a baseball steak, cowboy steak and Filet Oscar. We also spotted on the menu a short rib osso bucco which demands a return visit.
With the sides the choice is large with creamed spinach or fresh broccoli with hollandaise or potatoes au gratin besides the usual variety. The menu also offers what are called prime combinations using filet mignon with lobster tail, shrimp, scallops or crab cakes.
Service at our table was perfect thanks to Waiter Hugo Solis who has been with the restaurant for over a quarter of a century. Longevity of service at Pacific Dining Car is a tradition.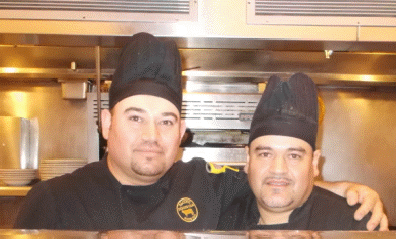 Our chefs that evening were Jalvev del Villav with 23 years and Gustavo Felix fifteen years.
At the cocktail lounge that evening the bartenders were Rafael Covamubia with 30 years and Louis Poblano with 25 years. Another waiter that evening, Sergio Guerra has 37 years of service.
Since the restaurant is open 24 hours a day we were interested in looking over the "Late night with Pacific Dining Car" menu which is in effect from 11 p.m. to 6 a.m. Here are items like eggs Sardol which is artichoke bottoms over creamed spinach, topped with poached eggs with hollandaise sauce or Joe's Special, a stir-fry with sausage or hamburger with onions, spinach and eggs, a dish we remember from San Francisco and not usually seen on menus elsewhere.
The late menu also shows a listing of interesting sandwiches and salads and a Training day baseball steak, made famous by the movie "Training Day"
The Pacific Dining Car has seen it all in the history of Los Angeles. The boom and bust of real estate in the 1920s, the depression and hard time years of the 1930s, and the war years of the 1940s. Then the civil strife that occurred in the City during the last half of the 20th century.
Now there is again a new look and feel to downtown Los Angeles. It is once again becoming a place to chose a residence and a destination for the millions who live in the wide stretches of suburbia that surround it. Old buildings are being restored and recycled for new purposes and new construction everywhere. As for tourists, one has only to count the number of tour buses that gather each day at El Pueblo de Los Angeles to understand what the current status of downtown Los Angeles has become.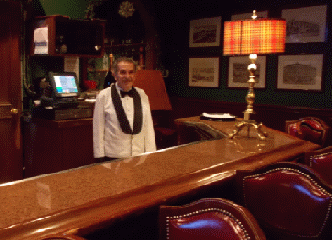 The same family has owned Pacific Dining Car through four generations. The family ownership has been remarkable for keeping up with new trends. This was demonstrated when in the early 1960s it was time to take part in the sudden interest in wine. So a wine cellar was added and stocked with fine vintages, not only from California, but European wine producing countries. The result is that today the restaurant has an outstanding wine list of over one hundred labels, most from premium domestic and foreign vintners.
In downtown Los Angeles Pacific Dining Car is located at 1310 West 6th Street with valet parking. It is open 24 hours, every day of the year. Call 213 483-6000 for reservations.
In 1990 a second Pacific Dining Car was opened in Santa Monica on Wilshire Blvd. The care in quality and service of the original was passed to the new location immediately upon opening. The policy of remaining open 24 hours a day also was carried over to the Santa Monica restaurant.
This west side Pacific Dining Car deserves its own review
Last Update:4/25/15
&copy 2015 Joe Hilbers All Rights Reserved.
Graphic Design by Impact Graphics