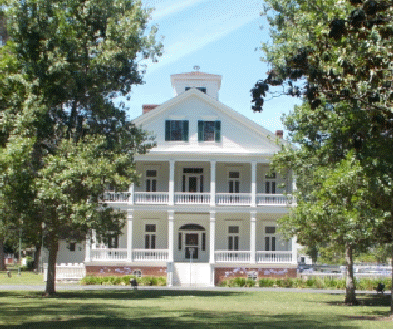 ---
"Wilmington--Early California history is on display at Banning Museum" By The Editor
Phineas Banning was one of those early entrepreneurs that created the Los Angeles we know today. The place to learn about Phineas Banning is the Banning Museum located in Wilmington, the City he developed from ranch land.
The Museum is located in the house he built in 1864 as his residence and it has been restored in remarkable detail with displays in many of its 26 rooms. Several generations of the Banning family lived in the house until 1926 when it and the 24 acres surrounding it were acquired by the City of Los Angeles.
At the age of fifteen he left his family home and went to Philadelphia to work in a law firm. By the time he was 21 he decided to go west aboard a ship that stopped at Panama. He crossed the Isthmus by foot and mule and then boarded another ship and landed in San Pedro Bay.
Here he became a stage coach driver hauling passengers and freight the 20 some miles from the Bay to Los Angeles. He ended up owning a stage coach line of his own. His next project was to create a real port in San Pedro Bay and he did just that, first with a breakwater and then dredging a ship's channel. Ashore he purchased a huge cattle ranch, subdivided it and created Wilmington. He also established the first railroad to operate between the harbor and Los Angeles.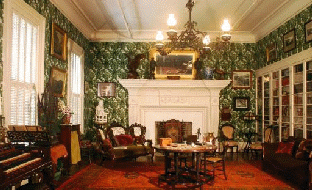 All of this history was new to us until our recent visit to the Banning Museum. Guided tours are required on a visit to this stately home which has been beautifully preserved to show room by room what life was like for the wealthy over one hundred years ago.
Besides the Banning family which included Phineas, his wife and three children the home was frequently filled with invited guests from Los Angeles and elsewhere. Phineas was an ardent Unionist before and during the Civil War and Generals were often his guests. Later after being elected a State Senator and being in an early version of the National Guard was named a General.
The guide for our tour was Ralph Cioffi, who as a docent, has been with the Museum for a year. He was knowledgeable and willing to answer any question. The tour covered both the house, the extensive patio and ground floor ballroom which now holds a huge relief map displaying San Pedro Bay and the extensive shipping facilities of the Port of Los Angeles.
The Banning Museum is located 401 East M Street in Wilmington. Guided tours are available Tuesday, Wednesday and Thursday at 12:30 p.m., 1:30 p.m. and 2:30 p.m. On Saturday and Sunday guided tours are at 12:30 p.m., 1:30 p.m., 2:30 p.m. and 3:30 p.m. For more information call 310 548-7777. There is a requested donation of $5. for adults and $1 for children under 12. On the web at www.the banningmuseum.org

Back to Table of Contents..
Last Update:6/2/15
&copy 2015 Joe Hilbers All Rights Reserved.
Graphic Design by Impact Graphics