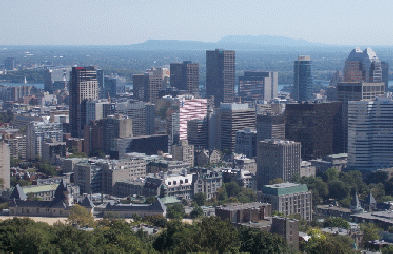 ---
"Montreal, Canada--When visiting this City you know you are in a foreign land" By Joe Hilbers
For someone seeking a friendly international destination may we suggest Montreal, Canada.
The reasons for this selection are many including being hours closer by any form of transportation. The language is French giving the feeling of being in a foreign country but where everyone also speaks English and the written language is in both languages.
Montreal is very much a Cosmopolitan city with its own Chinatown, Little Italy and other multi cultural neighborhoods. Next to Paris it is the largest French speaking city in the world. Unlike Paris, the people are friendly and helpful to visitors and oh yes, the bathrooms spotlessly clean. Unlike other cities in Canada, in Montreal you know you are really in a foreign country.
We stayed at the InterContinental Hotel in downtown Montreal and had the same service and amenities as on our last InterContinental stay in Ft. Lauderdale, Forida. There is much to see and do in this city, now five centuries old, located beside the St. Lawrence River. We stepped off the Holland American cruise ship Maasdam at a dock in downtown Montreal.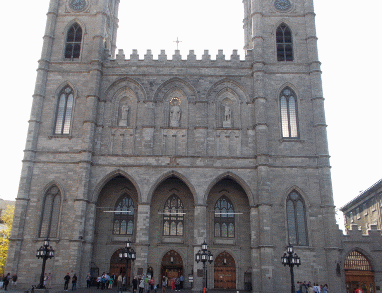 No need for a car, the underground Metro will take you to many places in the city in minutes. We used the underground and were impressed with its convenience and fast service.
We were fortunate to have Isabelle Cyr from Tourisme Montreal as our guide as we took a culinary tour of Little Italy, a neighborhood favored by the many Italian immigrants that are now part of Montreal's citizenry. Here we visited the Jean-Talon Market, Canada's largest outdoor market. This is a dream experience for anyone interested in the culinary arts and its ingredients. The amount of produce, fruits and specialty food items on display was staggering as was the large number of people thronging the many stalls.
The culture of Montreal can best be described as French Canadian with a life-style that enjoys family, good food and cuisine. The City is full of restaurants of every description, and activities like Festivals, where when one such event ends, another begins.
We attended the YUL Eat Food Festival one evening with about 35,000 locals and other visitors. It invites one to Eat, Discover and Party. It was held at Old Port of Montreal adjacent to the St. Lawrence River and is the opportunity to taste the specialties of thirty eight food trucks. There is also a competition to determine which food truck will be named favorite of the event. Our favorite was a truck that featured Latin style tacos with some Japanese flavors added and one that had an actual wood burning oven for pizza.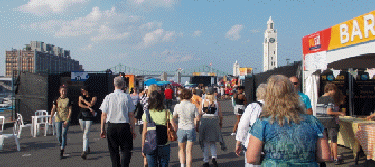 There are free live shows, a celebrity roast competition, a Waiter race and Kid's zone. There also is a Speaker series where chefs, farmers, sommeliers and food critics share their expertise.
A former warehouse was filled with booths that featured specialty food stuffs, over one hundred products in all.
One day we met with Angelina Siciliano, a professional tour guide, to see as much of the city as possible. Montreal has a long history as one of the first cities in North America and its past can be experienced in a district called Old Montreal. It still has its cobblestone streets, narrow byways, alleys and is dominated by Notre-Dame Basilica of Montreal, with its Gothic style architecture.
We moved through Chinatown and the former Red Light district now the center of clubs, bars and entertainment.
From there we moved past the campus of McGill University, with its world wide reputation for excellence, to Mont-Royal which is a forested park situated in the heart of the city.
And yes, we walked to the summit of Mont Royal, the highest point in the City to admire and take photos of the whole city which lay before us.
This earned us an interesting lunch at The Holder Restaurant with its European Bistro decor and ambiance and a chance to chat with Chef Simon Laplante.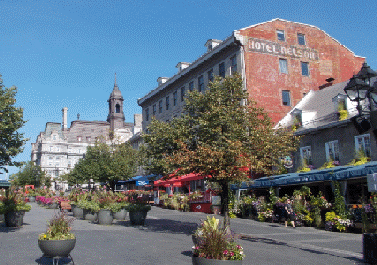 We moved into the Montreal culinary scene with the same gusto and enthusiasm as the locals seem to show. We checked out the Sarah B Absinthe Bar at the InterContinental Hotel one evening and then dinner at Restaurant L'Orignal. This was described as typical for Montreal but we marveled at the selection offered on the menu that evening.
It opened with a variety of breads, then a venison tartar in classic French style followed by chicken liver parfait with crab apple jelly. We add here that every course came with its own special wine. Then arrived salmon fish tail with potatoes and curry, followed by scallops with roasted peppers and chips, and oh yes, braised rabbit with mustard and a white wine sauce.
We had a tight schedule in Montreal but did find time to visit Pointe-a-Calliere, Montreal Museum of Archaeoloy and History. This was only a short walk from our Hotel. It is situated on a national historic site where the beginning of the City took place. Here we saw a special showing featuring The Aztecs, People of the Sun and the civilization they built over many centuries. Another exhibit tells the story of where Montreal was born with an archaeological site the fixes the actual birthplace of the City.
The exhibition named "Snow" was most interesting since it tells the story of how people have coped with the heavy winter snows of Canada from the first people to the modern era with some vehicles designed by Joseph-Armand Bombardier, founder of a famous Canadian company.
A whole day was spent touring the Eastern Townships of Montreal. It provides the City with much of its produce, wines, cider and year round recreation that includes skiing in winter. The landscape is a mix of pasture, woodland, orchards, vineyards and villages seemingly out of a picture book.
Montreal has its own wine road, we explored a part of it and it earns its own story which will appear in a separate Vittles story.
Last Update:9/25/15
&copy 2015 Joe Hilbers All Rights Reserved.
Graphic Design by Impact Graphics