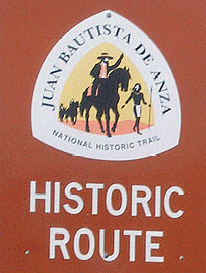 ---
"Highway One--Here you can follow the path of the Juan Bautista de Anza National Historic Trail" Joe Hilbers
On our Highway One Discovery Route we were once again on the trail of Juan Bautista de Anza who accomplished a brilliant achievement by transporting 220 families on a 1200 mile trek from Sonora, Mexico to San Francisco in 1776. For us Juan offers special interest and we have traced his route whenever possible.
The expedition of de Anza was so remarkable that the Juan Bautista de Anza National Historic Trail has been established by the National Park Service. In Southern California both Highway 101 and One display de Anza plaques and route once again.
The expedition was remarkable for there being only one death, a woman after child birth, but the addition of three children born while on the trip and several weddings.
There was a lot not to like about some of the early Europeans in the New World. However there were exceptions and one we like is Juan Bautista de Anza. One can appreciate him since his accomplishments were close to home in the southwest and California. He was born in Sonora, Mexico and so represented a new generation of settlers who had a much different outlook than those who had brought Old World ideas and concepts with them..
His father came to Mexico from Spain and established himself as a man of means with ranches and mines. Juan was still quite young when his Father was killed by the Apache.
With help from his brother-in-law, a captain in the cavalry, he joined the army at the age of 16 and by the time he was 24 a Captain himself. Juan fought all his campaigns against hostile Indians.
But then the opportunity to lead a group of settlers from Sonora to Alta California was offered him by the Governor of Sonora, specifically to newly discovered Rio San Francisco,
While an excellent soldier Juan also had a reputation for being able to get along with the Indians and treat them with respect and kindness. The concept of the proposed overland journey was for married soldiers and officers to move with their wives and children to establish a colony at the port of San Francisco.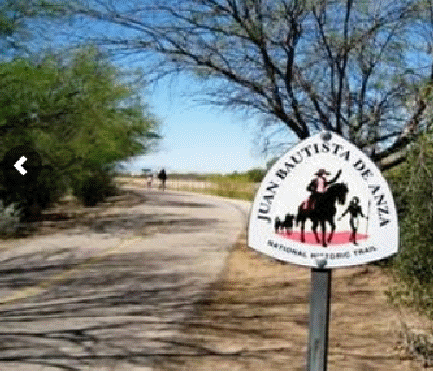 We have walked on Juan's trail in Los Angeles as it follows the Los Angeles river north from downtown.
If you drive the 101 Freeway to Santa Barbara you are on De Anza's trail. On Highway One we picked it up north of Lompoc where it follows to Guadalupe.
There is no need to wonder at this Writer's interest. The expedition had to pass within two miles of where my house stands in the San Fernando Valley. In San Francisco the route taken to the Golden Gate was within a mile of the high school I attended.
Last Update:2/3/16
&copy 2016 Joe Hilbers All Rights Reserved.
Graphic Design by Impact Graphics