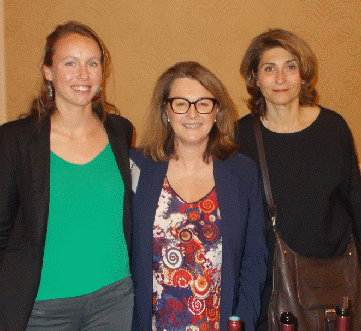 ---
"Santa Monica--Those Grands Crus Bordeaux wines excelled at Miramar Fairmont Hotel" By The Editor
It was the kind of event to stir all those who grew up with the legend of the French Chateau wines, their quality and the huge role they have played in wine history. In one room at the Miramar Fairmont Hotel in Santa Monica eighty two chateau wines were available for tasting in an event presented by the Union Des Grands Crus de Bordeaux. Wines from all the famed districts of Bordeaux were present, Graves, Pomerol, Haut-Medoc, Margaux, Saint Julien, and Pauillac to name just some of them.
It was in Bordeaux individual vineyards received names and recognition. And equally important the ability of these chateau wines to continue improving with age. For those of us using the English language we have to thank several generations of writers from Great Britain who often expounded on French Clarets in their literature.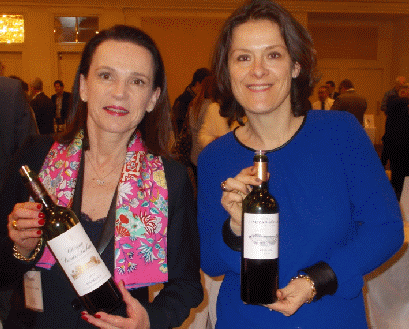 With so many wineries present it was necessary to select a few regions of special interest for tasting. This Writer has always liked the wines of Margaux so we started with a 2014 wine from Chateau Prieure Lichine and chatted with Lise Latrille, sales and communication manager. Here we also met Sandrine Begaud who heads PR for Chateau Rauzan-Segla. My father enjoyed the wines of Saint Julien and I was exposed to them at a young age. At the Fairmont I tasted Chateau Beycheville 2013 which was the classic blend of 55 per cent Cabernet sauvignon, 30 per cent merlot and 15 per cent petite verdot.
We moved on to try a wine from -Saint Estephe and talked with Anais Millet whose card reads Chef de culture. The winery has been in existence since 1855. And met, also from Saint-Estephe, Veronique Dausse, managing director of Chateau Phelan Segur.
From Crus de Pauillac I tried two 2013 wines, one from Chateau Clerc Milon and the second from Chateau Grand Puy Lacoste.
About this time we called a time out and retreated to where an elegant selection of French cheeses and breads were to be had. After this we returned to the Left Bank of the Gironde and met with Alexandre de Bethmann of Chateau Olivier and Lionel Labat of Chateau Pape Clement both located in Crus de Pessac-Leognan. Also from this region we met Christine Lurton-de Caix of Chateau La Louviere.
The Miramar Fairmont event was well attended with what we noted as wine educators, restaurateurs, trade representatives from Wine Warehouse and Youngs Market Co. and some writers including two fellow members, Ronnie Greenberg and Cori Solomon from the International Food, Wine & Travel Writers Association.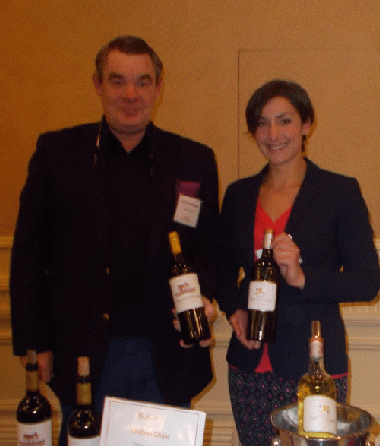 For us another reason the mystique of French chateau wines remains is because Bordeaux , one relatively small region, produces so many wines with a singular personality.
Last Update:2/3/16
&copy 2016 Joe Hilbers All Rights Reserved.
Graphic Design by Impact Graphics