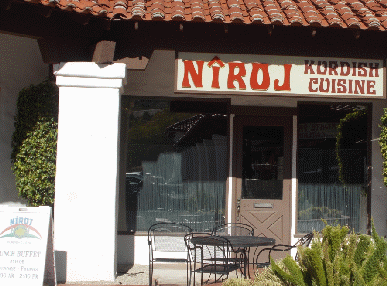 ---
"Agoura Hills--Niroj Restaurant offers fine dining with Kurdish cuisine" By The Editor
Kurdish cuisine was new to us, as it is to most of Southern California. So when we visited Niroj Restaurant located in Agoura Hills we were in new territory when it came to its culinary style. Here was another to the long list of ethnic cuisines and restaurants that can be found in Southern California.
Owner is Luqman Barwari, who after many years in medical science, opened Niroj as the first restaurant to feature this Middle Eastern styled food. The Kurdish people reside in the mountains between Persia and Mesopotamia and their cuisine has evolved with influences from several of the surrounding countries including Turkey and Iraq.
Niroj has been open for three years but only recently has lunch been added as well as dinner. The menu is large and many choices available as we discovered with five cold appetizers to start and then five hot starters to follow. For lunch there is a buffet with a lentil soup, Mussaka, Kayle Veggies, beef stew and chicken Barjani. The decor and ambiance of the dining room matches the image of a Middle East culinary cuisine.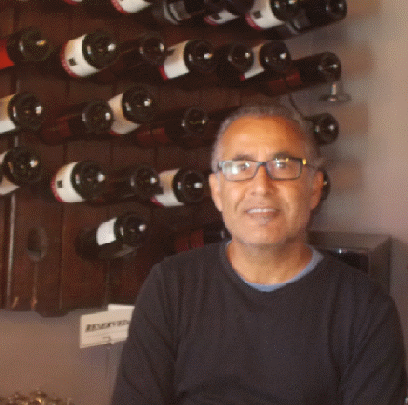 The dinner menu shows many Kebabs and Tawe, meat stews. There are salads and family style feasts that offer a large selection of menu items. Owner and Chef Lugman explained that fresh vegetables play a key role in preparing its traditional Mezze Platters, the appetizers. Much of the produce comes from the Chef's trips to the local Farmers Market, often on a daily basis. This is also true for the salads with names like Sivan, Dersim and Levant.
Side dishes also include many veggies like Mussaka with layers of zucchini, potatoes and eggplants topped with bechamel sauce and served with bulgur or Mele Gej which is carved eggplant topped with seasoned and sauteed red and green peppers, onions and parsley served with jasmine rice. The Kebabs are all prepard over an open flame and there are five to chose from.
The wine list includes several wines from Middle Eastern countries, the Massoya Lebanon Bequa Valley 2012 we tasted was an excellent vintage. Also of interest Yakut Okuzzozu Bogazkere 2012 Kavaklidere from Eastern Anatolia. There are also two brews from the Middle East, Almaa Pilsener from Lebanon and Kotags Gold Pale Lager from Armenia.
Niroj is located at 30313 Canwood Street in Agoura with free offstreet parking. It is open for lunch Tuesday thru Friday from 11:30 a.m. to 2:30 p.m. with the buffet. Dinner is from 4:30 to 9 p.m. Tuesday, Wednesday and Thursday, on weekends from 4:30 p.m. to 10 p.m. with live entertainment on Sunday evenings. Closed Mondays.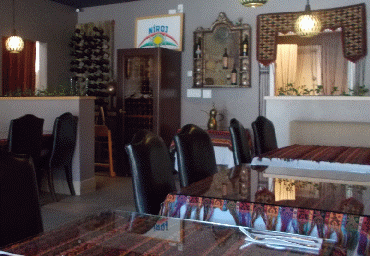 Last Update:12/20/15
&copy 2015 Joe Hilbers All Rights Reserved.
Graphic Design by Impact Graphics