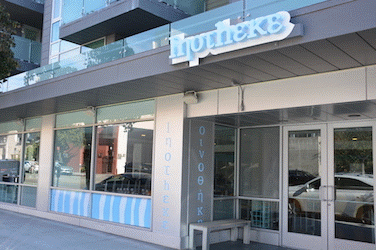 "Santa Monica--Inotheke brings Mediterranean to the Pacific"
.By Ronnie Greenberg
On the bustling Southeast corner of Broadway Avenue and 6th Street in Santa Monica, Inotheke- a contemporary new dining destination is a sought after and welcomed addition. Owner Carolos Tomazos is showcasing Modern Greek cuisine here, specifically influenced by the Mediterranean Island Country of Cyprus. >P>The space Tomazo chose as home to Inotheke is modern and bright, lined with floor to ceiling glass windows that wrap around the storefront. Clean whites and earth tones converge in a casual and contemporary setting befit with an open kitchen that diners can see into from the elegant dining room separated by mosaic-like ceramic tiled dividers dotted in blue, eggshell and yellow. >P>One ideal that guests can come to expect upon entering Inotheke, is finding an atmosphere that is warm and inviting, casual and relaxing. "I want people to come here, be comfortable while enjoying our food and drinks at a good value, and feel welcome above all," states Tomazos
"I grew up in a food loving culture in Cyprus where food was everywhere and everything," says Tomazo. "Everyone cooked, while perpetually breaking bread together often and playfully competing in an unspoken spirited game of who prepares what dish better." And just as the crystal-blue Mediterranean Sea lined country is so unique, so is Inotheke, as hints of Cyprus (Tomazos' homeland) shine through each dish with bright olive oils, global spices and fresh herbs.
Tomazos, a standout in the hospitality industry, has worked amongst the culinary elite while opening, and managing the front of the house at a myriad of Michelin starred restaurants including Ducasse in the Essex House Hotel in New York City, Thomas Keller's Pe Se and Eric Ripert's Le Bernardin, both in New York City as well. Tomazos then decided to try the West Coast and marked a milestone in his career when he partnered with Chef Brendan Collins (Birch, Los Angeles) to open the now closed Waterloo & City, a British pub with fine dining fare, which was considered a groundbreaking endeavor in Culver City and was nominated for a James Beard Award for "Best New Restaurants in Los Angeles 2011" by Los Angeles Magazine. Tomazos is now taking the next step and has moved to another milestone opening Inotheke, where he will blend his incredible pedigree an operational knowledge, while also taking on the new challenge of creating all of the recipes for the restaurant's menu.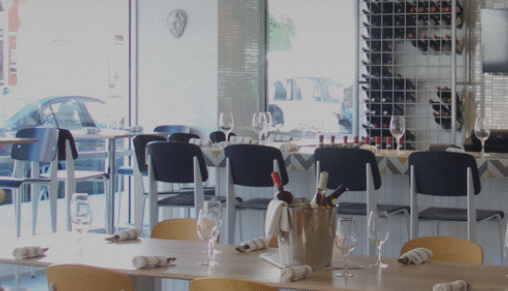 As for the food the Inotheke's menu consists of dishes that everyone can share."This is the kind of food that makes you feel good," laughs Tomazos. "Great ingredients, and clean healthy cooking. I try not to overthinThe menu runs the gamut from crisp salads and succulent meats to intricate seafood offerings in addition to a handful of traditional Greek dishes with modern twists. Lighter plates begin with the oven roasted beet salad mixed with arugula, goat cheese, red onion, dill and lemon vinaigrette; a refreshingly classic Greek salad prepared with tomato, cucumber, peppers, onion, feta cheese and olive oil; eggplant-Tahini salad with shallots, cherry tomato and parsley.
Flavorful Cyprus-style "comfort food" comes in the form of Tyropitakia with Haloumi and Kaseri cheeses, mint and red peppers, as well as the earth potted duck topped with walnuts and orange-cardamom marmalade.
As a cornerstone of Cyprus cooking ,seafood naturally reigns at Inotheke and is showcased in such dishes as the bright and vibrant "Lakerda," with Ahi tuna and a fresh herb sald and the her crusted salmon. There are also crispy cod fritters served with skordalia; sardeles served on toast with lemon, olive oil and parsley, as well as a braised octopus in wine stewed in red wine and pearl onions. Shrimp "Saganaki" is served with tomato sauce, feta and ouzo, and the grilled calamari salad comes with the cannellini beans and fennel.
Land- inspired dishes include roast chicken thigh "oreganato" with lemon potatoes, as well as the short rib "Stifado" braised with shallots and red wine. Then there is the classic Greek mousaka made with ground beef, eggplant, zucchini and a light twist on the "Bechamel" sauce, along with the lamb & orzo with tomato and parmesan. Additionally, there is the pork belly "Kolokasi" prepared with taro, coriander and spinach, and the ever-succulent port "Youvarlakia" with wild rice and lemon sauce.
Fresh vegetables and earthy legumes sprout up in many of the Inotheke plates, accompanied by aromatic herbs and freshly ground spices such as the steamed broccolini with lemon, olive oil and garlic, and the garlic mushrooms with white wine sauce. The black eyed peas are stewed with kale and onions; the oven roasted potatoes are mixed with lemon and garlic, and the roasted cauliflower is topped with anchovies and capers. There is also the decadent Taramas prepared with cod roe, lemon and olive oil, the Greek specialty influenced dish, fava dip bottarga which is served with yellow split peas, thyme and scallops.
While the name Inotheke, translates to "wine case," diners can be well assured that great wines will also be served. Tomazos offers over 20 varietals by the glass, including whites like Robert Cantin, "Les Pier Blancs," Sancerre from France, and reds like the Salentein Reserve Malbec from Argentina, and a wine list of with over eclectic selections by the bottle, along with four rotating draft beers and 12 bottled beers.
Hours : Inotheke is open daily f or Lunch from 11:30 a.m. to 3 p.m.- Dinner from 5:30 p.m. to 10 p.m. Located at: 606 Broadway Avenue, Suite 101, Santa Monica, phone ( 310) 458-3366 or www.inotheke.com
&copy 2016 Joe Hilbers All Rights Reserved.
Graphic Design by Impact Graphics