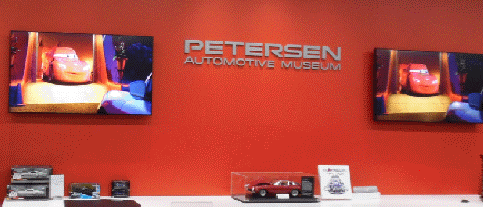 "Los Angeles--Dazzling changes present at reopened Petersen Automotive Museum"
.By The Editor

The change could not be more dramatic. We had visited the Petersen Automotive Museum several years ago but when we returned recently and saw what had been accomplished with the new museum we were in wonderment over the difference.
The building was completely redesigned and with attached garage makes a visit a most interesting and desirable adventure. The decor and ambiance of the museum, that reopened in December 2015, is upscale, modern and the top floor patio and rooms high tech.
Originally a department store Robert Petersen acquired the building in 1994 and made it into a museum for classic cars. Now the exhibits of automobiles are on three floors with each floor with a separate theme. The first floor has cars that demonstrate automotive design and artistry, some one of a kind. The second floor emphasis design and performance and here are included racing cars, motorcycles and hot rods. The third floor offers a history and progression of the automobile in Southern California through more than a century.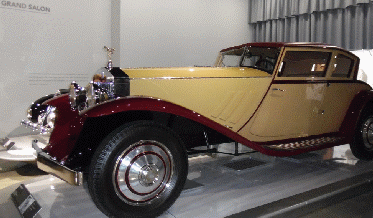 There are twenty five galleries filled with classic cars from around the world. Film cars from James Bond and Batman are here and also real cars of people like Steve McQueen and Elvis Presley.
Here too the Discovery Center for hands on automotive themes like a mechanical center and reality tour. Also Carspad where one can build a virtual race car game.
There are always special events including movie nights and breakfast club cruises. Photographs are permitted, and taken by most visitors, of the automobiles on the three floors. They are not permitted on Vault visits.
Still to come is a restaurant which will be adjacent to the Gift Shop. Only half of the collection of cars are in the present galleries, the remainder are in a basement 'Vault' and are available for docent led tours with a Special Admission ticket. Children under thirteen years are not allowed. Vault tickets for adults are $20 while general admission adult tickets $15.
Available at the Petersen Store are diecasts of classic cars and well as collectibles.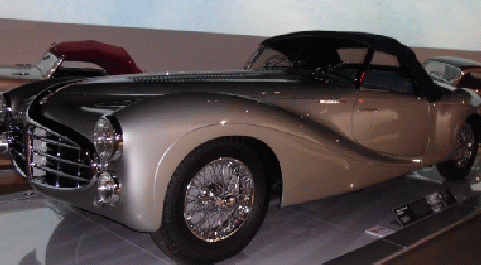 The Petersen Automotive Museum is located at 6060 Wilshire Blvd., Los Angeles with adjacent garage parking. It is open daily from 10 a.m. to 6 p.m. Telephone 323 930-2277, web www.petersen.org/.
Last Update:3/10/16
&copy 2016 Joe Hilbers All Rights Reserved.
Graphic Design by Impact Graphics