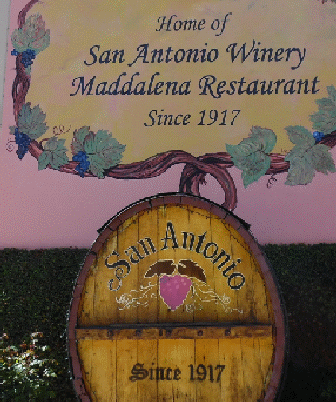 "Los Angeles--San Antonio Winery has been Los Angeles' very own for 99 years"
By Joe Hilbers

Visiting wineries and trekking wine trails is now a form of recreation for thousands of people. Most often this includes the need of a road map and a full tank of gas. However if you live in Los Angeles this only requires a short trip to downtown.
Just a few blocks off Interstate 5 you will find San Antonio Winery. It is hard to miss, taking up a whole block on Lamar street, and is well marked with signs. Here you will find all that any winery tour offers and actually much more since it includes a fair amount of Los Angeles history. Actually San Antonio is celebrating its 99th year and is the oldest producing winery in Los Angeles. It has been owned by the Riboli family throughout its history and was designated a Los Angeles Cultural Monument in the 1960s.
A visit to San Antonio Winery can include the tasting room and gift shop, a guided tour of the facilities and an excellent dining experience at Maddalena Restaurant. We recently did all of the above. Like most visitors we started at the Tasting Room where we refreshed our palate with Diamas Prosecco, a recent gold medal winner.
Arnaud Debons, arrived from France in 2003 and never looked back becoming Winemaker for most of the years since. He was our guide as we moved through the winery stopping often to describe what wines are produced here and those produced at the San Antonio facility in Paso Robles. We then took part in some barrel tasting of wines, Arnaud removing just enough so we could sample the vintage. Here we were surrounded by oak barrels, some French, some American. Arnaud described and demonstrated through our tasting how the same vintage can vary between individual barrels and the difference time spent in the barrel can make on the wine.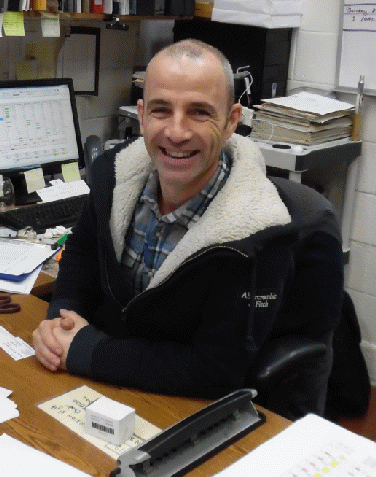 Grapes to make the San Antonio wines come from vineyards in several regions of California, many under contract with the vineyard owners. White wines are made in Los Angeles, the red wines mostly from the Paso Robles winery. San Antonio markets wines under several different labels. Some of these labels are for wines from a particular appellation. The Opaque wines are from Paso Robles. The San Simeon brand includes wines from both Paso Robles and Monterey and this is also true for the wines marketed as Maddalena. Windstream wines are from the Santa Luca Highlands appellation of Monterey county. Some premium vintages and specialties are under the San Antonio brand.
Some wines from Paso Robles tend to be higher in alcohol and we asked Arnaud about this. He told us that longer barrel aging is an important factor is solving this problem and demonstrated this by having us taste a 2011 Malbec which was a wonder for its smooth flavors on the palate. He also demonstrated how the barrel changes wine by allowing us to taste a 2011 Petite Verdet and then one from 2014. The difference was huge.
San Antonio wines have won many awards in recent years including a 2013 Opaque Zinfandel, 2010 Malbec, 2012 Windstream Pinot Noir, a 2010 Maddalenas Merlot and 2010 SanSimeon Cabernet Sauvignon to name a few. We asked Arnaud whether he prefers making single varietal wines or blends and knew what his answer would be before he said it was blends.
For blends truly test the skill, knowledge and experience of the winemaker. The art of knowing what wine will add to development of a better blend is a true test for the winemaker.
Following our tour we moved to the Maddalena Restaurant for a memorable luncheon. We like the 'visual menu' and 'order first' style of Maddalena Restaurant. It had been a good while since we had last been to Maddalena but the decor, ambiance and quality of the food had not changed ,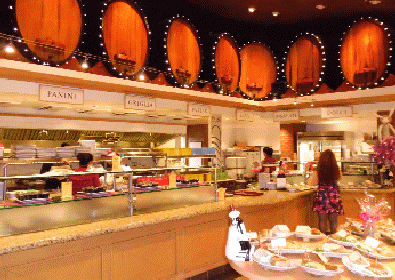 The 'order first trattoria style', is still in place and studying the actual plates of food on two tables is part of the entertainment and often takes a good bit of time since they are so appealing.
Our lunch selection was fresh clam linguini and the presentation was very special, twelve baby clams, shells open, rimmed our plate with a large, enticing helping of pasta in the center. With this there was an excellent green salad and wonderful Italian bread of which we ate too much.
With this feast we enjoyed a glass of San Antonio Heritage wine, a 2010 Bordeaux Blend, that with good reason, won a gold medal at a recent wine competition. It took some will power to stop with one glass.
Everyone at our table was as content as I was with our lunch. Some with the cobb salad, another with the tri-tip and another with a most tempting ahi tuna.
Maddalena Restaurant is located at 737 Lamar Street in downtown Los Angeles with free off street parking and is open seven days a week from 10:30 a.m. to 6 p.m. Telephone 323 223-1401, web www,sanantoniowinery.com. Winery tours are conducted daily, call in advance for hours.
Last Update:3/10/16
&copy 2016 Joe Hilbers All Rights Reserved.
Graphic Design by Impact Graphics