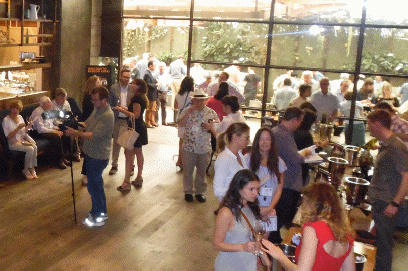 ---
"Century City--The Passion Jura wine event showed interesting varietals and wines" Joe Hilbers
The Jura wine region in France generally does not enjoy the same amount of fame as other regions with long public recognition. It is located in the eastern part of France tucked between Switzerland and Burgundy. What it does have is an outstanding terroir and a most interesting diversity in grape varietals and unique vintages.
Historically the Jura was growing grapes at the time the Romans first invaded what is now France. In modern times the Jura received France's first AOC which in essence is a guarantee of grape varietal and the resulting wines.
This region produces wines from five varietals, the reds are Poulsard, Pinot Noir and Trousseau. The two whites are Chardonnay and Savagnin. Savagnin does particularly well in the Jura but is a grape with a clouded early history. Poulsard is believed to have been developed in the region and is considered a local varietal.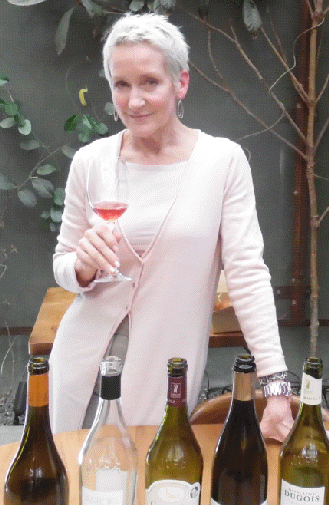 The Trousseau varietal also has a clouded history and has some interesting names in other countries including Bastardo. In Portugal it is used to make Port. All this information and much more was available to us when we attended the Passion Jura Tasting recently conducted at the Hinoki and the Bird Restaurant at the Century Plaza Hotel. A well attended seminar conducted by DJ Kearney opened the afternoon event. Twenty Jura wine estates participated in the Los Angeles tasting, almost all family owned and some for more than one generation.
Besides some traditional red and white wines the Jura produces two very special vintages. Vin Jaune, 'golden wine' is produced from the Savagnin grape and is then to a special ageing process. Once fermentation is complete it must be stored for at least six years and three months in oak It also must be in a special bottle called 'The Clavlin' and is the only container licensed for Vin Jaune. Sometimes this wine may be one hundred years old. It is generally served as an aperitif.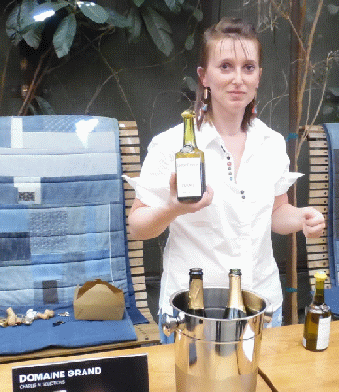 Another specialty wine of the Jura is Vin de Paille known as the "straw wine" After harvest the grapes must be dried for a minimum of six weeks generally on a bed of straw or by hanging the clusters of grapes from rafters. The storage areas are not heated. After the start of the new year the grapes are pressed with the presence of much sugar. Natural fermentation then produces a naturally sweet wine with alcohol content up to 17 per cent that is then aged for three years in small barrels. Considered an aperitif it is usually served chilled.
Rolling countryside is the norm in the Jura region which is one of France's northern most wine producing areas.
We found the Passion Jura tasting a most interesting event allowing us to sample some very unusual wines as well as a learning experience providing those that attended with the history, land and grape varieties of Vins du Jura.
Last Update:4/20/16
&copy 2016 Joe Hilbers All Rights Reserved.
Graphic Design by Impact Graphics