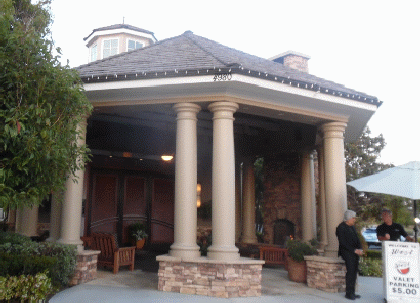 ""
"Carlsbad--West Inn's attractions include two outstanding restaurants"

.
By The Editor

Once checked in at West Inn and Suites at Carlsbad one finds many reasons to spend much time there. One of the best reasons is an evening of fine dining at the award winning West Steak and Seafood Restaurant located on the property. This restaurant has been in place eleven years and continues to be rated as one of the best in the San Diego area. We learned that some of the service staff has been with the restaurant since it opened which helped explain the care and attention the diner receives.
We met General Manager Bobby Daitch, who has been with West Steak since it opened, and learned he grew up in the west San Fernando Valley where we live. Our waitress was Tiffanie Marra, who also has been with the restaurant since opening day, and we shared stories about our common Italian heritage.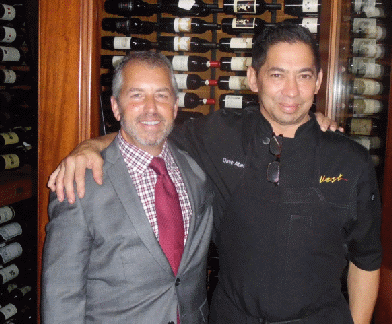 We also had the opportunity to meet and chat with Executive Chef Dave Abella and discuss the outstanding menu. One of the interesting aspects of the West Resort is that it also has its own three acre West Farm for raising the produce that is served in its two restaurants.
West Steakhouse has a large and most comfortable bar and lounge but we moved directly to our table to study the menu while enjoying a cocktail. It offers many choices starting with the appetizers that included crab cakes, calamari, beef carpuccio and our selection crispy lobster spring rolls which brought back memories of Maine and Nova Scotia.
Thanks to West Farm the salad selection is large with Cobb and Spinach as well as our selection, fresh roasted beet salad. There is a full page of steaks listed including three sizes of filet mignon and a Wyoming Bison filet mignon. We looked to the seafood menu and on the suggestion of our Waitress Tiffanie selected the daily special Alaskan Halibut. My dining partner chose the Colorado rack of lamb which arrived upright in a port wine sauce.
The wine list is large with many choices to order by the glass. Our choice was 2014 Meiomi Pinot Noir, a blend from Monterey, Santa Barbara and Sonoma counties.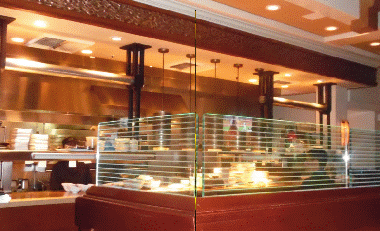 We looked longingly at the dessert list but had to admit that we were done for this evening.
West Steak and Seafood is located adjacent to the Inn at 4980 Avenida Encinas in Carlsbad and for customers not staying at the Inn there is valet parking. It is open seven days a week from 5 p.m. and reservations are often required. There is a daily Happy Hour from 4:30 p.m. to 6:30 p.m. in the Lounge. Telephone 760 930-9100, web www.westinnandsuites.com.
My dining partner and I, both members of the Southern California Restaurant Writers, agreed that West Steak and Seafood rates a five stars as a fine dining restaurant.
West Bistro
It is most unusual for one hotel or resort to have more than one award winning restaurant but that is the case with West Inn and Suites in Carlsbad which besides the West Steak and Seafood Restaurant also has the Bistro West located on its premises.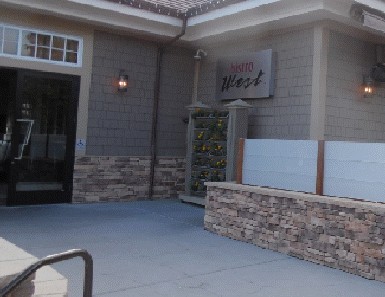 Bistro West is a complete restaurant with bar, lounge, indoor and patio dining, casual in decor and ambiance for both lunch, dinner plus the Happy Hour. While emphasizing the casual aspects of a bistro the quality of both cuisine and service rates Bistro West as an award winning restaurant in its own right.
We thought the menu well selected with items well suited for either lunch or dinner or just some snacks at the bar lounge.
John Miller, executive chef, brings over fifteen years experience in the San Diego area and also spent several years teaching at Mission College Culinary Arts Department.
The menu shows appetizers like Calamari, lettuce wraps and our selection which was Bistro Ahi tartare. Like its sister restaurant the three acre West Farm supplies the fresh produce as with its roasted beet, Caesar, Greek, Scallop salads. The Chef gave us a sampling of the scallop as well. Here there is a large selection of pizzas with many personal add on choices all prepared in the stone hearth oven. Pastas are big here with over seven to chose from as well as classics and Chef pasta creations. Burgers play a big role here and the sandwiches are most creative.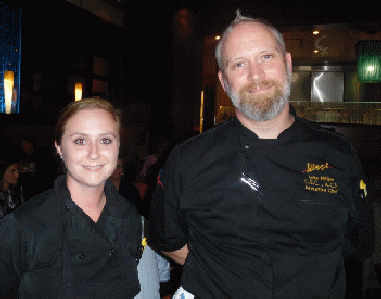 Our choice was the French dip sandwich which we shared with our dining partner. It had a most tasty horseradish onion spread and the dip was exceptional in flavor. With it were sweet potato fries. Other sandwiches on the menu included warm reuben, veggie panini or Havana Cubano Pork.
For a serious dinner the menu shows a chicken cordon bleu , beef short ribs, pork loin and a choice of steaks like ribeye, New York or Filet mignon.
We had the opportunity to meet some of the staff including Justin Stark, general manager, Kathy Sellers, assistant general manager, Chef Miller and our friendly, competent waitress Leah Comas.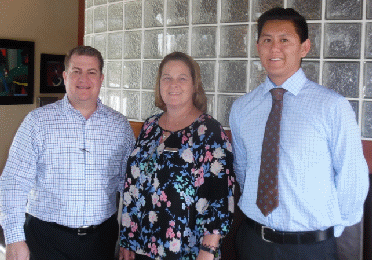 Bistro West is located on West Inn property at 4960 Avenida Encinas and open for lunch and dinner seven days a week. Hours are 11:30 a.m. to 9:30 p.m. with a Happy Hour daily from 3:30 p.m. to 6:30 p.m. Telephone 760 930-8008, web www.bistrowest.com.
Our evaluation as Writers was that West Bistro is definitely a four star restaurant placing the West Inn and Suites in unique status when it comes to the culinary arts. We did not get to West Farm but it too may rate some kind of award. Not from us since we know nothing about farming being City bred.
Last Update:5/31/16
&copy 2016 Joe Hilbers All Rights Reserved.
Graphic Design by Impact Graphics