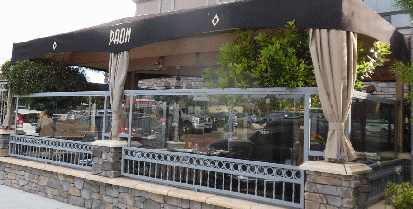 ""
Carlsbad--It all comes together for five stars at Paon Restaurant and Wine Bar"

.
By The Editor

For almost two decades we spent two days a month as a reporter for a San Diego publication,and was familiar and wrote about Carlsbad. The city has an interesting history and since its first days has enjoyed the image as a resort community. The Village at Carlsbad, surrounding the train station, is an area where the past meets the present.
And it was here that we found Paon Restaurant and Wine Bar. This restaurant had been recommended to us for its outstanding cuisine but also for the huge inventory of wines to be found both on the wine list and in the adjacent bar.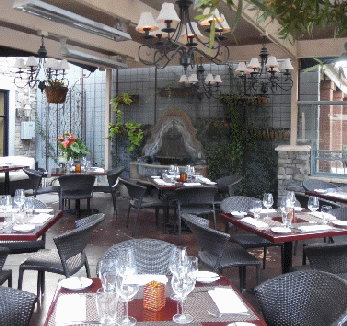 We were greeted by Managing Partner Steve Barr and seated in a dining room with a decor and ambiance that blends the past with the present. Steve explained this decor which includes prints of parrots and the Paon name which is French for parrot.
When my dining partner and I looked at the menu we were truly astonished for here were appetizers and entrees we had not seen on menus for a long time. Here was traditional French Escargot Bourguignon, Foie Gras, Paddle Fish Caviar and a King Salmon and Yellowfin Tuna Tartare.
The salads, many organic, included a grilled Colorado lamb, Indian spiced Prawn, organic beet and golden apple. We both chose the beet which included both golden and red beets, goat cheese and pistachios.
Like the rest of the menu entrees here offered choices not often seen today. There was a Pan roasted Pheasant, Two Preparations of Duck, and a New Zealand Cervina Venison mixed in with Angus Rib Eye and Filet Mignon steaks. From the seafood menu we both selected the Pan Seared Maine Diver Scallops which arrived with a Ragout of vegetables, Maine Lobster and Potato Puree. And here we left empty plates but did leave some room for the house bread pudding with ice cream that was our dessert.
Our waiter, William, was experienced and knew the menu well and was helpful in making selections. With the adjacent Wine Bar the wine list was more than just extensive. Our selection was a 2012 Napa Meritage and it must be called memorable.
Paon is a large restaurant with a beautiful outdoor dining patio, its own bar and lounge, the main dining room and a small conference room for intimate group dinners.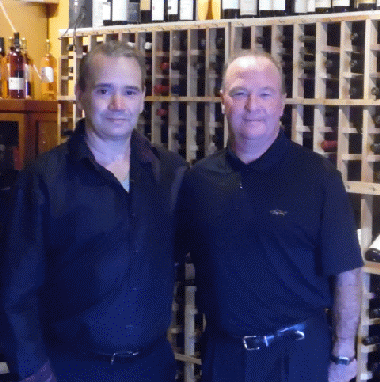 Adjacent is the Paon Wine Tasting Room and here we met Gino Campbell, wine director and a Sommelier who earned his international rating at a Paris University. Here in the retail shop there are one thousand labels of wines from around the world and its recognition is nation wide. And like the restaurant the Petite Bites include Carlsbad Aqua Farm fresh oysters, an assorted cheese plate, Antipasto and Prosciutto di Parma.
For this writer the idea that Carlsbad had its own Aqua Farm with fresh oysters was to be noted, remembered and something to look forward to in the future, and perhaps even a good story.
Executive Chef is David Galbaren who has a long distinguished career in the San Diego area.
Paon Restaurant and Wine Bar is located in Carlsbad Village at 2975 Roosevelt Street and open daily for dinner from 5:30 p.m.
Last Update:6/8/16
&copy 2016 Joe Hilbers All Rights Reserved.
Graphic Design by Impact Graphics