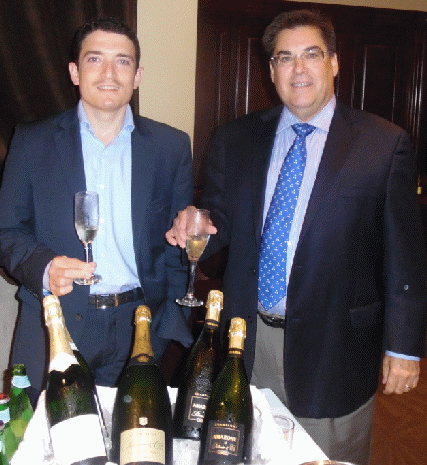 "Los Angeles--Champagne Palmer takes its place as producer of top quality cuvees "
.
By Joe Hilbers

We realized just how secure champagne's place on the world scene is when we watched a BBC video of the launching of a Chinese naval ship that included the breaking of a champagne bottle against its bow. So when we were invited to a media event to herald the entrance of Palmer & Company champagnes to the west coast it was a given that we would attend.
Palmer joined the ranks of high end French champagnes decades ago, and while enjoying a presence in fifty world markets, only began selling its elegant vintages in the U.S. last year on the East Coast. Now marketing will include the west coast and the media tasting and reception that took place at The Palm Restaurant in downtown Los Angeles announced this fact.
Meeting us was Raymond Ringeval, Export Manager, and Bill Rumbolz, western division manager for Gonzalez Byass, Familia de Vino USA. Raymond explained the history of Champagne Palmer & Co. and how it combines different grape varieties and the saving of reserves wines, often for many years.
Here we tasted four of the Palmer cuvees that will be available in west coast restaurants and package stores.
It was in 1947 that Palmer was founded by a group of established growers in Avize, France. These growers owned vineyards in two of the most respected sub regions of Champagne--La Cote de Sezanne and La Vallee with most of the vineyards designated as Premier and Grand Cru land.
The three grape varietals used in Palmer champagnes and shape its style are Chardonnay fifty percent, Pinot Noir forty percent and Pinot Meunier ten per cent which was the blend in the Palmer Brut Reserve we tasted. The blend varies, of course, with each of the eight different cuvees produced by Palmer. The pressing of these varietals then have much ageing in solera before blending takes place. The majority of Palmer cuvees include between thirty and thirty five per cent of these Reserve wines from a solera started decades earlier.
We tasted four wines starting with Champagne Palmer Brut Reserve which has four years aging on lees. We thought it elegant and wondered what was to come since it was in the lowest price range. Next was Champagne Palmer Brut Rose Reserve followed by a Champagne Blanc de Blanc that was one hundred per cent Chardonnay. Blanc de Blanc is not one of our favorite champagnes but this was truly exceptional. Enjoying the high end of the four wines we tasted was Amazone de Palmer Tete de Cuvee and this wine, with its tiny bubbles, can be called 'a champagne of true elegance'.
The introduction of Champagne Palmer wines brings a new player among high end champagnes currently being marketed in the U.S. While we tasted four of the wines actually eight different cuvees will be available in the U.S.
The Palm Restaurant, which is a legend in its own right, has long enjoyed its reputation for being the meeting place of the Who's Who of Los Angeles. With the tasting of these cuvees we were able to match them with elegant appetizers and then a buffet of quality entrees that have given this restaurant the fame it enjoys.
Last Update:6/10/16
&copy 2016 Joe Hilbers All Rights Reserved.
Graphic Design by Impact Graphics