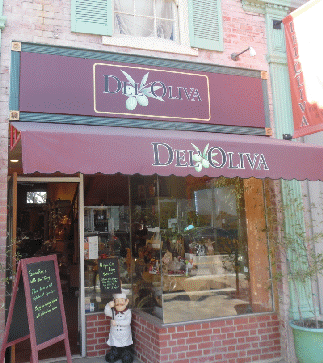 "Burlingame--At Del'Oliva there was much to learn about the characteristics of Olive Oil" By The Editor
.
With the interest in the Mediterranean diet continuing to grow, olive oil and its quality has become a lively subject as well. As a food writer we have had numerous opportunities to taste olive oils and for this Writer, with an Italian heritage, we have used olive oil our whole life.
But when we had the opportunity to visit Del'Oliva in Burlingame, while on our San Mateo tour, Director Eddie Sohirad provided us with a unique presentation not only on olive oil, its various characteristics, flavors, freshness and quality, but also how to detect truly fresh extra virgin oil. Eddie Sohirad's knowledge of the subject was truly remarkable and his presentation for us a true learning experience.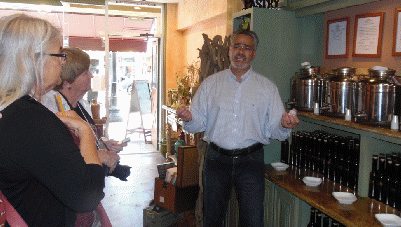 This knowledge also included the related subject of Balsamic vinegars. The Del'Oliva store is uniquely arranged with row on row of containers, each with an individual flavored oil. The same arrangement is in place for tasting a variety of balsamic vinegars. The number of light colored Balsamic vinegars was a revelation to us, almost all we have ever used were of the traditional dark color.
At Del'Oliva Eddie has an amazing inventory of food products from many different countries to go with the large number of imported olive oils and vinegars.
Del'Oliva is located at 1440 Burlingame Avenue in Burlingame, Ca. Telephone 650 342-1195. website www.deloliva.com.
>
Last Update:9/20/16
&copy 2016 Joe Hilbers All Rights Reserved.
Graphic Design by Impact Graphics