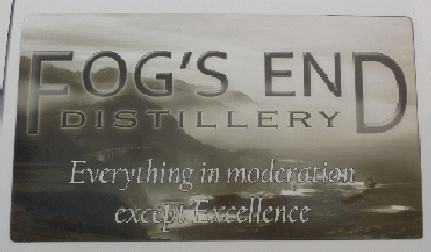 ---
"Salinas Valley--An Artisan Craft Distillery adds to the agricultural complexity of the region" By The Editor
Having reported on the alcoholic beverage industry for some decades it has been interesting to watch the changes that have taken place in what the consumer wants. In talking to bartenders one can learn what cocktails are still in demand and others totally abandoned. I can give one example here. A few decades back "Harvey's Wallbanger" was a wildly popular cocktail in California. When I asked a bartender recently about it he replied that he thought he made one about three months before.
And this is true with the types of spirits as well. For a number of years bourbon was out of favor and the brands of vodka continued to multiply'. Now bourbon is back in popularity with old labels suddenly reappearing and many new ones.
One of the newest trends is Artistan craft distilling of whiskey as a cottage industry made up of small operations often with a single person fulfilling all roles from distillation to marketing the product.. So it was with much delight that I was able to meet and learn about this new trend while in the Salinas Valley.
For in Gonzales we called on Craig Pakish at his Fog's End Distillery. This is a second career for Craig who spent 24 years with the Monterey County Sheriffs Department.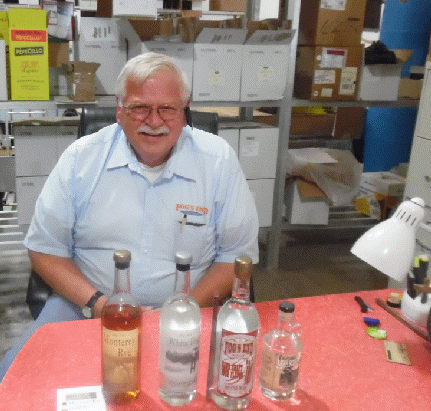 Located in a Gonzales industrial site a room of limited size houses everything Craig needs to distill whiskey, most important his single 60 gallon copper still, fired by gas which creates his sour mash into some most palatable whiskies. Then the specially developed storage containers that age the spirits.
Unlike major whiskey distillers who use barrels for aging, small craft operations like Fog's End use small pieces of previously charred oak to give the spirits the desirable flavors and colors.
We admired the soft spoken Craig Pakish for the honest way he related his successes and a few failures since starting his operation in 2009. He said it took a whole year to get all the licenses required by several government agencies at different levels. The early attempt with a partner failed and he is now sole owner.
We got to taste three of Craig's products including Fog's End White Dog, Fog's End California Moonshine and Fog's End Monterey Rye. We loved the package the Moonshine was in, a classic jug of long ago design and in two sizes. The Moonshine is ninety proof and has earned a Silver Award in a competition. Craig's Monterey Rye also received an award as one of the best ryes in its class.
We also tasted a whiskey that Craig has been aging for three years and has not yet bottled. At present it is well over 90 proof and we told him he might want to put a "handle with care' label on it. It is obvious that Craig Pakish enjoys his second career and has made a deep study on how to make palatable spirits products. He acknowledged that marketing was the most difficult part of the business although his Fog's End whiskies can be found from Monterey county all the way to San Francisco. We also liked the Fog's End slogan "Everything in Moderation except Excellence". Fog's End Distillery is located at 425 Alta Street, #15, Gonzales, Ca. Telephone 831 809-5941, web www.fogsenddistillery.com.
Last Update:8/9/16
&copy 2016 Joe Hilbers All Rights Reserved.
Graphic Design by Impact Graphics