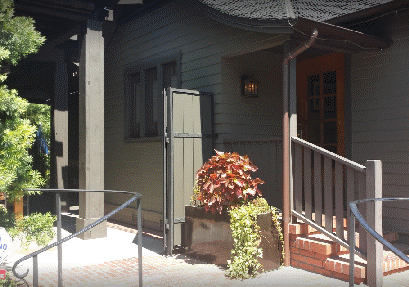 ---
"Pasadena--The old and the new merge well at Raymond Restaurant . By Ronnie Greenberg
A frosted door etched Est.1886 sets the mood as you enter The 1886 Restaurant and Bar, named after the year the historical Raymond Hotel was initially built, but no longer exists. The Raymond Restaurant was originally the caretakers cottage for the groundskeeper of the hotel, then became the home of Walter Raymond during the Great Depression, and then became The Raymond restaurant. Both are now owned by the personable team of Rob and Leslie Levy.
The Raymond Restaurant with the timeless charm of endless nooks and crannies, secluded booths, leaded glass, and candlelit patios, offers a dinner menu created by Chef Tim Guiltanan with a unique collection of dishes that are as fun and creative as they are different. The menu is separated into three sections: Quick Bites, Starters, and Entrees offering those who want a heartier meal the option of a classic entree, while those interested in sampling a variety of flavors have the opportunity to order a number of dishes designed to take them on a global culinary journey.
"In the past, the restaurant featured many tasting menus and three to four-course dinners that were more formal, and focused on more of an older Franco-American approach to food," explains Guiltinan. "There have been alot of big changes at The Raymond over the past years. This menu is a reflection and culmination of The Raymond's gradual transformation. We have created a menu that's accessible to a greater range of people, while still offering the exceptional dining experience that has become synonymous with The Raymond."
The Quick Bites section starts by offering selections to kick-off your meal, including Small Farm Massachusetts Oysters with Chef Guiltinan's house-made hot sauce; "Oi Kimchi," Persian cucumbers stuffed with Korean chili and radish; and the Be Calm and eat 'Nduja, a fiery homemade spreadable salami, and parmesan crackers.
It is in the Starters section that you discover the impressive twenty menu items to choose from like the Salmon Creek; Pork Belly Confit with house kimchi and grilled pears; the sushi house-classic Miso-Sake Glazed Hamachi Kama coupled with blistered shisito peppers and lemon; and even an Octopus and Bone Marrow Bruschetta with radish, carrot, tomato and toasted bread.
The Entrees section presents even more new Raymond dishes such as the melt in your mouth Beef Cheek with pasta strappata, peas, carrots and fried duck egg; Broken Arrow Venison with maple turnips; Roasted Duck with haricot vert, smoked onions, hazelnut, "Flavors of the Forest;" the fall off the bone Lamb Rack with housemade harissa & squash, roasted eggplant, fresh naan, and Moroccan style condiments. Seafood lovers will rejoice over the Panamanian Cobia served alongside sunflower seed risotto, hon-shimeji mushrooms and fiddlehead fern.
Some of the menu's highlights also include an expanded offering of vegetarian fare including the Stick Potato with sesame; Korean red chili, scallions and cilantro; Tandoori Cauliflower with mint-cucumber dip; and Vegetable Melange, a warm salad featuring the season's finest vegetables.
Top everything off with one of the yummy hand crafted desserts like: Classic Creme Brulee; French Style Drinking Chocolate; Chocolate Hazelnuts; along with a tantalizing variety of ice cream.
But while the menu is fresh and inventive, the true essence of The Raymond remains-the service. The knowledgeable staff is delighted to introduce the new menu and takes pride in the tradition of offering thoughtful and friendly service to all "Be prepared to order things you're not accustomed to seeing on any other menu," says Guiltinan. "Bring an open mind, and an adventurous palate, but most of all, come hungry."
The 1886 Bar inside the historic cottage has been at the forefront of the Southern California craft-cocktail movement since its incarnation. It's been redesigned with new wall coverings, a tin ceiling, Craftsman chairs drafting bar stools and the nostalgia of an old phone and a clock that's hung on the wall. The unique artisan bar was created with the help of Tello and Demarest from Tello Demarest Liquid Asset, who fully immersed themselves into Pasadena and its history.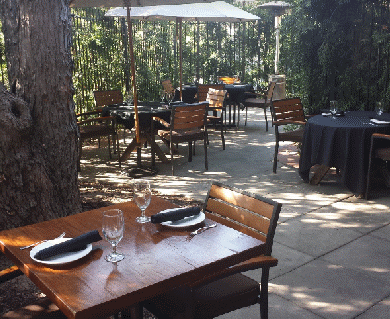 There is a full flavored approach to each cocktail resulting in a memorable experience that's regional, seasonal, shaken and stirred. Enjoy the Primm's "No. 7" Cup made with Tequila and grapefruit soda; the Horseradish Egg Sour with horseradish-infused vodka; and the Honey-Nut Old Fashioned with peanut-infused bourbon. The duo also updated The Raymond cocktail menu for brunch by recreating old classics such as the Mimosa, Bloody Mary and the Ramos Fizz that are enjoyed along with Executive Chef Tim Guiltinan's new bar menu for 1886 that features, Kentucky Fried Quail; Crispy Pork Belly; Grilled Japanese Octopus; 1886 Cheeseburger & Fries; and will also offer several specials each night in addition to the menu. The restaurant's dining menu is also available.
The Raymond is open for lunch Tuesday through Friday from 11:30 a.m. to 2:30 p.m.; Dinner is served Tuesday through Sunday from 5:30 p.m. to 10 p.m. Saturday and Sunday Brunch is from 9 a.m. to 2:30 p.m. The 1886 is open Tuesday and Wednesday from 5 p.m. to 10 p.m.; Thursday from 5 p.m. to 1 a.m. Friday and Saturday 5 p.m. to 2 p.m. and Sunday 5 p.m. to 10 p.m. Valet parking is available Friday and Saturday night as well as for Brunch.
The Raymond Restaurant & 1886 Bar is set on a small side street located at 1250 Fair Oaks Avenue (North of Columbia) in Pasadena, phone (626)441-3136 www.theraymond.com The 1886 Bar has its own entrance tucked away in the back of The Raymond.
Last Update:8/12/16
&copy 2016 Joe Hilbers All Rights Reserved.
Graphic Design by Impact Graphics